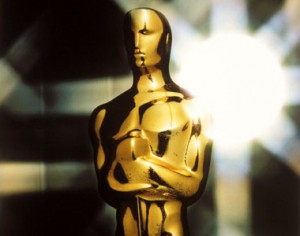 I love movies.
Specifically, I love excellent films, stellar acting and exquisite storytelling. And I will be watching the Academy Awards next weekend from beginning to end without shame.
However, I never cease to be shocked by how often those who are masters of their craft on screen have such difficulty with their few moments on stage.
Here's what I think:
If you are nominated for an Academy Award, take a few minutes over your cereal and morning coffee to prepare something to say.
No, that doesn't mean writing and reciting a laundry list of people who you want to thank. This is about as captivating as watching the neighbor lady read a page from the phone book.
I'm sure the fellow who taught you piano in the eighth grade and helped you develop the poise that made you who you are today would love to hear his name mentioned on television. But no one else cares. A simple, hand-written thank-you card—later—would do the trick.
If you really want to shine, do yourself and the rest of us a favor and take a class or two in public speaking. Don't get wasted before your speech. Don't say, "I had no idea I'd win, so I didn't prepare anything!" We're not buying it.
So, to all of you wildly talented actors: a few universal tips for using your time wisely on stage when and if you receive the big prize, from a woman who is not an expert but who has stood up in front of an audience more than once. I can tell you it doesn't come naturally to many people—most people are terrified—so get in front of your bathroom mirror, your spouse, your 80-pound Rottweiler and practice! That is the only antidote.
Do some deep-breathing. Think through how you'd like to be remembered. And have a gander at these five speeches from past Academy Awards that are legitimately some of the most memorable out there.
1.  Be Articulate and Poetic
Tom Hanks for his 1993 Oscar-winning movie, Philadelphia.
2.  Be Outrageous and Breathtakingly Genuine.
Roberto Benigni and his wild reaction to winning the Oscar for his 1997 film, Life is Beautiful.
3. Offer True, Rich, Imperfect Gratitude.
Cube Gooding, Jr, winning best actor of the 1996 comedy, Jerry McGuire.
4.  Keep It Simple and From the Heart.
George Clooney, winning the Oscar for his 2006 movie, Syriana.
5.  Take your time and Feel the Moment.
Here is what I consider to be one of the most divine speeches ever offered at the Academy Awards, from someone we can all learn from—Gerda Weissmann Klein—for the 1995 documentary, One Survivor Remembers.
(You can either skip through the first minute-and-a-half or use it as a perfect example what-not-to-do, especially compared to the force of Gerda's words.)
She did not falter when the music kicked in before she even began to speak. She did not raise her voice—because she knew just what she wanted to say.
And that is powerful.
That is the sort of moment we are hungry for.
Love elephant and want to go steady?
Editor: Catherine Monkman
Photo: YouTube