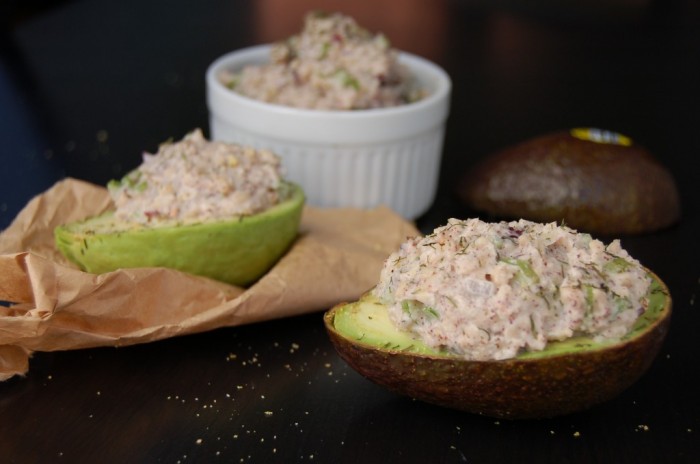 What's up with sustainable fishing?
Does that not defy logic to anyone but me?
You know what's way more sustainable?
Just not eating fish.
But it's good and yummy and you want a god-damned Tuna Fish Sandwich because Tuna Fish Sandwiches make you happy.
But you for sure don't want to eat one on a first, or even fifth date, because you and I both know that the Tuna Sandwich has never been sexy; it's smelly and sloppy.
You know who's eating a tuna on rye?
The crazy cat lady who also happens to be a hoarder and her house is always really hot and her windows are all sealed shut (bless her heart).
Her breath smells like dead fish and her cats like it. A lot.
That's who's eating tuna dude!
You know what is sexy? Tuna made from white beans!
It's Simple, Sexy, Infinitely sustainable.
That's what's up and this is where it's at.
Vegan White Bean Tuna Salad in Stuffed Avocados
3 cups white beans*
2 celery stalks, diced
1/2 cup onion, finely chopped
2 teaspoons dulse powder (red Atlantic seaweed in powder form)
1 teaspoon dried dill
1/2 teaspoon sea salt
3/4 cup vegan mayo
1 tablespoon olive oil
Avocado
Place the beans in a food processor and pulse until they are crumbly. Do not over-process the beans (you don't want them to be creamy, just really chopped up). Once the beans are processed, place them in a mixing bowl and add the celery, onion, dulse, dill, sea salt, mayo and olive oil and mix until everything is combined. Cut the avocado in half, remove the pit and dig out a thin layer of the avocado (so the tuna will have a slightly deeper bowl to sit in).
Scoop some tuna into each half of the avocado and serve.
*Note: use canned beans or make your own. If cooking beans, make sure not to cook them until they are mushy. You want your beans to hold together instead of being super soft. If the beans are too soft, the texture of the tuna will be more like hummus.
Do you need more vegan recipes in your life? If so, I've got you covered. My new cookbook, Bold Vegan – Food for the Body and Soul, is now available on my website. It is filled with Western and Asian comfort food recipes, everything from Pot Pie to Pho.
If you want something more exotic, check out my first cookbook: Bold Vegan – Food of South East Asia.
Love elephant and want to go steady?
Assistant Editor: Renee Picard/Editor: Bryonie Wise

Image: courtesy Molly Patrick