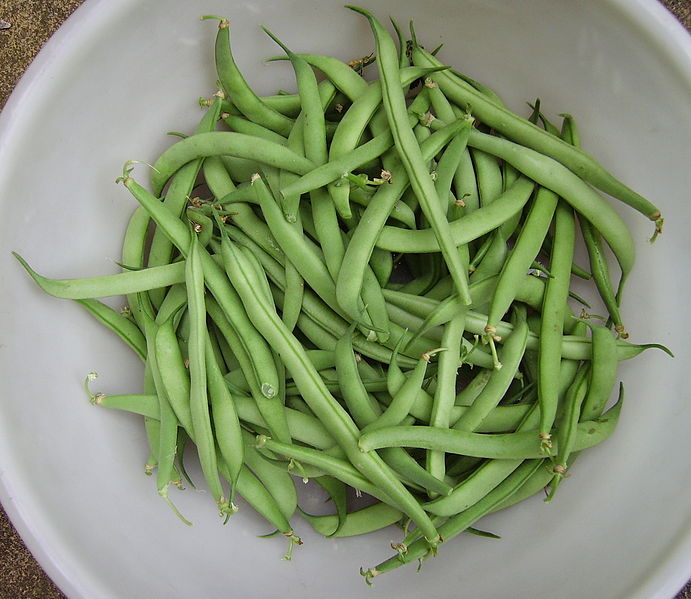 There are still times when I go days or weeks without eating any animal products whatsoever. Sometimes, especially if I have been feasting on all sorts of rich, heavy, decadent food, my body just needs a break.
Below are three easy vegan recipes that I return to time and again. I think of them as my vegan comfort foods of choice.  These are particularly good for novice cooks; even though measurements are given, these are the sort of dishes where one need not be exact. A dash more here, a little less there—it's nearly impossible to screw these up.
Another good thing is that for those who pack a lunch or like to make meals in advance, these taste just as good re-heated.
Asian-Style Green Beans with Shiitake Mushrooms (serves 2)
18 ounce bag of frozen cut green beans
6 to 10 shittake mushrooms (either fresh or dried mushrooms that have been re-hydrated by soaking them in water)
1 teaspoon red chilli flakes
1 tablespoon of soy sauce
1 1/2 teaspoons of sesame oil
firm tofu cut into 5 to 10 one inch cubes (optional)
Preheat oven to 350 F.
Place the beans in an oven proof glass dish along with all the other ingredients.
Mix well and try to evenly cover the beans, mushrooms, and tofu with the soy sauce, sesame oil, and chili flakes.
Place in the oven and cook for approximately 15-20 minutes, or until the tofu is nicely browned and the beans are cooked but still crisp and green.
Eat as is or serve over brown or white rice.
Curried chickpeas (serves 2) 
1 can (or 8 oz) of cooked chickpeas
1/2 cup of chopped onion
2 cloves garlic
2 teaspoons of curry powder
1 teaspoon of ground cumin.
1 Tablespoon of olive oil
Heat the olive oil in a pan until it is warm, but not smoking. Cook the onions and garlic until soft but not overly brown or crisp. Add the chickpeas. (If using canned chickpeas, drain them, but leave about 1/2 a teaspoon of water.) Add the curry powder and cumin after about a minute. Cook for another 5 minutes or until the chickpeas are nicely yellow and soft but still firm to touch. (You can test the firmness by mashing one of the chickpeas with a fork.)
Serve over rice or cooked millet if desired.
Stir Fried Kale with Sesame Seeds (serves 2 to 3) 
1 to 2 cups of hand-shredded lacinato kale with the tough ribs removed
1 teaspoon of sesame seeds
1 tablespoon of olive oil or coconut oil
2 teaspoons of Bragg's Liquid Aminos (optional)
Heat oil in a wok or frying pan until it is hot but not smoking.
Add the kale and stir rapidly until the kale is cooked—taking care not to overcook it.  (Ideally, the kale should be tender but still crisp and green in appearance.)
Add the sesame seeds and cook for 1 to 2 minutes longer.
Remove from heat and add the Bragg's, if desired.
(Note: In the case of leftovers, this also tastes great cold from the fridge.)
Love elephant and want to go steady?
Editor: Travis May
Photo: Wiki Commons