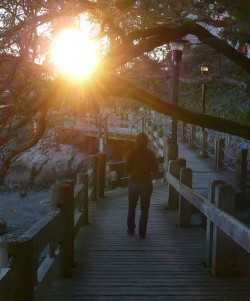 "If you didn't know how old you were and you had to tell someone your age based on how you feel, how old would you say you were?"
I asked my 30-year-old daughter who has twin toddlers this question.
Her response:
"I'm a weird mix of 17 and 40. You?"
"I feel 23. And She Was by the Talking Heads plays in my head."
Over the past few years, I have been radically simplifying my life. It's been a process of letting go. Letting go of things, perceptions, opinions, and expectations.
"In the end only three things matter:
How well we have lived.
How well we have loved.
How well we have learned to let go." ~ Jack Kornfield
I'd been coloring my hair for over 25 years. It became apparent that I was clinging to a more youthful incarnation of myself by doing so. I didn't know what the actual color even was. Certainly not Clairol 5RB, which had to be applied to my roots about every four weeks.
Hair coloring was also in conflict with my healthy lifestyle. On one hand I am taking care of myself by eating healthy, having acupuncture and taking Qi Gong classes. On the other hand, I was putting chemicals just inches from my brain, then washing those chemicals down the drain into our water supply and adding plastic to our landfills.
Coloring my hair gradually became a huge hassle that I struggled with. I wanted to let go of the cost and the time involved but I just couldn't face looking old. Especially since I am a 23-year-old walking around in a 54-year-old body.
Even my parents don't want to be perceived as old. They are both in their mid 90's and reside in an assisted living facility. My father refers to the other residents in their assisted living facility as "OPs."
Old People.
Why do we resist growing older when it is inescapable?
Eventually, the desire for simplicity won out over my vanity. I stopped the coloring and embraced the skunk stripe for a few months. Then, I took the elevator ride to going gray by cutting all the color off and going super short. Like Jamie Lee Curtis short.
Now I have women walk up to me and tell me my hair looks great and they wish they had the nerve to go gray. After thanking them, I tell them I'm glad that I don't have to spend the time and money on it. Now I can do something else with that time and money.
Cutting my hair super short and letting it go its natural silver gray, makes me feel true to myself. Best of all, it hasn't changed the fact that I feel like a 23-year-old inside with "And She Was" playing in my brain.
Love elephant and want to go steady?
Editor: Rachel Nussbaum
Photo: Courtesy of Author