Walk the Talk Show with Waylon Lewis.
Waylon and Jeanne Eisenhaure of Bike Stylish talk 30 practical tips for everyday bicycling including: layering, neon helmets, baskets, padded shorts under skirts, flashing walls and hard saddles.
They begin their conversation with a meditation led by Waylon. For a longer meditation experience, watch this video.
Elephant is psyched to be working in partnership with Google+ on our new live video series, which features three live videos a week (that can be watched later, too).
30 Essential, Basic, Everyday Bicycle Tips:
1. Layering (hot/cold, scarfs, hats)
2. Get the right bike—one you're comfortable riding.
3. Start biking on bike paths or during less traffic-heavy times.
4. GoogleMaps for best bike route
5. Prep: leave earlier (think of this time as commute or gym time), plan your outfit in advance so you're prepared
6. Listen! Don't have headphones in. Ears are one of your best allies when biking.
7. Wear a helmet (at least if you are a child). Or don't! Studies show if you wear a helmet cars drive closer to you.
8. Fenders
9. Great basket (bungee cord for basket, basket to keep from sweaty back)
10. Two rechargeable lights
11. Ugly your bike with stickers to prevent it from being stolen.
12. Internal hub
13. Bikes too expensive? Look on Craigslist. Pay no more than $800 for an everyday commuter bike.
14. Bell, ding ding!
Especially for guys:
15. hard saddle
Especially for the ladies:
16. If you are wearing a long skirt, tie it up.
17. Get off the bike facing toward the wall to minimize flashing.
18. Wear padded shorts under your skirt.
19. Neon! Bright helmets. Bright jackets. Reflective tape. Bright accessories—make yourself as visible as possible
20. Chain guard
21. A lock that doesn't need a key
22. Good handlebars
Especially in winter:
23. Good gloves
24. Wear leggings or tights
25. Boots
26. High socks
27. Waterproof bags for electrics if caught in rain
28. Glasses/goggles for snow or rain.
29. Face mask to protect from wind
30. Bike with confidence and be a defensive biker: "One of the fundamentals of everyday bicycle commuting is to assume that every car is trying to kill you. Because they are, most of them are texting or being idiots." ~ Waylon Lewis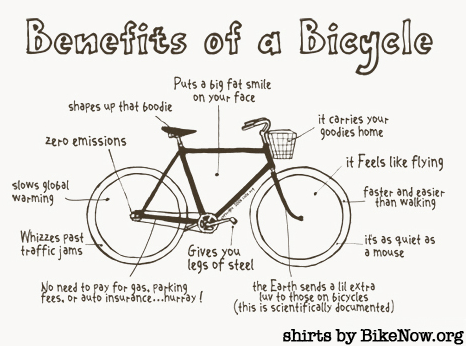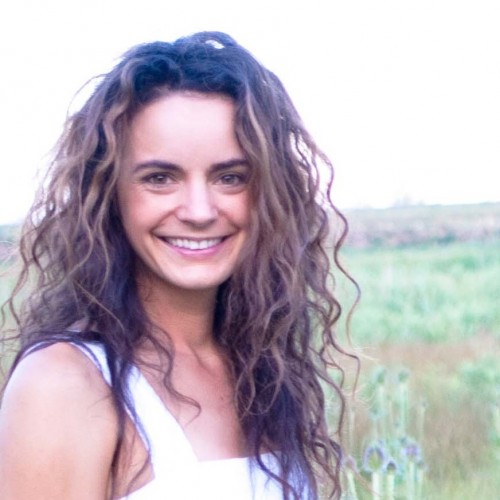 Cycling enthusiast and entrepreneur, Jeanne Eisenhaure works with mission-driven startups through her marketing agency 23 Sons to build the responsible businesses of the future. With 23 Sons, Jeanne has seen firsthand how for-profit businesses can be vehicles for social and environmental improvement in addition to creating long-term sustainable financial growth. Jeanne is on a mission to help further the perception of biking as fun, accessible and even aspirational through her Bike Stylish Project. When not working with clients or writing for Elephant Journal, Jeanne can be found participating in the active and outdoor Colorado lifestyle, including climbing, yoga, hiking, frequenting the farmers market and of course riding around town on her beloved yellow '73 Maserati road bike.
Learn more about Jeanne and connect with her on Facebook, Twitter, Instagram, and her most recent project YouTube. Discover her latest thoughts on marketing and using business strategy for social good on her blog at 23 Sons and connect with others focused on utilizing business for good 23 Sons Facebook page and @23_Sons on Twitter.
Check out Jeanne's latest on elephant journal:
> Can't Bike All Year Round? Photos of Winter Bike Style & 13 Must Have Winter Biking Accessories.
> How to Bike in a Mini-Skirt (& Other Bike Stylish Tips)
> Can't be Stylish Biking? My 38 Days of Bike Photos Will Prove You Wrong.
Relephant Read:
> Top 10 Urban Commuter Everyday Bicycles for Work, Hot Dates, Family.
~
Subscribe to our weekly newsletter for our best blogs of the week,
including our latest Walk the Talk Show.
For the first word on our new videos each week: subscribe to Walk the Talk Show. All videos free!
Hangout with elephant on Google+ every Monday, Wednesday & Friday
at 12 noon MST.
Editor: Rachel Nussbaum

Photos: Jeanne Eisenhaure