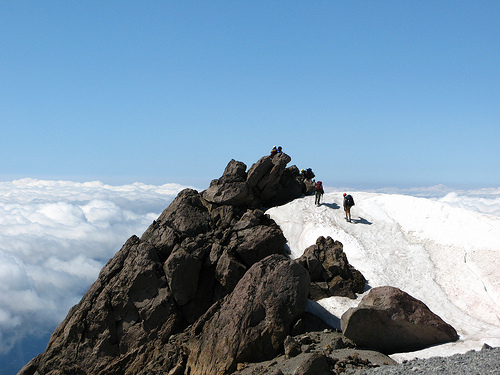 What does it mean to truly live? Must one be happy to truly live? Is the adrenaline rush required?
As music and other forms of prose seem to be the preferred medium for the subject, let's take a glimpse at it.
Over the years a multitude of songs have been written and performed by various artists extolling the virtue of living life to the fullest. Poets over the years have had their say as well. Seems each generation has it's own twist on the subject:  But, what do they mean?
For instance:
In the Pop song "If Today Was Your Last Day," the lead-singer of rock group Nickelback urges you to "Do whatever it takes, live each moment like it was your last" and "if tomorrow were too late."
In the Country/Western song "Live Like You Were Dying," Tim McGraw urges the listener to, quite simply, live your life as if you were dying.
These two songs extoll the virtue of living as if you would be gone tomorrow, if not sooner. Essentially reminding one that life is not a given and that tomorrow is not guaranteed to anyone.
They both encourage one to go out and do things; have fun, laugh, love and kick it up (if you will.)
Having had my own brush with death, I've given serious consideration to the words of various tunes and words of prose. For simplicity sake I've mentioned the two referenced above. As a result of this experience I've come to a few conclusions:
1. We are all dying. From the moment we are born we begin to die: that's a fact. Each moment that passes is past: we're not getting it back. I fully realize that this is not some major new discovery.
2. We have no way of knowing which moment will be our last: life begins with an inhale and ends on an exhale so don't go holding your breath in fear that your next exhale will be your last!
3. Truly living doesn't require that we be happy in each moment, rather embracing and appreciating each moment as they come; there is no 'good' moment or 'bad' moment.
4. Gratitude will get you everywhere. Be grateful for all the moments – lessons learned, heart-breaks, loss of loved ones, even falling in and out of love.
1. Act with kindness (to yourself as well): as the Roman statesman Seneca wrote (sic) "wherever there is a human being there is an opportunity for kindness. No selfless act is insignificant."
2. Witness with awe the intricate nature of the world around you.
3. Be yourself. The only shoes you are required to walk a mile in are your own: walk your walk and talk your talk.
4. Feel everything. Allow yourself opportunities to feel your feelings.
5. Express yourself but don't be a jerk. Tell them how you feel: be honest, open and forthright. Tell the people you love that you love them, every day.
6. Jump at any opportunity to help another being (see #1.)
7. Expect nothing. Be grateful for everything you have.
8. Give your best in everything you do.
9. Hide your gifts and talents from no one—not even yourself.
10. Breathe and repeat.
So, in short, don't live like you were dying because you are. Live in every moment and be content with living. Don't cherish life: cherish the opportunities life provides to live fully.
Did I leave something out? Have something to add to this? Please feel free to share your thoughts and comments below.
Love elephant and want to go steady?
Editorial Assistant: Todd Otten / Editor: Catherine Monkman
Photo:  hojaleaf/Flickr