Kiss me I'm Irish!
You're going to want to anyway after you make this stew, especially if you are stuck for a last minute vegan meal for the holiday.
I love the Irish and on St. Paddy's Day we get to celebrate all the great things about them; the freckles and red hair (I have the freckles but was cursed with boring, ordinary brown hair. I'm just a wannabe "ginger"), their fiery, spunky attitudes, warm hospitality, and don't forget the accents!
I lived in Ireland for six months and still, more than ten years and many countries later, I have not been treated with as much generosity and good-naturedness as I was on the Emerald Isle.
I look forward to St. Patrick's Day every year as a way to reconnect with my Irish heritage and my memories from the time I spent there. Being vegan has made cooking for the holiday, increasingly difficult, but I stumbled upon this Irish stew recipe just in time. It's super easy and delicious, a perfect way to warm up on a cool March day. The only time-consuming (and wrist-tweaking) part of the recipe, like in most vegan/vegetarian recipes, is the chopping.
I recommend calling in a few Leprechauns to help.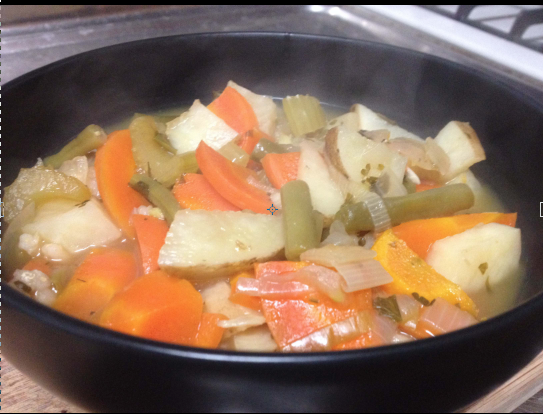 The Passionate Parsley's Lucky Vegan Irish Stew
(Adapted from The Passionate Parsley)
Olive Oil
1 white onion, diced
2 cloves garlic, minced
1 large leek, sliced, discard green portion
3/4 c. fresh curly parsley, chopped
1/2 t. ground thyme
1 bay leaf
4 carrots, chopped lengthwise into 1 inch pieces
5 celery ribs
3 T medium pearl barley
5 c veggie broth or stock
1/4 c apple cider vinegar
9 small golden potatoes, cut into small cubes
1 c fresh green beans, chopped into 1 inch pieces
brown sugar, to taste
salt & pepper
In a large heavy-bottomed pan, heat olive oil over medium heat. Add onions, garlic and leek and sauté until translucent.
Add parsley, thyme and bay leaf and stir. Add carrots, celery and pearl barley. Pour in the veggie stock and apple cider vinegar.  Cover and cook on low heat for 10 minutes.
Add potatoes, cover and cook for 30 minutes. Occasionally stir.
Add green beans, cover and cook for about 15 more minutes or until potatoes are fork tender. Salt and pepper to taste. If the stew has too much of a vinegary taste you can add a pinch or two of brown sugar to counteract — but just add a tiny bit at a time — sweet stew is yucky. Season with salt and pepper.
Serve the stew in large flat soup bowls, garnish with parsley.
Have a happy (vegan) St. Paddy's Day!
Love elephant and want to go steady?
Editor: Catherine Monkman