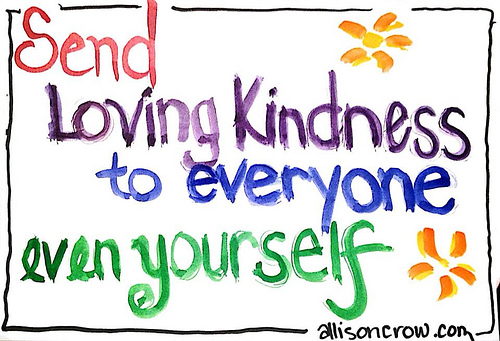 "As a mother even with own life protects her only child, so should one cultivate immeasurable loving-kindness towards all living beings."
~ The Metta Sutta
Almost a year ago I started a Facebook group called Metta-Morphosis. I started it for lots of reasons, mostly because Metta practice was really changing my life, and I wanted to share the good thing I'd found.
Based on the Buddha's teachings, Metta meditation involves a mantra of loving-kindness focused first on the self, and then (depending on your tradition) on a loved one, a "neutral" person, people with whom one has difficulty, and eventually all living beings human and otherwise.
Because I never do anything the way I'm supposed to, I say my Metta mantra in the shower every day instead of on the meditation cushion. I started with the traditional mantra: "May I be happy. May I be well. May I be safe. May I be peaceful and at ease" but it wasn't speaking to me.
I made my own mantra: "May I love myself as I am. May I be at peace with what is. May I see the joy in this life. May I deal skillfully with my triggers."
It took time, but after a while I found that I felt tender and protective about myself instead of standing outside and judging harshly. So I moved on to saying Metta for my family, then I said Metta for the mailman, and (although I struggled with it) for people I didn't like very much. After a while, it was an habitual thing – when a cashier was rude, or someone disappointed me I said Metta for them and I couldn't help seeing that person as…a person. I lost the ability to see anyone or any creature as "other."
I was so incredibly changed by my Metta practice that I had the Sanskrit symbol for Metta tattooed on my inner wrist last year.
So how could I not want to share that?  With no expertise besides my own practice, I created the group and invited the world in. I hoped to create a safe, spiritual space where people could develop loving-kindness for themselves and for the universe, maybe make new friends, and share their experiences with a virtual sangha of fellow travelers.
Almost a year later, Metta-Morphosis has 770 members, and this week we began a project I've dreamed about for months. I'm calling it "The March of Metta," and it is simply this: I asked for group members willing to be paired with a partner for the month of March. All they had to do was get to know a little bit about the other person, and then say Metta for that person every day for a month. At the end of the month we report back on how the experience felt, as both a sender and receiver of loving kindness.
So right now there are 24 pairs of people, none of whom actually "know" each other, saying daily Metta for each other. They are male and female, LGBTQ and not LGBTQ, Unitarians, Buddhists, atheists, and a beautiful assortment of skin colors and ethnicities. They are saying Metta in Australia, South Africa, Ohio, Great Britain, Japan and Idaho. (Among other places).
And of course it's not orthodox, and of course it's not following the traditional steps, and yes, probably all of these people should finish developing Metta for themselves before they say Metta for anyone else, and I know that people will individualize their mantras and do their own thing and it won't look anything like the Metta Sutta.
I can absolutely live with that.
I can live with it because it is messy and human and imperfect, but for one month, 48 strangers are sending love and compassion to each other, like wide red ribbons across the planet.  They are dedicating time in a world of professional "busy-ness" to make connections, and to focus intensely on the happiness and comfort of someone they don't even know.
We say so often that people "should" be more loving, and "should" care about other people, and these people are choosing to walk that walk. I'm letting myself imagine, just a little, where love like this could lead. I guess that objectively 48 people out of 770 is a small number, but to me it seems pretty huge. It seems like a start.
It's really happening right now, and I am incredibly proud of all 48 of them.
(Actually, I love them).
P.S. If The March of Metta has inspired you, I encourage you to start your own Metta practice and maybe set up your own little loving kindness exchange with a friend or 2. I dare you.
Love elephant and want to go steady?
Editor: Bryonie Wise
Photo: Allison Crow on Flickr
,