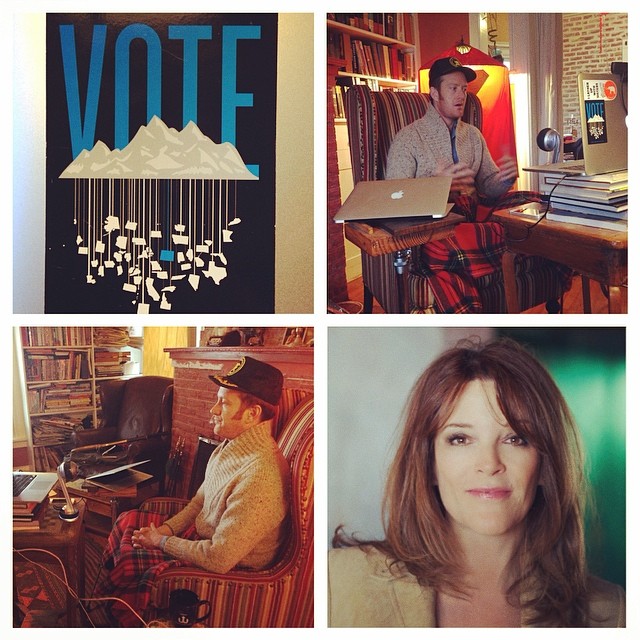 "We need to cultivate brotherhood.  We need to cultivate justice. And we need to cultivate love." ~ Marianne Williamson

Waylon talks with spiritual leader Marianne Williamson, 6-time bestselling NY Times author, about her run for Congress—can she win? Why is she willing to subject herself to the "mud" of our political system? Can she be effective if she wins? And how can we help, if so inspired?
Elephant is psyched to be working in partnership with Google+ on our new live video series, which features three live videos a week (that can be watched later, too).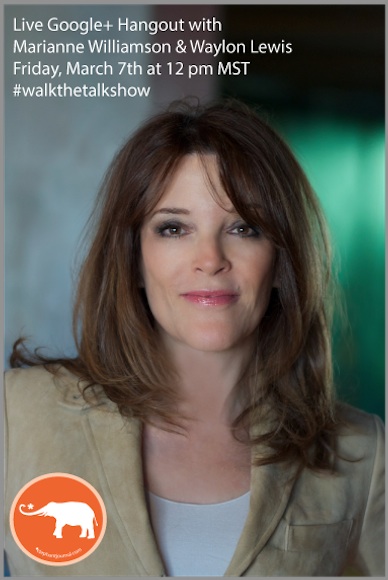 Marianne Williamson is an internationally acclaimed author, lecturer and thought leader. Six of her ten published books have been New York Times Best Sellers. Four of these have been #1 New York Times Best Sellers.
In 1997, she published Healing the Soul of America, calling for a holistic perspective on America's political system. The book is an insightful examination of our history and politics, offering personal and political solutions for the renewal of our democracy.
Marianne began her career as a lecturer in Los Angeles in 1983, and since that time she has lectured to hundreds of thousands of people in the United States and abroad. She has written books that include the mega bestseller A Return to Love, The Age of Miracles, Everyday Grace, A Woman's Worth, Illuminata, Healing the Soul of America,  The Gift of Change and The Law of Divine Compensation.
For the past thirty years, Marianne has been a formidable activist for social justice. In 1990, she founded Project Angel Food, a meals-on-wheels program that serves homebound people with AIDS in the Los Angeles area. She also co-founded The Peace Alliance, promoting legislation to establish a United States Department of Peace. And she serves on the Board of Directors of the RESULTS organization, working to end the worst ravages of hunger and poverty throughout the world.
In November 2012, Marianne produced a conference in Los Angeles called SISTER GIANT: Women, Non-Violence and Birthing a New American Politics, attended by almost 2,000 women representing all fifty states.
Williamson has been a popular guest on television programs such as Oprah, Larry King Live, Good Morning America, Charlie Rose and Piers Morgan. She was referred to in a 2006 Newsweek Magazine poll as on one of the 50 most influential baby boomers.
Marianne is a native of Houston. She first moved to Los Angeles in 1983, where she lectured until 1995.  She returned to Los Angeles in 2009.
For first word on our new video each week: subscribe to Walk the Talk Show. All videos free!
Hangout with elephant on Google+
Editor: Meagan Morris

Photos/Videos: Marianne Williamson