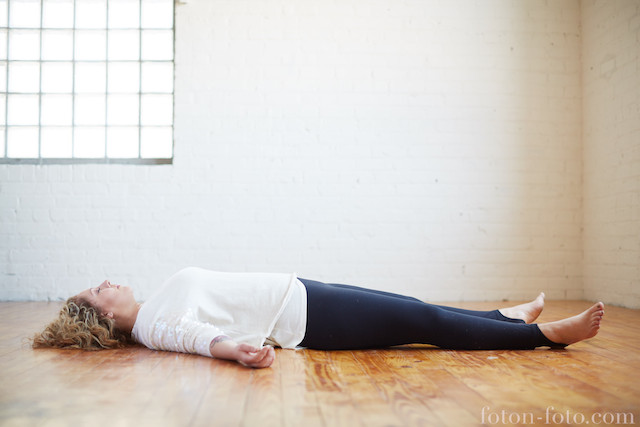 I agree with Mr. Iyengar about most things, including his words of wisdom about savasana. In "Light on Yoga" he says, " this apparently easy posture is one of the most difficult to master."
I couldn't have said it better myself.
I have been practicing yoga for some 15 years or so. And I tell you, from the very beginning of my journey with yoga, this pose has been a struggle for me.
Sure, this pose looks easy and peaceful from the outside.
But on the inside, it's often a different story.
For many years I faked my way through savasana—looking all serene and blissed out as I laid myself out in a heap. But really, my mind was clicking away like an old grandfather clock. My mind was anything but quiet, as I lay there motionless obsessing and ruminating over thoughts about money, or dinner, or relationships, or anything else I could hitch my awareness onto. In fact, in the beginning, the more still I was on the outside, the more chaotic I was on the inside.
But things have changed now.
I've been practicing yoga well over 15 years. I have three kids now. I'm a grown-up. I've totally mastered savasana.
Except I haven't. It's still a work in progress. A work in practice.
Interesting, isn't it? One of the most difficult poses in all of yoga is just lying there. Completely conscious. Relaxing. With the mind still.
So, I continue to practice savasna every day. In fact, savasna is my "challenge pose" this year. And I am committing myself to practicing it every day. Some days I nail it. Other days I'm a hot mess.
Either way, I'm sure learning a lot about myself along the way. And I think I just may have this pose mastered by my 108th birthday.
Love elephant and want to go steady?
Apprentice Editor: Sarvasmarana Ma Nithya/Editor: Catherine Monkman
Photo: Used with permission by Chris Holtmeier