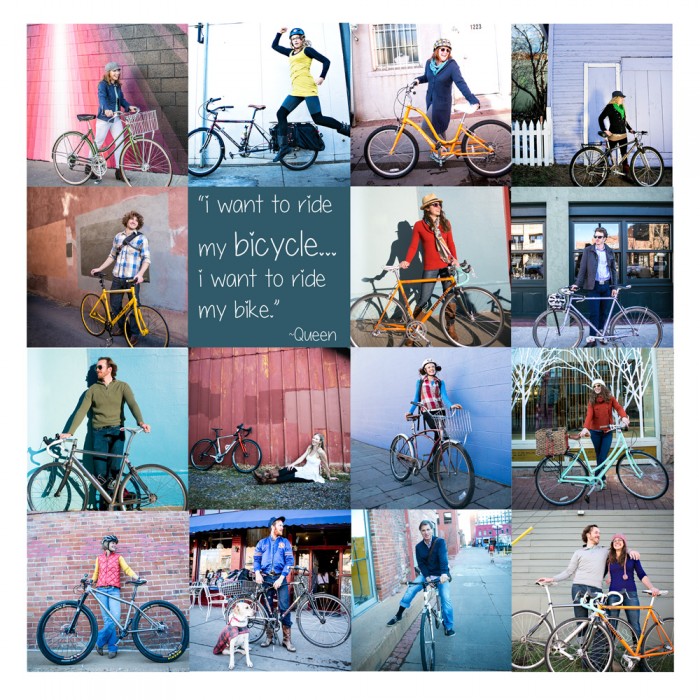 Can commuting really be stylish? Yes! In the community edition of the Bike Stylish series for Elephant Journal we feature 15 stylish commuters from Boulder, Colorado.
A bit of background: in summer 2013 I set out to help shift perception on what it meant to be a bike commuter through my 38 Days of Bike Stylish Photos, followed up with advice on How to Bike in a Mini-Skirt (& other Bike Stylish Tips), Winter Bike Stylish Tips, and even an interview with Waylon on Walk the Talk Show on how to Bike Stylish.
I see amazing bike style every day biking around Boulder, Colorado, so in partnership with Tanya Dueri Photography we set out to show off the diverse bike style that real commuters have—and to pick their brains on their favorite biking tips (stylish or practical).
Want to be a part of Bike Stylish? Submit a photo and show us your style to be featured on BikeStylish.com and possibly on Elephant Journal.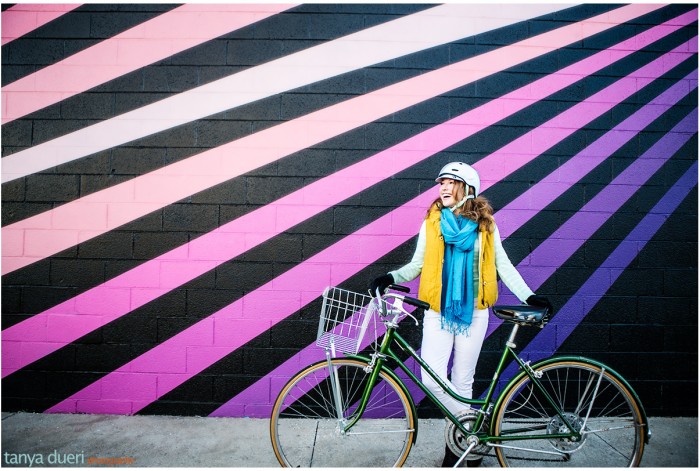 Sarah Muhlbradt, Director of Sales & Business Development for a Dietary Supplement Company  & Elite Runner
Why Sarah Rides: "I enjoy daily tasks around town via bike because parking is never an issue, I can ride year round and biking is a great way to enjoy fresh air. As a long distance runner, biking is a great activity that is less stressful on feet and ankles. Cycling is a great fitness activity that builds strength in a holistic manner as it encompasses coordination for the entire body."
Sarah's bike stylish tip: A working bike is a stylish bike. "I'm sure to get my bike tuned at a local bike shop every 4-6 months to keep it working properly
."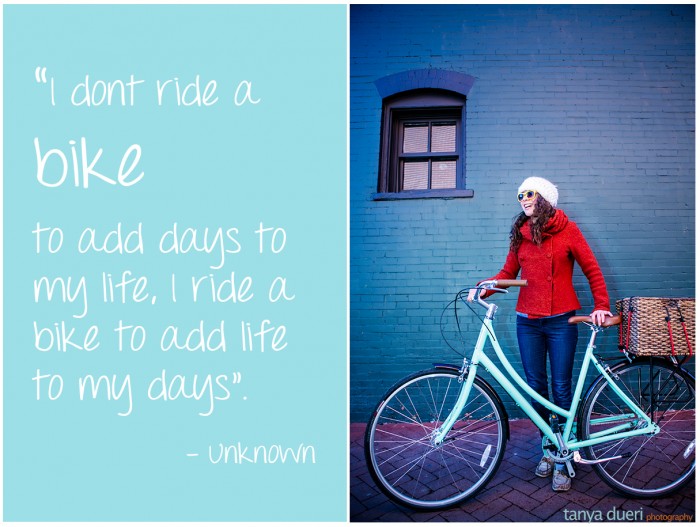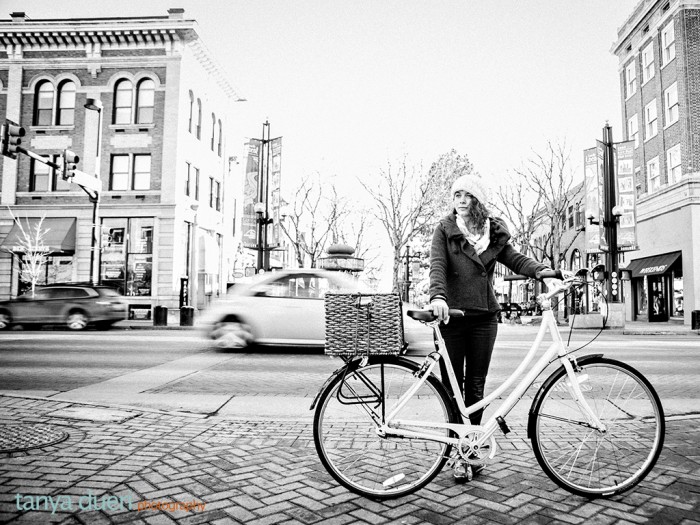 Darragh Hoffmann, Mindful Fashion Blogger 
Why Darragh Rides: "Biking allows me to spend more time outside. It gives me the freedom to take detours and discover hidden gems around town."
Darragh's Bike Stylish Tip: "Always have your bike lights, even if you think you'll be home before dark. Stick to roads that have bike lanes, but minimal traffic. If its raining, open your mouth so you can catch it."
Why Jill Rides: "I use my bike to go to and from work and for most of my daily errands. I like it because you get to be outside and experience the seasons. Plus its fun to whip threw the air on your bike! You don't have to worry about parking tickets and you can ride where people can't drive."
Jill's Bike Stylish Tip: "Always ride as fast as you can."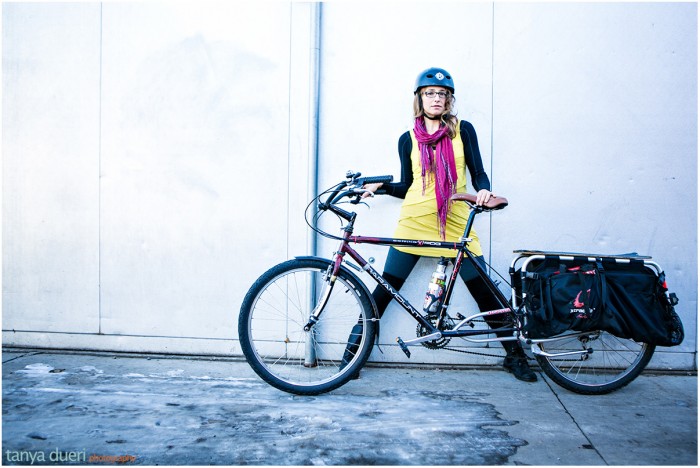 Why Lauren Rides: "A couple of years ago I made a commitment to myself to begin to bike for my health and the health of the planet. I agreed do my best to bike to work, the yoga studio, and to the grocery store as often as possible. Making this decision in my life was truly a game changer, I enjoy biking for a multitude of reasons but my favorite is not having to look for parking. I am a barista at the Laughing Goat Coffee house in Boulder, Colorado and I found that increasing endorphins from biking makes me a better and happier person at work and in life!"
Lauren's Bike Stylish Tip: "My tips for biking include being prepared for any whether that may occur I enjoy riding a bike with a big trailer which allows me to bring any necessary supplies I might need for any given journey. Multiple layers are key."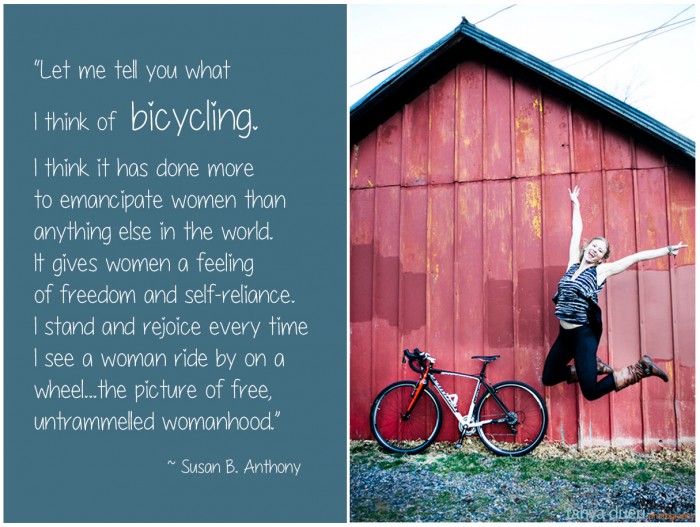 Why Katie Rides: "Biking makes me feel like a kid again; free for the first time and able to go wherever I want whenever I want. Biking makes me feel strong and is my favorite way to see a new place. You're going fast enough to cover a good amount of terrain, but slow enough to enjoy the scenery."
Katie's Bike Stylish Tip: "I used to race bikes in DC which required street smarts and navigating traffic on two wheels. To stay safe I assume that no car will ever stop or slow down for my safety and that even if a driver is looking me in the eyes they do not see me. Basically I'm packman and the cars are ghosts and I have to assure that I avoid curbs, buildings and the evils of a bumper while navigating my way through my day. I'm also not too proud to bike on sidewalks when rush hour has the crazies out!"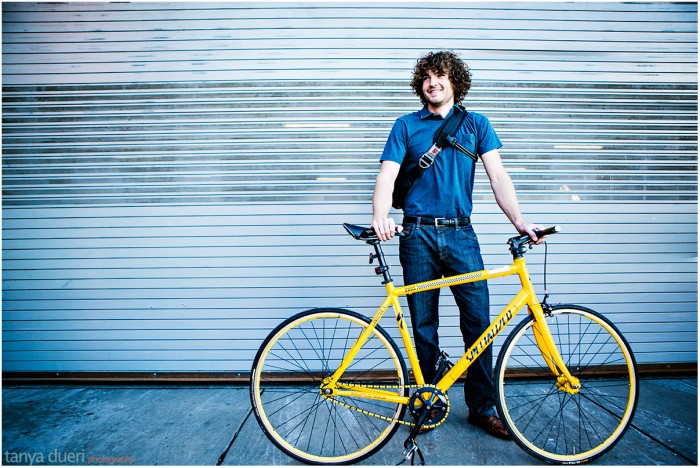 David Mullins, Masters Student Electrical Engineering, University of Colorado
Why David Rides: "It's fun to be outside and you don't have to deal with traffic as often!"
David's Bike Stylish Tip: "Get a fender on your bicycle for those rainy days."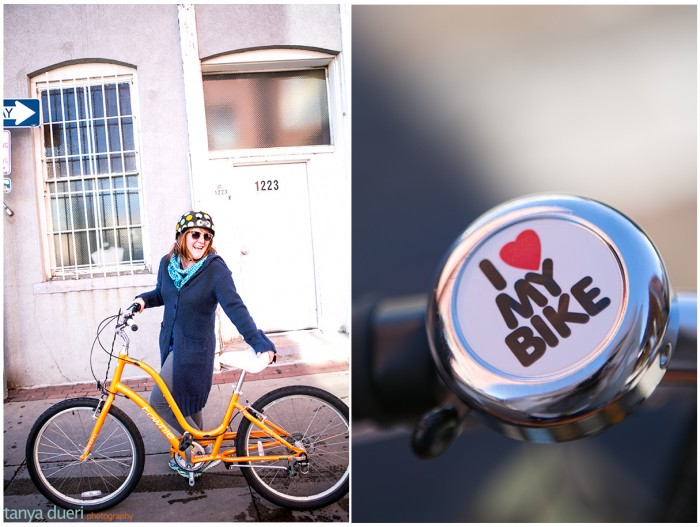 Why Shennon Rides: "I love biking because my bike is comfortable, easy to ride and I love the color of it. I like using my own power to get around and the fresh air in my face lifts my mood. Plus I'm burning calories. As a stay-at-home artist & mother of two (five-years and seven-years-old) humans and an eight month old canine, it is a struggle to squeeze in workout time—mostly because I have to work out harder and for a much longer period of time since reaching 40+. I'm also a bit of an introvert: I loathe the gym and group exercise classes. Riding my bike is my alone time! So, I try to plan ahead time-wise. The girls and I always ride or walk to school – unless there is snow or ice in the way—which is rare in Colorado, thankfully. I do my errands via bike, like grocery shopping, trips to the craft store, library & local parks. If I have MOMS Club get together, I try to ride to those places too. And when possible, we try to ride as a family—even out to dinner or ice cream during the warmer months."
Shennon's Bike Stylish Tip: "I think my bike and helmet are the most stylish things about me! Mostly I wear jeans or a long coat to keep my bum and thighs warm. It tends to be all about warmth and comfort on the morning commutes with my kids to school—pretty much everywhere. "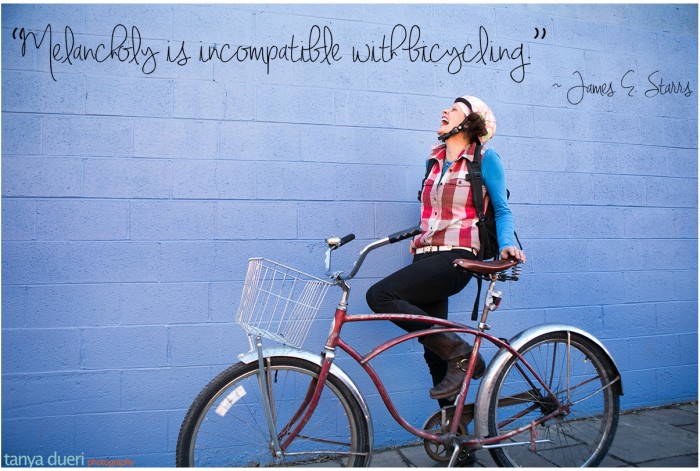 Why Ashleigh Rides: "I love biking because it's fun, I get fresh air and sunshine everyday and it's free!"
Ashleigh's Bike Stylish Tip: "There is no such thing as bad weather, only bad clothing. Put fenders on your bike. "
Michael Cody, Design Engineer, Gates Carbon Drive
Gate Carbon Drive makes belt drivetrains for bikes. They are quiet and don't require any chain lube, so they are perfect for townie bikes.
Why Michael Rides: "There is no better way to start your day then a spin on a bicycle. Even if I'm going to the bus station, I'll hop aboard a bike and take it with me. Riding is my happy place and that is someplace we should all go everyday. I ride around Colorado all spring-summer-fall but periodically I'll make a trip up to Wyoming or British Columbia to ride another locale."
Michael's Bike Stylish Tip: "Spring is approaching, if it's not already here for some of you, which means flip flops and margs on the roof deck, but that doesn't mean it is going to stay warm all night. Keep a hoody stashed in your bike basket or panniers to fight off that evening chill. Otherwise you'll end up scurrying for an Urban Outfitters praying they are still open so you can pillage the sale rack."

Haley Kaiser, Associate Analyst Market Research, E Source
Why Haley Rides: "I bike to work every day (weather permitting)! I love commuting on my bicycle because I can get everywhere in Boulder just as quickly as in a car, and I don't have to find or pay for parking!"
Haley's Bike Stylish Tip: "Find a good and fun looking bell to warn cars, pedestrians and other cyclists that you are coming. This helps keep me safe and it looks cool too! Having good grippy tires in the winter is super important for me as well so that I don't loose control on gravel or ice. A fender is also nice too so that you don't get your stylish clothes dirty or wet!"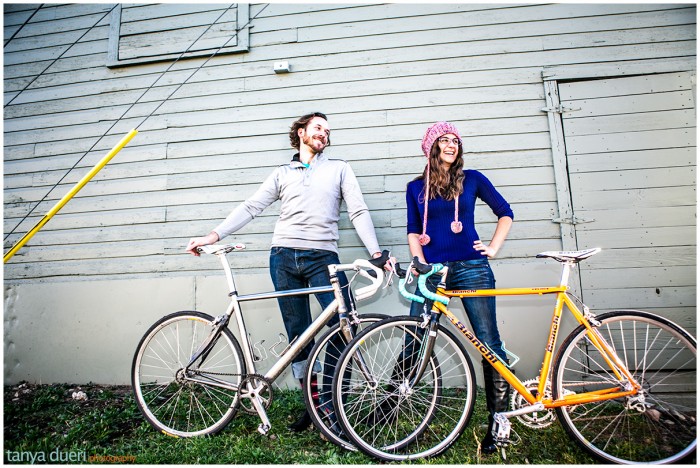 Steven Andrew Herzfeld, Founder, Velo Zephyr 
Why Steven Rides: "I love biking because it keeps me out of my car and out of rush hour traffic. I love biking because it gets me off the couch and I don't need a gym! My business, Velo Zephr, was created out of my passion for riding. We create handmade custom carbon fiber bicycles and components."
Steven Bike Stylish Tip: "The more often you ride, the more you enjoy it. Sometimes it's hard to get off the couch if you've ran out of momentum, but riding all the time keeps the momentum going!"
Michele Bliss, Physical Therapist, BlissWorks
Why Michele Rides: "On the bike I feel free and unrestricted—best way to feel like a kid! I bike for recreation, health and competition—and love to commute—better than a car any day (almost any day anyways)."
Michele's Bike Stylish Tip: "Warm mittens in the winter are a must! Always use the bike paths in inclement weather they are cleared and much safer as well as faster!"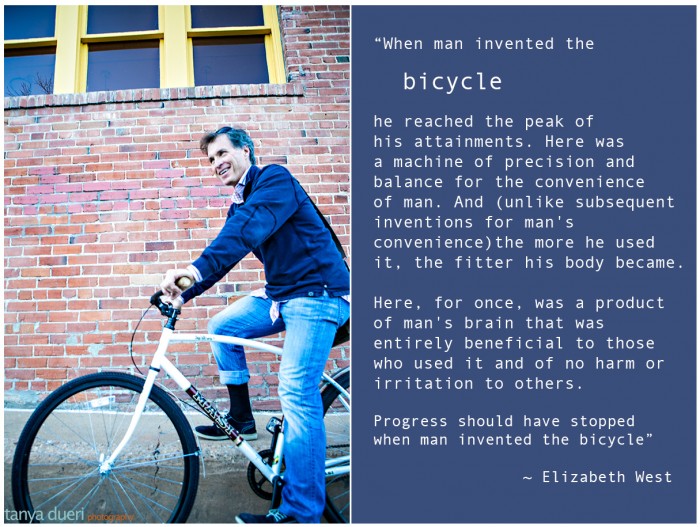 Rusty McCoy, Realtor, Rusty McCoy Homes
Why Rusty Rides: "I took up biking as a way to continue my fitness and competitiveness without as much stress on my body as other sports. I love to ride to work too."
Rusty's Bike Stylish Tip: "Stay in the saddle. You'll get there quicker."
 Waylon Lewis, Founder, elephant journal; Host, Walk the Talk Show; Best Friend, Loyal Hound Redford Lewis
Why Waylon Rides: "I love biking because, for the wallet, it's free: no parking, no insurance. For the body, it's health: fresh air, open sky, fun. For the mind, it's de-stressing, it turns commuting into community, and sadness into peace and joy. For the planet, it's a blessing. It's one of the few things in life that is environmentally societally, physically and spiritually beneficial."
Waylon's Bike Stylish Tips: "Don't be afraid of the snow. Do be afraid of ice. If you're dealing with a lot of traffic, wangle the front tire a little—this was a tip passed on to me by a veteran that encourages cars to give you an extra few feet of space—they hate uncertainty, and if you're just biking straight they'll sometimes come too close. Take back roads and residential streets if you're in a city and don't have good bike lanes. Use Google Maps bicycle directions when traveling instead of renting a car. In the winter, get a little bike scarf thing, it's like a loop of cloth that can go over your mouth, nose, ears. Layer up, instead of wearing plastic clothing. Wool is great. Have a rechargeable bike light—plug it into your laptop. Make sure you have a good bike basket, fenders, chain guard, bell, internal hub, your bike isn't too fancy and therefore stealable, and get a combo lock for ease of locking and moving on—these are commuter basics. I heart #bikestylish!"
Special thanks to all of our stylish biking models for taking time out of their busy schedules to let us capture them biking stylishly!
Help us show that biking is stylish, attainable, and aspirational to our non-biking friends and family. We want to see YOUR stylish biking photos! Visit www.bikestylish.com and submit your stylish biking photos for a chance to be featured on the site and possibly in an upcoming Elephant Journal article (full photo credit given).
What are your favorite things about biking? What are your bike stylish biking tips? Comment below!
Love elephant and want to go steady?
Editor: Catherine Monkman
Photos: Courtesy of Bike Stylish/Tanya Dueri Photography