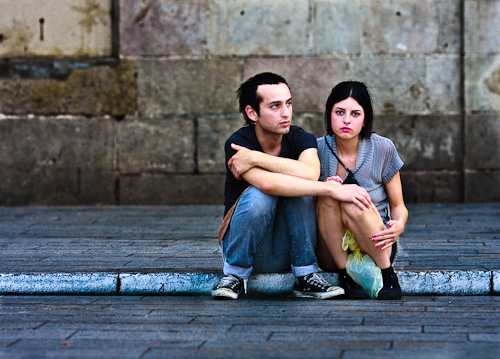 Adult language ahead.
Here's the thing about resentment: it feels shitty.
Letting go of grudges feels good. Taking away the good from past experience feels great.
Easier said than done, I know.
I'm not a Buddhist monk and I have a lot to learn about life. One thing I know for sure is that hoping that the past will change—hoping that someone will change so that you can be happy—is simply not going to happen. Take 100 percent responsibility for your own happiness. We always get to choose how we want to feel, even in the shittiest of situations.
Lately I've had quite a few discussions about finding the positive lessons in past relationships (sometimes this can be a real struggle). It won't happen immediately; we may not be able to see the gift we're receiving at the time, but trust me, it's there!
My response in these conversations is to simply make a practice out of it. List your past relationships and find the lesson. Maybe you'll see a few resemblances in my list below:
My First Love
We were high school sweethearts and I felt comfortable with him. That trust allowed my to be vulnerable as a young woman. Being young ,we learned a lot about possession of another person, and what it meant when the words "boyfriend" or "girlfriend" are attached. He taught me to create boundaries in a relationship and that jealousy and possessive behavior are not ok.
My Lesson: When someone presents the ultimatum, my answer will always be, "I choose me."
The Exaggerator
He could be selfish at times, not only with me but with his friends too. I was strong and challenged his behavior, which he liked so he would do little selfless things for me that he never would for his friends. When our relationship came to an end I began to see how his selfishness was often a shield.
My Lesson: Selfish is not the same as self-love.
The Comedian
He was my creative inspiration. He made me laugh and encouraged me to be silly. I adored these qualities about him so much that he inspired me to find what helped fuel my creativity. He loved having fun so much that the honest, real, "serious" conversations were often overlooked.
He later told me, "I think I was afraid. Because I liked you so much I was scared to open up and tell you how much I really cared for you".
My Lesson: You've got to be willing to risk your heart.
Our love was wild and passionate and immature. His touch drove passion throughout my body. I was crazy in love… or lust. We would split, and find our way back to each other just to learn that it still wasn't going to work. We wanted each other, but we also wanted different things.
My Lesson: Passion comes in many forms, but a passion for what we want in life can't be substituted by just passion in bed.
The Renaissance Man
He was fantastically intelligent and independent. He would cook us wonderful dinners and we'd have intense conversations lasting late into the night. He didn't need anything from anyone. He was so in-control that he didn't need to trust anyone either. When he hurt, when he felt pain, he expressed anger. He was vindictive and would spit hurtful words to regain control of his own feelings.
My Lesson: Avoid anyone who tries to cut you down. He taught me how to rebuild self-confidence.
My Project
He was my wild card. We both had our issues, but he wasn't in any rush to deal with his. He kept himself busy enough that he wouldn't be alone to face his insecurities. I wanted to help "fix" him. Maybe all the other women he was sleeping with wanted to help, too.
My Lesson: You can't help anyone who doesn't want to be helped.
The Nice Guy
He was polite and a real sweetie. We struggled to ignite the flame between us. The chemistry just wasn't there. We both knew but even though I didn't want to give up, there was nothing to hold on to.
My Lesson: "Good" isn't always good enough. Chemistry matters.
The Heartbreaker
He was everything I ever wanted in a man. If I could write a list of ten desired qualities, he fit nine and a half of them. He inspired me, challenged me, loved me. He dreamt up visions of our future, bright enough for both of our imaginations. I couldn't love him enough. He needed someone who could love him more and that couldn't be me. The time wasn't right. He was my first heartbreak and the man who will forever be the one who woke me up. Some say that pain is your greatest teacher. He taught me what it means to really feel.
My Lesson: Pain is the Universe's way of demanding that we keep learning.
The Gentle Touch
He came into my life at a very fragile time. I wanted simple; however, the new me and the life I was leading was far from simple. Loving a conscious woman is hard work. He told me that I inspired him. He believed that I came into his life to help him become a better man. At the end of the day we both wanted to hold on to each other. Laying in his arms was like a medicine for my bruised heart. So many things connected on so many levels, but still something was missing.
My Lesson: Don't settle. Find someone who you connect with Spiritually, Emotionally, Physically, and Intellectually.
I'm grateful for each and every one of these men. They helped me become who I am today. Now more than ever I understand what I'm looking for in a partner.
~
Relephant:
5 Things I Learned from My Ex-Lovers.
The Laws of Breaking Up & Getting Over it.
What Happens in Fight Club: Arguing Fairly & Mindfully.
Love elephant and want to go steady?
Apprentice Editor: Hannah Harris / Editor: Catherine Monkman
Photo: flickr/ Skedonk