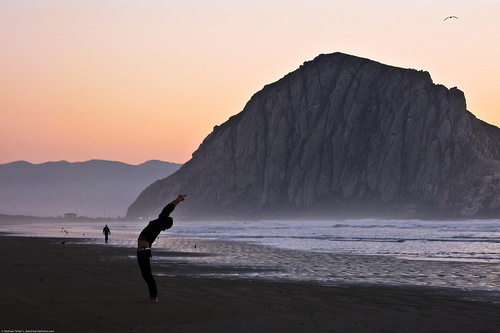 I asked my dear friend  colleague Hala Khouri from Off The Mat and Awakened Heart, Embodied Mind, why yoga works, and loved her answers:
"Yoga helps us connect with ourselves, to be okay with discomfort and to develop resilience.
What does it mean to connect with ourselves?
Well, think about what our daily lives are filled with: busy-ness, distraction, stimulation… A lot of people I work with and know say that that they feel disconnected from themselves.
When we practice yoga in a mindful way it is an opportunity to just be still, to check in and find out what is present for us beneath the surface. 
I know that I need to do this every day if I am going to make my life an expression of who I really am.
So yoga is an opportunity to just pause and connect, just like we would with a friend or a loved one."
See more videos in the series here!
Love elephant and want to go steady?
Editor: Renée Picard
Photo: Mike Baird at Flickr