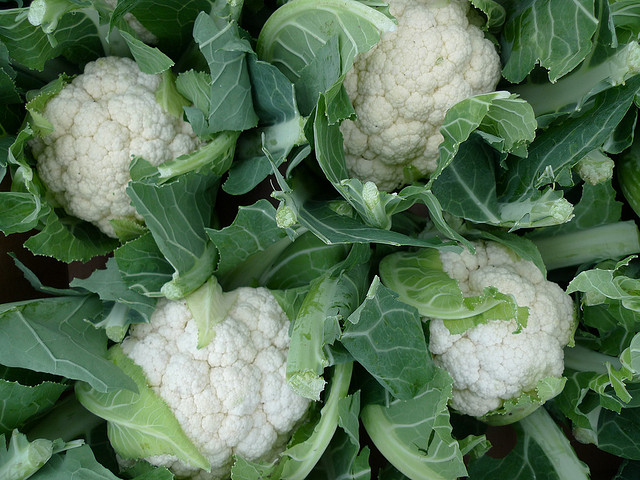 I tossed this yummy recipe together one day after a weekend of over indulging.
It's the best kind of dish—you can make it easily with odds and ends that are already laying around the kitchen, and it's so healthy you can eat pounds of it guilt-free.
If you're not strictly vegan, consider placing a lightly fried egg or two on each serving for a legit hangover buster.
Also, you can substitute any quick cooking veggies you happen to have for the ones I've listed in the official recipe: zucchini, red bell pepper, leeks, fennel bulb, frozen peas, snap peas, mushrooms and finely chopped greens would all work wonderfully well.
It's a great way to experiment with flavors and clean out your crisper.
Bomb Cauliflower "Rice" with Cilantro and Peanuts
Serves two to three depending on your appetite or the severity of your hangover.
You will need:
One cauliflower's worth of cauliflower "rice."
To make cauliflower rice, break apart one head of cauliflower and place in a high powered blender (such as Vitamix). Fill blender with water until it covers cauliflower. Process on medium until cauliflower takes on the consistency of rice—around two minutes. Drain and set aside.
1 onion, chopped
2 cloves garlic, minced
6 carrots, peeled and chopped
2 yellow squash, chopped
1/4 cup golden raisins
1/2 cup roasted, salted peanuts + more for topping
1 tbl mild curry powder
2 tsp smoked paprika
1 bunch fresh cilantro
2 tsp brown sugar
2 tsp coconut oil
juice of 1 lime
Sea salt and fresh cracked pepper to taste
Sriacha hot sauce (optional)
Saute carrots, onions and garlic in coconut oil, five minutes. Add spices, saute one more minute until fragrant. Add all other veggies, cook five minutes. Turn off heat and fold in sugar, raisins and peanuts and lime juice. Mix well.
Serve topped with lots of cilantro, more peanuts and hot sauce if desired.
Love elephant and want to go steady?
Editor: Catherine Monkman