Wow! This guy is an elephant, and he doesn't even know it!
Elephant Journal is dedicated to the mindful life: "Dedicated to sharing the good life beyond the choir, and to all those who didn't yet know they give a care about living a good, fun life that's good for others, and our planet."
Gregory Kloehn is a man who is doing just that, in more ways that one!
Kloehn is an artist who took it upon himself to build a small home out of a dumpster! Gregory and his dumpster home were featured on an episode of "Inside Edition."
According to the narrator of the segment, "Gregory built the dumpster dwelling to explore how to turn trash into treasure'."
So what was the next step for Kloene, after building his tricked-out dumpster suite?
Building more tiny homes made out of trash and providing homes for the homeless! His latest endeavor is called the Homeless Homes Project.
From the Homeless Homes Project's main page:
"Our goal is to bring together imaginative people and discarded materials to make sturdy, innovative, mobile shelters for homeless people. By sourcing our materials from illegal street dumping, commercial waste, and excess household items, we strive to diminish money's influence over the building process."
Instead we want people's creativity and ingenuity to drive the building process. Each structure is unique and all homes are mobile so that they can accommodate the nomadic lifestyle of our homeless residents while avoiding the complexities of permanent structures."
Pretty badass, right? Not only are Kloene and his team of cohorts reducing and re-using waste, they are providing shelter to those in need in their community. Using creativity and an artistic platform to boot!
Here is Kloene gathering materials: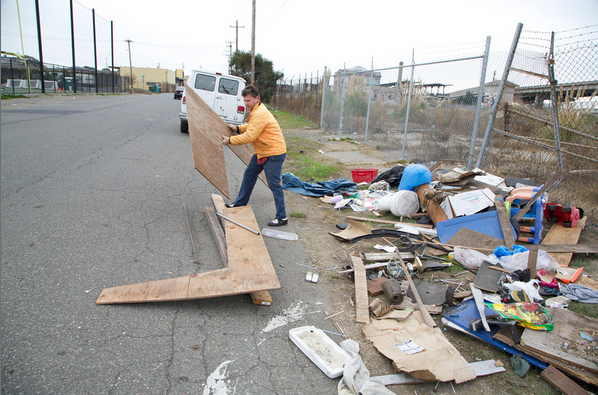 The structure for one of the tiny homes: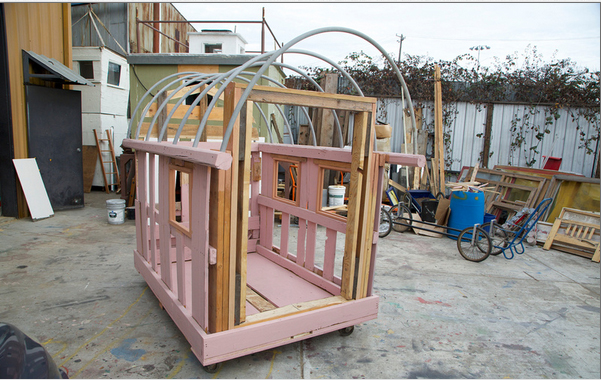 Kloene building onto the structure:
An adorable, small pink home:
The pink home's interior:
A small yellow home: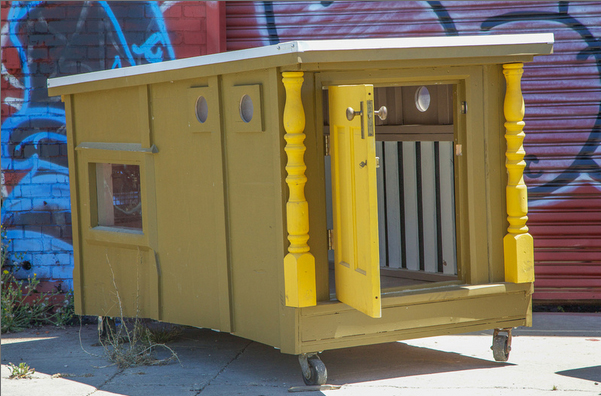 Four colorful and unique completed homes: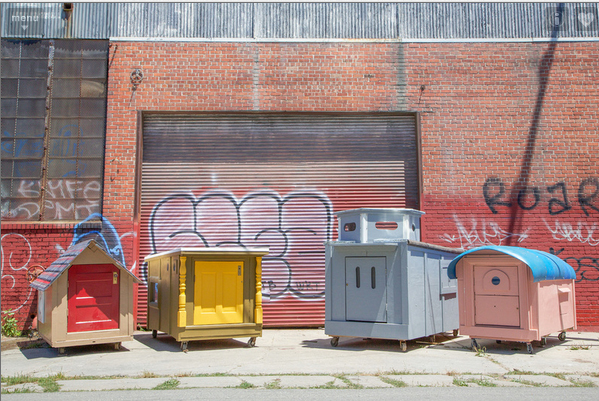 To see more of these awesome, artistic homes, check out the gallery via the Homeless Homes Project's main page.
And if you'd like to get involved with the ongoing project of everyday garbage into viable living spaces, you can contact the team here.
Love elephant and want to go steady?
Editor: Renée Picard
Photos: used with permission from Brian J. Reynolds via homelesshomesproject.org