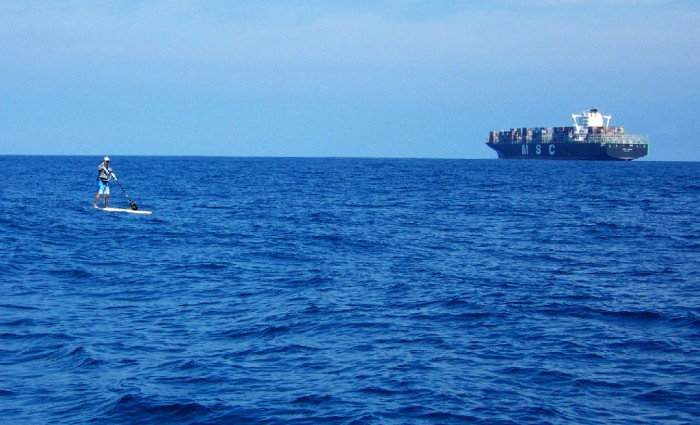 "Do your little bit of good where you are; it's those little bits of good put together that overwhelm the world."

~ Desmond Tutu
In May 2014, former Marine Will Schmidt, who has battled depression, embarked on a 1,400 mile journey along the Pacific Coast to raise awareness about this mood disorder.
Yesterday Schmidt completed his solo stand-up paddle board journey from Canada to the Mexico border to raise awareness and funding for the Wounded Warrior Project (a program for veterans battling depression and anxiety), and he also broke a Guinness World Record with his trip.
Along this wild 58-day journey, Schmidt chatted about his project with the locals at every stop along the way. Schmidt wanted to raise money for helping his fellow veterans who suffer from combat anxiety, traumatic brain injury, depression, anxiety and more. According to the Department of Veterans Affairs, almost once an hour—every 65 minutes to be precise—a military veteran commits suicide.
A few years ago, the idea for Schmidt's adventures began after almost taking his own life with a bottle of pills mixed with a bottle of whiskey, luckily his mom called (just in time!)—and upon hearing his sadness—encouraged him to go paddle.
So he did.
The practice for his 1,400 mile journey began with smaller trips. In 2012, he completed a solo stand up paddle of the Catalina Channel; and then, beginning in mid-September 2013, he made a 45-day stand-up paddle board trip around the California Channel Islands.
During his practice for the Island adventure, Schmidt filmed this inspiring clip of being on the Pacific waters:
He shares with us a sense of awe that may help others pull ourselves out of depression. Schmidt believes that his depression is genetic, and extends his compassion for his fellow soldiers who return from war with internal battles raging.
"Not all wounds show on the outside," he explained on his web page, Are You Inspired Yet?
His epic adventure inspired those whom he met along his journey from the cold rough waters off the coast of Canada to the warmer waves of southern California.
Here's an Facebook excerpt from one of the harder parts of his journey:
Schmidt shows us that we can find a source of inspiration to help us through our dark nights and days.
Congratulations for an amazing journey, Will! Welcome home!
You did it!
Love elephant and want to go steady?
Editor: Travis May