Moving day has come and gone…again.
As if by some astounding, cosmic bureaucratic error, I have moved four times in four years.
I'm gaining a lot of practice, but at something I don't really want to do. It reminds me of all those years in school when my Mom made me take piano lessons! Of course now I love to play the piano, but I can't imagine looking back and saying the same about moving—it just seems like nothing but a prolonged period of uncertainty, stress, chaos and confusion.
How many times have you reflected on a crummy situation in your own life and asked, "Why does this have to happen? What good can I possibly get out of this?"
Looked at from another perspective, it's not what happens, but how we react that matters. The first time I moved four years ago, it was a 10 out of 10 on my S.H.I.T. scale. (Stressful, Highly Insane Times)—divorce plus moving will rate highly on any stress-o-meter.
The second time I moved rated about an eight. The third time was almost a charm, but still a solid five. Sometimes when there is a repeating negative pattern in life, we may stop to consider if the universe is trying to tell us something. Maybe it's there to teach us something, by throwing the same obstacle into our path over and over again until we overcome it and grow. Sort of like a cosmic do-over.
This move has finally made me realize that it isn't moving that I've been practicing; but stress management! Move number four was only a two and a half, because every time I felt out of control, I could step back and avoid the Bog of Eternal Stench.
So what if I got called for a last minute interview on moving day, and every piece of appropriate clothing was packed away in a sea of boxes? I want to accept and be OK with reality, no matter what life's little monkeys throw. In celebration, I've made this lavender-almond oil scented, bamboo reed diffuser.
It's like an anti-bog, zero s.h.i.t. scale, sweet-smelling jar of happiness.

How to make it: 
1⁄2 c almond oil 2 Tbsp vegetable glycerine 25 drops lavender essential oil glass/ceramic jar decorative glass stones (optional) elastic thread and beads (optional) bamboo reeds First, find a small jar with a narrow top, to slow the evaporation of the oils.
Next, toss in some random pretty bits of glass, or whatever you like. Pour in the almond oil, glycerine and then drop in the lavender essential oil. Stir it around with a bamboo reed to mix. String a few pretty beads onto a length of elastic thread and tie the ends together to form a circle. Place the reeds into the oils, then flip them and put the dry ends into the jar with the wet ends sticking out. Continue to flip the reeds upside down whenever you want a fresh burst of nice scent.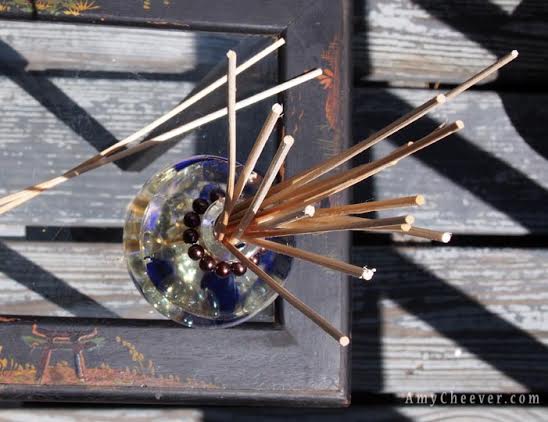 Love elephant and want to go steady?
Editor: Renée Picard
Photos: courtesy of the author