Recent struggles and setbacks left me in a major funk. I was feeling vulnerable, feeling exposed, feeling low, feeling down and out. I decided to express myself through asana—naked.
I wanted to strip free of all my walls, break the barriers I had put up myself.
I wanted to release the confines of who, or what, I was trying to be and just be me. I wanted to expose myself to the world. So I took a chance. I put myself out there, my whole self.
I wasn't trying to be seductive or sexy. I wasn't thinking about pushing boundaries or bringing shock value to yogic life. I just wanted to bare it all—honestly and flawed.
What happened? It felt so incredibly empowering. I felt strong and beautiful. To my total shock, I received an overwhelmingly positive outpouring of support. Seriously, I expected some haters. But I didn't care.
Amazingly, there wasn't a single negative comment or judgmental slur. What I definitely didn't expect were others to drop trow and share their own nudist revelations.  Within days, other yogis, other bodies, more flesh started appearing in my feed.

I didn't mean to start a naked yoga revolution.
I just wanted to honestly put myself out in the world. It's scary being your whole self, especially while still in the process of discovering who that is. Suddenly I'm getting emails and comments from people telling me how inspired they are, explaining that they finally felt liberated. One such follower even started hashtagging his photos #nakedyoga and encouraged his followers to do the same.
I don't have a ton of Instagram followers like many of the other internet yogalebrities out there, but I do have an incredible community of loyal supporters. To date, I have only received two negative comments—2. For that I feel so thankful. I would rather have a few amazing virtual friends in my corner than a million absentee voyeurs.
One family member likened these photos to pornography. Others feel it is indiscreet, but taking my clothes off on Instagram has been one of the best things I've done. This isn't some kind of rebellious disrespectful act . It just feels so honest. Embracing my body when I was struggling with a recent weight gain and sharing triumphs, struggles, and vulnerability openly made me feel free and strong.
I get to decide how, where and with whom I share this temple. My body is a sacred vessel that I feel so grateful to have. Even when feeling sore or tired or achy or fat, I am fortunate to be here. This project made me proud of who I am and the journey I am on. I realized that the more truthfully and transparently I express myself, the more approachable I can be to others.
I am not a porn star or a slut. I am also not a virgin or a Madonna. I am just me. I am a soul naked and wandering in this world trying to make sense of it all. The body should be celebrated. All bodies.
We only get one. We should feel at home in it. We should feel beautiful in our own skin. Somehow, taking a risk and sharing nude yoga got me there.
~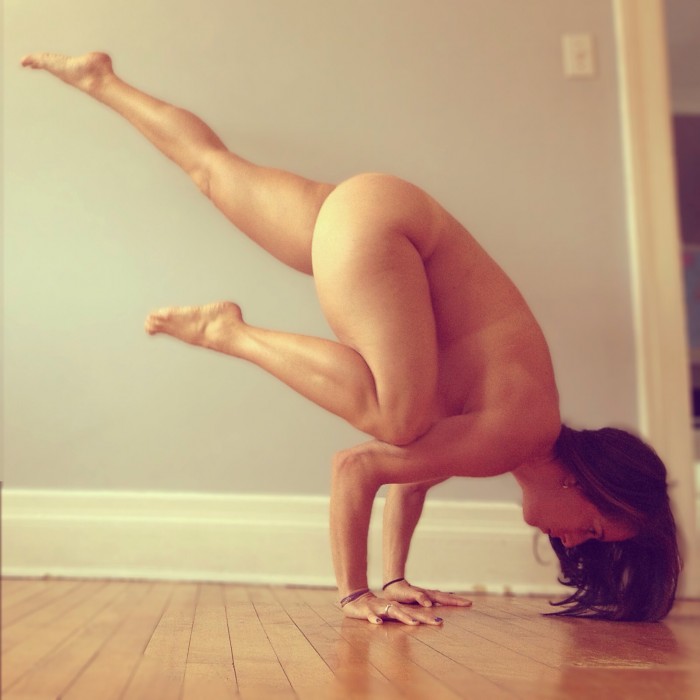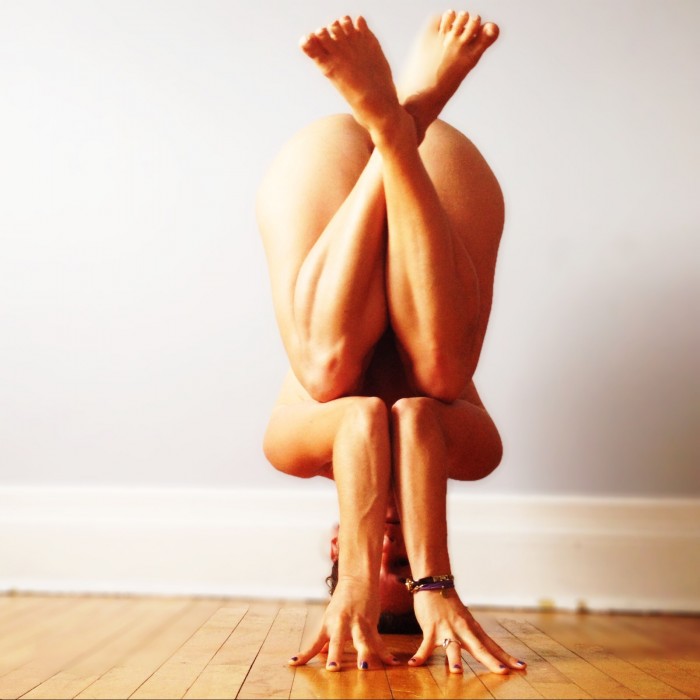 ~
Relephant Read: 
10 Things I Learned: My Instagram Yoga Challenge
Love elephant and want to go steady?
Editor: Travis May
Photo: Provided by author