Waylon chats with The Wastewater Gardener, Dr. Mark Nelson, on the nitty-gritty of constructing wetlands from one of the world's most valuable resources: human waste!
The Poop Scoop:
"Every action that we take is important and can make a difference." ~ Dr. Mark Nelson
"Have reverence for yourself, for others and for the biosphere that sustains us all."
~ Dr. Mark Nelson
"Everything is connected to everything." ~ Dr. Mark Nelson
"50 percent of fertilizer applied to land doesn't help crop—it runs off and pollutes water." ~ Dr. Mark Nelson
"If you look around at the way we use water you have to ask, is there intelligent life?" ~ Dr. Mark Nelson
"It takes 10 tons of water to wash one ton of waste away." ~ Dr. Mark Nelson
"A molecule of CO2 spends three years in the atmosphere." ~ Dr. Mark Nelson
~
More from Dr. Mark Nelson:


Elephant is psyched to be working in partnership with Google+ on our new live video series, which features three live videos a week (that can be watched later, too).
Here's the (poop) scoop:
Dr. Mark Nelson's book, The Wastewater Gardener: Preserving the Planet One Flush at a Time, takes a global look at how we are misusing one of the world's most valuable resources: human waste!
Dr. Mark Nelson, who has worked for several decades in closed ecological system research, says that not only are we wasting a free, natural fertilizer, we're polluting our dwindling supply of fresh water. In the book, Nelson offers a brief history of how we got into this sh*tty mess—and proposes a way to get out of it.
Mark builds Wastewater Gardens—constructed wetlands that act like a "kidney" to treat wastewater—all over the world: the Yucatan, Bahamas, Philippines, France, Morocco, New Mexico, Australia, Bali. Next up, Mark is working to restore wetlands in the Iraqi desert—a remediation project will literally turn human waste into a work of art. Pending the situation in Iraq, they are set to break ground on "Eden in Iraq" this fall.
Dr. Mark Nelson's bio from his site: 
Mark Nelson, Ph.D., is an eco-system engineer and researcher, and one of the original "Biospherians." He is Chairman and CEO, and a founding director, of the Institute of Ecotechnics, a U.K. non-profit organization consulting on several demonstration projects working in challenging biomes around the world. He is also Vice Chairman of Global Ecotechnics Corp. and consults on wastewater reuse and recycling using Wastewater Gardens®, subsurface-flow constructed wetlands.
Dr. Nelson was a member of the eight-person crew inside Biosphere 2, the 3.15 acre materially closed facility near Tucson, Arizona, during the first two-year closure experiment (1991-1993). He has worked for several decades in closed ecological system research, ecological engineering, the restoration of damaged ecosystems, desert agriculture and orchards and wastewater recycling. He holds a Ph.D. in Environmental Engineering Sciences from the University of Florida; an M.S. from the School of Renewable Natural Resources, University of Arizona; and a B.A. in Philosophy/Pre-Med Sciences from Dartmouth College.
His Wastewater Gardens projects have taken him to the coast of Yucatan, Mexico; the high desert grassland south of Santa Fe, New Mexico; the semi-arid tropical savannah of West Australia; the resorts of Bali; and most recently, the deserts of Iraq. He is the author of The Wastewater Gardener and co-author of Life Under Glass and Space Biospheres.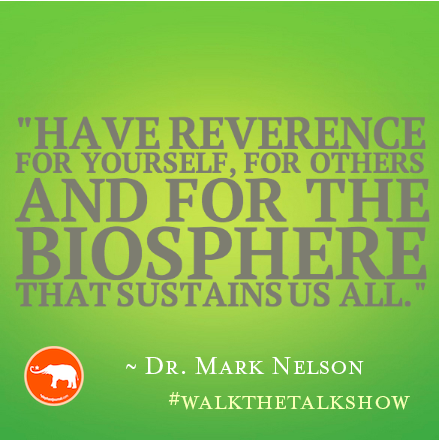 ~ 
Relephant:
~ 
 ~
We got your social mediums right heah:
Hangout on Google+ every Tuesday & Thursday at Noon MDT.
Listen: Walk your Talk on your commute or over dishes with Soundcloud.
Subscribe directly to our award-winning Youtube Channel.
Editor: Rachel Nussbaum
Photo: Dr. Mark Nelson