WATCH: This 60-second Clip Might Change the Way we Consume.
In 2004, Dee Williams sold her 1,200 square foot house in Olympia, Washington and moved into an 84-square foot Tiny House that she built herself, from scratch. Ten years later, Dee is still living tiny and has become an author and major spokesperson in the growing movement to live minimally.
I met Dee in 2010, when Christopher Smith and I filmed her for our documentary, TINY: A Story About Living Small. TINY chronicles our own process of building a Tiny House from scratch with no building experience and profiles other people (like Dee) who have radically downsized their lives. As we built our house and traveled around the country visiting other 'Tiny Housers' we were motivated by one central question:
"What makes a good home?"
If home wasn't defined by space or stuff, we wondered, then what was it?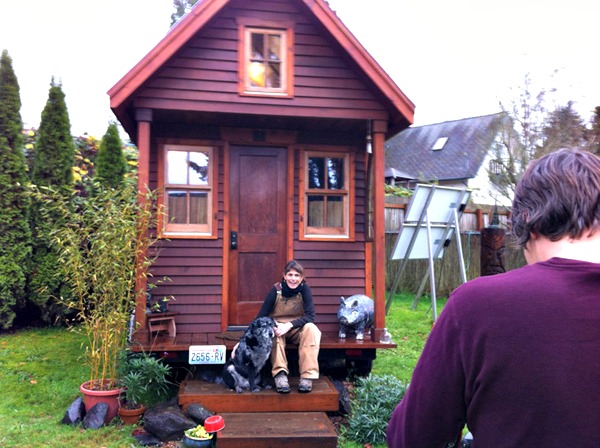 What struck me about Dee was her honest and straightforward approach to life. In many ways, this is born from necessity: Dee decided to downsize shortly after she was diagnosed with congestive heart failure. Though she's healthy and going strong today, the precariousness of her health has helped her to prioritize. While it may seem extreme to think about death every time we embark on a shopping spree, it's true that impermanence has a way of putting everything into perspective and reminding us of what matters most.
Dee's point isn't so much that we shouldn't buy that new pair of pumps or the flatscreen TV, but that it's worth noticing what kind of life we are cultivating with each choice and purchase we make. It's fun and sometimes necessary to buy things – but let's make sure our possessions are highlighting and not hindering our connection to the people and experiences that make our precious, short lives worth living in the first place.
The above video is an excerpt of a 12-minute extended interview with Dee Williams that appears as a special feature on the DVD of TINY: A Story About Living Small. You can also rent or download TINY on iTunes and Vimeo on Demand.