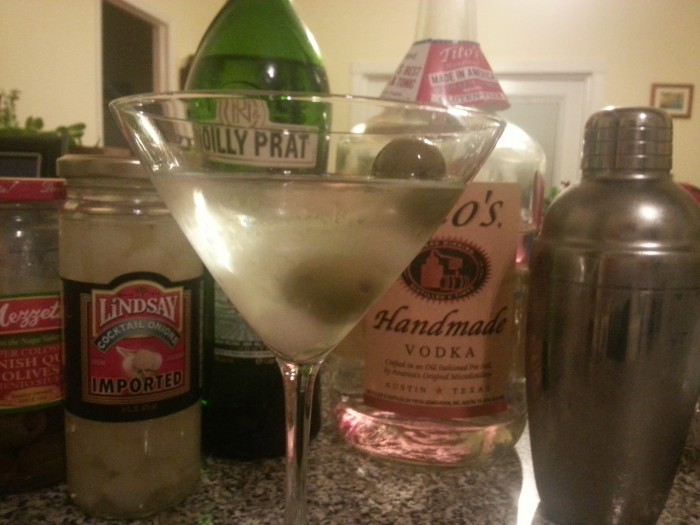 There are tons of great food recipes and I've made a number of them, but it's Friday night and some of you (like me) may be looking to make a great drink rather than vegetable lasagna.
My cousin Brian in Oregon deserves a lot of the credit for this recipe, probably, but he's not here now and one hears a lot of things. So, I'm claiming authorship for it.
You may be thinking that a martini is a pretty basic drink and there's very few ingredients, so what's the big deal? Well, as in cooking, the freshest and best ingredients can make a dish tastier than adding a hundred spices. I've had my share of martinis and the ingredients and ritual do make a difference.
For most of my drinking life I've considered martinis a strictly gin affair. Vodka martinis were some unfortunate derivation from the original pure martini drink. Well, I've changed my tune. This perfect martini uses vodka rather than gin.
On with the show. These are the specific ingredients and implements you will need.
3 oz of Tito's Vodka
1 oz of Noilly Prat Dry Vermuth
2 big ole martini olives
2 cocktail onions
one martini shaker
one toothpick
one martini glass
some ice
So, the most important ingredients, naturally, are the vodka and vermouth. Tito's is a wonderful, smooth vodka. It is made out of potatoes right here in 'Murica. (Whereas Grey Goose is made out of wheat in France.)  The Noilly Prat Vermouth is a little higher quality than the typical variety, and makes the winning difference.
Making a drink can be a mindful practice to savor and enjoy, almost like a religious ritual. The attention to detail is what makes it special, and as Chogyam Trungpa once said, a warrior knows how to make a proper cup of tea.
The first step is to put a cup full of ice into the shaker. Mine is metal which gets very cold after a few minutes.
Next, and this a special twist, take your toothpick and alternate an olive with a cocktail onion (I recommend having the cocktail onion on the bottom for the first bite.) Set the completed mini olive/onion kabob into the martini glass.
Next pour three ounces of Tito's into a measuring cup, followed by one ounce of the Noilly Prat. Pour this over the ice in the shaker.
It gets cold very quickly, but you can let it set for a few seconds while you put your stuff away or pose your bottles for an Instagram photo. Then, put the cover on the shaker and gently shake for a good 10 seconds.
Finally, slowly pour the contents of the shaker over the olive/onion kabob in the glass.
Take a comfortable seat, appreciate your good fortune for being able to enjoy this perfect martini and savor a nice sip. I've been doing so while writing this post and I am confident in saying it is one damn good martini!
Love elephant and want to go steady?