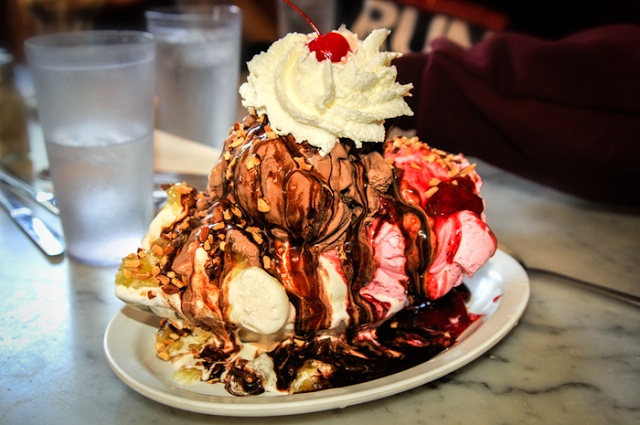 High Plank sounds like flank steak.
You know it does.
He says Mountain Pose, I see a fluffy cloud of whipped cream
on a sundae.
Boat makes me crave a Banana Boat, which I will eat directly
after the sundae.
Downward Dog is the bun, mustard, onions and the
grilled frank—turkey, tofu, kosher—being swallowed down.
Supine Twist is a martini with a little turned lemon slice.
Yogi is yogurt, frozen, swirls of mango and pistachio—
no one likes pistachio, so I don't have to share.
Table Top is Thanksgiving dinner. A long table, all the fixings.
Triangle is a wedge of pie: blueberry, cherry, all the creams.
Sometimes I smell pizza!
Forward Fold is Jell-O mold—go ahead say it, it's perfect.
She says Back Bend—I'm tasting Cornish hen.
Warrior 2 sounds like second helpings of BBQ.
Namaste—Yoga's over, I'm mad-hungry: 'Get out my way.'
*Anything else said in class will usually be heard as Chocolate or Cheese.
Love elephant and want to go steady?
Editor: Travis May
Image: Kevin Pastores/Pixoto