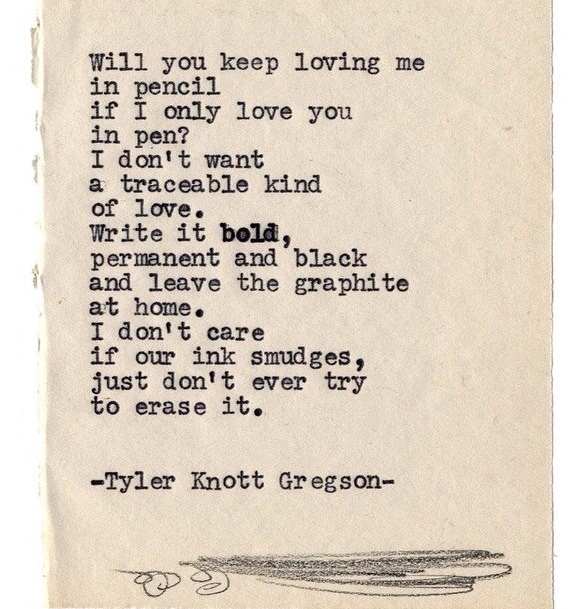 A few weeks ago, I sat at an outdoor cafe, sipping my decaf coffee when I heard an odd tapping. I looked around, expecting to find a woodpecker drumming on a nearby oak, but I didn't see one.
The noise—an oddly familiar click and clatter at odd intervals—continued, as I wrote in my Moleskin, but it bugged me in a curious way. I searched out the noise, and I saw a brightly dressed young woman contently typing away on an old fashioned typewriter.
I laughed out loud, excited to see a resurgence in a tool which I had used as a 16-year-old, typing poetry with dreams of being in New York City while I lived in rural Northern California.
The clitter-clatter of keys striking against paper is romantic in this era of digital impermanence, as we no longer hold onto words—feeling the grooves made by keys hitting the paper.
On a typewriter, words become steady in the moment (unlike this sentence that I just erased, and typed again). As a 16-year-old, I typed wildly (ignoring the mistakes) or slowed down to consider my words, as I poetically wrote about my young world, and young love(s).
Typewritten love notes may be the ultimate romantic gesture (one that I haven't given or received as of late), so, at first, I felt a bit nostalgic when these words showed up in my Instagram feed.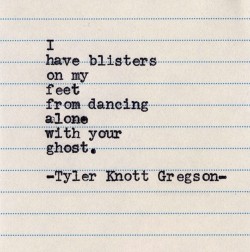 The imagery is stunning. I paused, and reflected on this line, especially loving the fluidity of style created by using a typewritter.
I knew, as I did when I discovered poet Pablo Neruda, that I wanted more of Gregson's poetry. Of course, I had a harder time with Neruda, as I was left searching through the old library cards (the typed ones), while finding Gregson's work was simple.
Flicking through Gregson's Instagram page was like opening a treasure chest of emotions that resonated with my heart. I nodded with agreement—as do many of us who read his words—or I sighed with relief that another soul had figured out how to say what I felt.
Gregson captures a poetic moment with clarity and precision, creating emotional saturation in a brevity of space, as if he developed a photograph out of his words, leaving us to want a moment of pausing, and relishing the images he shaped through a few short sentences.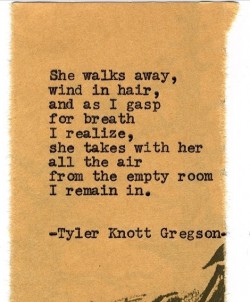 Chasers of the Light, his first book, will be published in the coming Fall. Some of Gregson's Typewritter Series poetry, his photography and blackout poetry will fill the pages of the book. A dollar from each pre-ordered book will be donated to the charity, To Write Love on Her Arms, which offers hope and help for those struggling with depression.
Gregson's poetry offers hope through his sharing of poetic snapshots on these little slips of paper, reminding us that we are not alone in this wild, ever-changing world.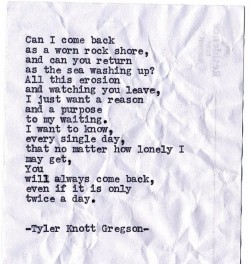 Love elephant and want to go steady?
Editor: Catherine Monkman
Images: Courtesy of Author