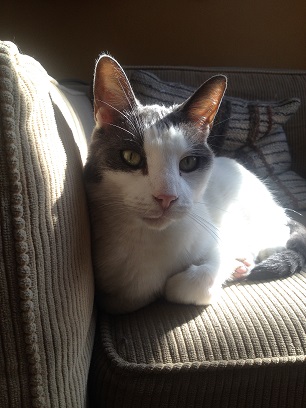 "Until one has loved an animal, a part of one's soul remains unawakened."



~ 

Anatole France
My cat, Bean, is 13 years old.
We have been through illness together, deaths, eight moves, three long-term relationships, two painful breakups, the addition of a few other furry, four-legged creatures—among many other adventures.
We've lived a whole life together. Some of it has been rocky (my fault, buddy) and some of it has been sweet.
I was 22 when this guy I worked with called and asked if there was any way I would rescue a kitten—his mother was a vet and a pregnant cat had shown up one day on her doorstep, promptly giving birth to 12. Her office was overrun and she needed homes for them quickly.
At the time, I was barely functioning.
My mother had been dead just over two years. My stepfather had moved on and started dating someone else. My sister was away at university. I was struggling at school, dealing with a break-up and I found it so hard to confide in anyone how badly I was doing.
I felt completely alone and spent the time I wasn't working in bed. I'd get up at 3 a.m. to raid the refrigerator just so that I wouldn't run into anyone I lived with. All I seemed to do was watch TV, cry, or just lie there, hoping to feel anything at all beyond that gray, reaching despair.
I thought about a new kitten for approximately three seconds.
"Yes, of course." I said.
What I hoped for and what came true, is that this little kitten would give me a reason to live.
My reasoning was, he had biological needs that a human had to fulfill, so I needed to keep breathing in order to feed him.
He, in turn, quickly decided his favourite thing was snuggling up under my right arm while we watched TV, purring like a truck motor.
Cuddling in a prone position is still his favourite pastime.
He hasn't always been an easy cat: he's never stopped humping my sweaters. He drinks out of the toilet bowl. He snores and when he's hungry he sits in front of the food cupboard and makes this noise that is more quack than meow. He seems to cost me thousands of dollars every few years in vet bills.
He is a character, I guess you could say. A character, an odd cat and a loyal best friend. He's always been right by my side.
But I've been realizing over the past year or so that Bean, whom I give partial credit to for saving my life, is reaching the end of his own. Now he is starting to fail—quickly, it seems, and all at once.
A little while ago he started losing weight while simultaneously developing a heartbreaking habit of barbering—licking his fur clean off. Blood work showed problems with his thyroid. The vet prescribed him medication and he now takes (begrudgingly) half a pill twice a day.
The vet and I were both hoping that with his thyroid responding to treatment, that his barbering would stop, but currently his back legs are completely, turkey-leg bare. There are other things happening too—a sudden skin allergy, forgetfulness. So we're looking at different foods, switching his medication, pheromone collars to help him stay calm.
But I half wonder if it isn't just the way dying happens, sometimes—like our bodies are sandcastles that slowly get washed away.
It feels like I've witnessed this happen so many times before, for so many others—my mother, a few close friends, a parade of orphaned and sick wild animals—and every time, the process shows me that everyone writes a different life story and everyone's ends differently.
I often have to take a moment and breathe to remind myself that one day, this happens to all of us.
I have to trust in this process of life, the process that gave us to each other—the one that has its own designs and its own subterranean pull. We've had a good life together and I am very lucky for it. He taught me about how every animal becomes so much a part of who we are: a part of our bone and marrow, our muscle, our heart.
Having him around is a constant reminder to honor my elders. He gets ashamed if he's sick or if he forgets that I fed him a few minutes earlier—I don't yell at him when that happens. I reassure him with touch. He gets dibs on my lap when I write. I try and make sure he has as much attention as he needs.
And I hope somehow, although how I'm not exactly sure, that by being kind to him now, someone else is also being taken care of in their time of need, somewhere else another elderly person is being cuddled and comforted in the way that honors their process.
He's my family and I want to be around for him, just like he was for me when our roles were reversed—and I'm sad that 13 years just seemed to blink by. The 22 year old girl he rescued is gone, but now he's an old man who needs me to stick around and do what I can for him.
He's always been my little piece of "kitty Velcro." Maybe soon he won't be here and I'm going to miss him so much when he's gone—but I'll be so grateful for him and his love and I'll try to let him go, with grace.
While writing this piece, I tried to research exactly how many older animals are surrendered to shelters in their twilight years. I found that while older animals are one of the most frequent arrivals, exact numbers are kept private. Both the Toronto and the Halifax SPCA had this to say, though: please consider an older animal if you are looking to rescue a pet. They don't have nearly the same adoption rates as younger animals, but give just as much love. 
~
~
~
Love elephant and want to go steady?
Editor: Travis May
Photo: Courtesy of the subject (and author).