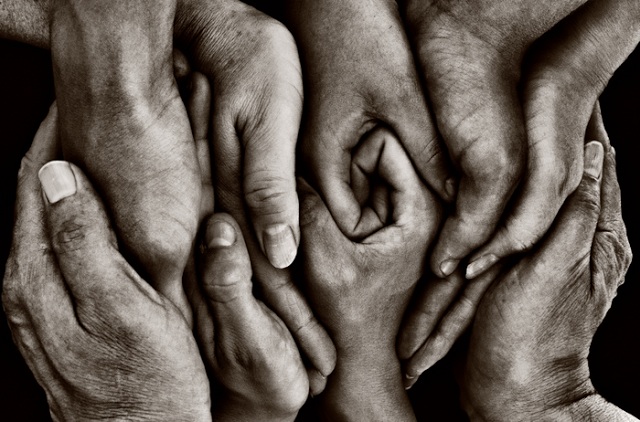 Exhausted, I spread my arms
in Savasana
and by accident,
though some say there's no
such thing,
I touch the hand of
the yogi on the next
mat.
Before I can retrench
my fingers are intertwined
in another's.
I keep my eyes closed
tight, scrunched,
like when I get a shot at
the doctor's.
Not wanting to be there.
Not wanting to feel.
Perfect for Corpse Pose.
I was so deep in my yoga
I can't picture
who was beside me.
I can only see my wife.
My cheating heart is
about to have an attack.
The teacher says,
"Let yourself surrender fully."
Is she nuts?
Or maybe this is a practical joke
and she's in on it?
My monkey mind
goes berserk.
The person next to me
must think I want to hold hands.
They probably think I'm hitting on them!
Gross! Gross! Super gross!
And in the spirit of oneness—
they feel obligated
to respond, but inwardly
are repulsed, violated…going
to lodge a harassment complaint
immediately after?
I will be banned from the studio!
My face will be on the yoga perv
report.
Or maybe they wanted to
hold my hand? Maybe
they were in desperate need
of community and the divine forces
of compassion gently
directed my hand over?
When the teacher begins
to guide us out of this pose
my hand is softly released.
I slowly bring it to my side,
keeping my eyes closed. I
do not want to face
the situation, the person,
the police,
myself in reflection.
Too awkward, too physical
too spiritual.
Too.
So I stay on my back on
my mat, motionless,
sweating like in the
middle of a Chaturanga to
High Plank to
Cobra to Downward Dog
flow.
I wait, feeling the bodies
walking by, out of the
studio until I am sure
I'm the only one
in the studio.
After two deep cleansing
breaths I make a
Downward Eyes Dash
to the locker room.
"That was nice, wasn't it?"
the only guy in there says to me.
"Yes," I say. "It was."
I'm not sure what I am agreeing to.
Nor to whom.
But it was nice.
Love elephant and want to go steady?
~
Editor:  Travis May
Photo: Sandra Cockayne/Pixoto