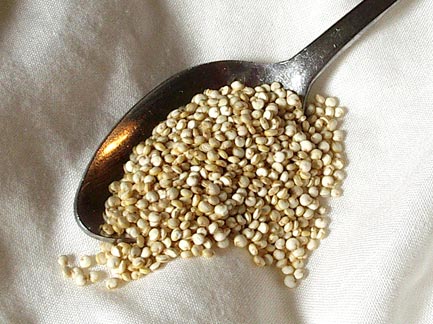 It's autumn, lovely autumn.
A time when trees change colors and take on golden hues. A time when our foods start to take on more savory warming notes to keep our bones warm as the weather gets ever crisper.
It's also approaching Thanksgiving, a time when turkeys (or tofurkys) get stuffed and roasted and served to families of people who subsequently become stuffed themselves.
Who doesn't love stuffing?
Growing up, it was always one of my favorite things about the Thanksgiving meal. I don't even know why, because technically, stuffing can be anything. So why is it so tasty just because it was inside something else? I honestly still don't know. But here's a fun vegan stuffing to try this holiday season. It's nutritious and easy, and of course, very very yummy!
Here's what you'll need to make a big batch (6-8 servings):
2 cups of quinoa
4 cups of vegetable broth
1 cup dried apricots, chopped
1/2 cup toasted almond slivers
1 cup dried cranberries
salt to taste
To make the stuffing, cook the quinoa in the vegetable broth and add a little salt if desired. When the quinoa has absorbed the liquid, mix in the almonds, apricots and cranberries and stir it thoroughly. Then leave it sit for at least an hour, this will let the flavors blend.
Now it's time to get stuffing! Stuff it into a turkey on Thanksgiving (if you're a carnivore) or into whatever vegan/vegetarian alternative you like. I particularly like it stuffed into pumpkins or acorn squash and then baked. It's really delicious!
Love elephant and want to go steady?
Author: Kathryn Muyskens
Editor: Catherine Monkman
Photo: Wikimedia Commons