I apologize on behalf of Rupert Mudoch.
Darkness cannot drive out darkness; only light can do that. Hate cannot drive out hate; only love can do that. ~ Martin Luther King Jr.
Rupert Murdoch, aged 83, is an Australian American business magnate who owns the world's second largest media conglomerate and is arguably one of most powerful and influential men on the planet.
Murdoch has taken to Twitter to express his views on the terrorist attack on the offices of Charlie Hebdo and the aftermath which left a total of 17 people dead and others seriously injured.
Murdoch sent out a tweet on January 10th stating: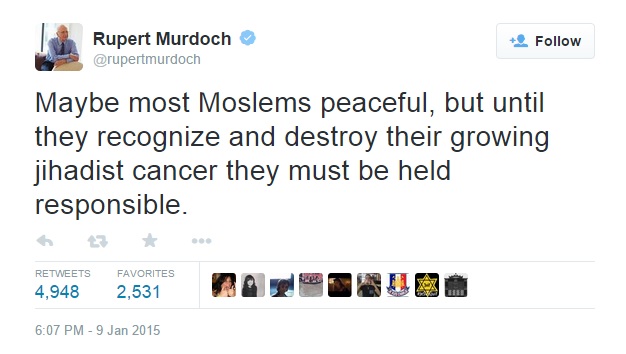 Following the tweet, there has been a huge backlash as thousands were outraged at the generalization that suggests approximately 1.6 billion Muslims are to blame for the acts of a small minority.
I have to strongly disagree with Murdoch. No, they are not all responsible, just as the whole of Australia is not responsible for any negative behavior he displays.
To suggest that a whole religion can wipe out the acts of a few is not only ignorant, but is also a dangerous comment.
In the days following the attack, Muslims from all over the world have spoken up and against the acts of terror. A large percentage of Muslims do not condone it, do not agree with it and are as helpless as the rest of the world is, in containing and erasing radical extremists who carry out these attacks.
It was thanks to the brave act of one Muslim, Lassana Bathily, who potentially saved the lives of 15 people at a kosher supermarket under attack in Paris. Bathily used quick thinking and led people to the safety of a freezer, which was turned off so they could be shielded.
Another Muslim, Mahnoor, took to twitter to describe how he feels about the sweeping statements about his religion:
"'what's it like being muslim?' well it's hard to find a decent halal pizza place and occasionally there's a hashtag calling for ur genocide"
Malik Merabet, the brother of the Muslim police officer, Ahmed Merabet, killed outside the Charlie Hebdo offices on spoke at a press conference today, 11th January 2015 saying:
"My brother was Muslim and he was killed by two terrorists, by two false Muslims. Islam is a religion of peace and love. As far as my brother's death is concerned it was a waste. He was very proud of the name Ahmed Merabet, proud to represent the police and of defending the values of the Republic—liberty, equality, fraternity."
He added:
"I am addressing myself to all racists—the Islamophobes and the antisemites: You must not mix up extremism with Muslims. The madmen have no colour nor religion. Stop… having wars or burning mosques or burning synagogues because you are attacking people. My brother was Muslim and he was killed by two terrorists, by two false Muslims. Islam is a religion of peace and love. As far as my brother's death is concerned, it was a waste."
Twitter has also been bombarded by tweets from white men, Australians and journalists, who responded to the claims by Murdoch that all who are connected by genre are responsible for the actions of a few. Thousands have tweeted to apologize to Muslims on behalf of all white men, all Australians and all journalists, after they were furious at Murdoch's assumption.
Rupert Murdoch was himself at the center of a huge scandal when members of staff working for him at his national newspaper, The News of the World were involved in a huge phone hacking scandal. The investigation that was carried resulted in prison terms being handed to those responsible, while Murdoch was cleared and was not sentenced for the incidents.
James O'brien makes a valid point on twitter following Murdoch's recent remarks, saying ‪"@rupertmurdoch that's funny, given that you refuse to be held responsible even for the actions of people who worked for you."
It's certainly time that we stopped stereotyping, finger pointing and yielding blame toward those who are innocent. If we join together, instead of against one another, we stand a far better chance of ridding the world of the evil acts of terrorism.
Religion, beliefs, culture, race, class, color and anything else that makes us differ from one another should never be used as a divide. The majority of us want peace and freedom to live freely by what we believe in without causing harm to others, this should be enough for us all to join the cause, side by side, rather than fighting with our neighbors who want the same things.
We are stronger together. Let's not fragment the world further, it is fragile enough. Let's accept our differences and not be afraid of others, just because we don't agree or fully understand them.
So long as we are all united for the good fight, we can battle it together—we stand a far greater chance of eradicating terror when we are not condemning the innocent and instead, choosing to reach out the hand of peace.
Sources:
Love elephant and want to go steady?
Author: Alexsandra Myles
Editor: Catherine Monkman
Photos: Twitter, Valentina Cala/Flickr