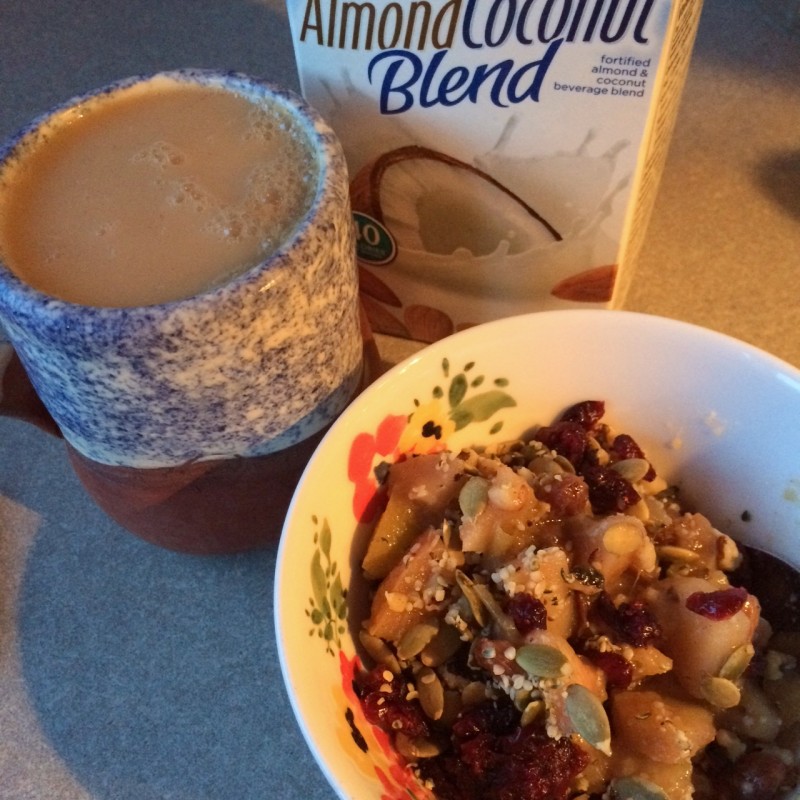 It's January and we're all still feeling a little full—full of good ideas, great intentions…and full from two weeks of feasting during the festive season. Maybe over-full in fact.
For me, it was time to reset. Surfing my favorite social media, I came across the idea of a three day cleanse and wondered if I could handle it. Three days sounded more possible to me than a week-long, water-only cleanse. It certainly sounded more doable than a 30 day cleanse that doesn't involve real food.
I have a pretty busy little life happening and nothing spells failure like the idea of a strict and impossibly punishing cleanse.
I decided not to cleanse, but instead make smart choices for a light and healthy three days of mindful eating.
First, I considered the season and my environment. It happens to be really cold here: -4 F (-20 C) days are common—that's cold! I wanted my three days of mindful eating to include warm, home cooked food that was nourishing and that I actually like to eat. It's a lot harder to stick with a plan if you don't enjoy it. Mine consisted of a warm breakfast and beverage, and an evening soup.
And I set myself up for success and happiness by eating food I like and that I find as much joy in preparing as I do in eating.
This is what I came up with—a plan to keep me warm and feed my body and soul, while helping alleviate that rich, too full feeling.
Morning Chai
My mornings started off with homemade chai tea. My blend includes equal amounts of six warming spices: cinnamon, ginger, nutmeg, cardamom, black pepper, and clove. Play around with the flavors and concoct your own blend to suit your tastes, or use this simple recipe.
To brew your own chai, mix one teaspoon of chai spice blend with four cups of water and bring to a boil.
Then add coconut or almond milk, or any you prefer, let it steep and warm through.
Filter out spices by straining freshly brewed chai into your favorite cup and enjoy.
It makes enough for a second cup for an afternoon or evening treat. If you want a bit of caffeine, add two tea bags to the water and spice mix as it heats. I opted to do without for the purposes of my mindful eating plan, but would normally caffeinate and caffeine has its own benefits.
Along with my morning chai, I made a simple applesauce to warm my belly.
Belly Warming Applesauce
Chop eight organic apples—I used a mix of Granny Smith, Piñatas, Gala and Macintosh, but whatever is at hand is perfect.
In a large pot, cook the chopped apples on low heat with juice of two fresh lemons and half teaspoon of ground cinnamon, using more or less depending your tastes, or add a bit of ground nutmeg or clove. Or opt for simple and do without the spice if you prefer.
The apples should cook slowly for at least 30 minutes. If they appear dry or stick to the pot, add a splash of water – but not much. Stir often to ensure even cooking and that nothing sticks.
When the apples are soft, turn off the heat. I added a handful of raisins and let them soften with the lid on while it cooled.
I prefer to eat my applesauce warm—not hot. To serve, I added a spoonful of pumpkin seeds and hemp hearts, some crushed walnuts, and a few cranberries for good measure. Mix together and you're ready to break your fast.
The last recipe I used during my three days of mindful eating was a delicious curried red lentil coconut soup. It's a favorite and the best soup I've made. Try it—I believe it could change your life.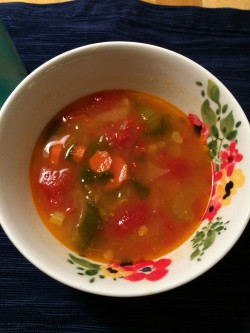 Curried Red Lentil Coconut Soup
Soak one cup of red lentils in water for at least four hours before preparing your soup.
In a large pot, melt a dollop of coconut oil. Add a chopped onion, a finely chopped clove of garlic, an inch worth of freshly grated ginger, two chopped carrots, and a chopped celery stalk. Cook on medium-high heat until it all softens and is fragrant.
Rinse lentils well and add to the aromatics; along with a can of organic chopped tomatoes and their juice, a can of light coconut milk, the juice of one lemon, and four cups of vegetable stock.
Add a teaspoon each of sea salt, turmeric and curry powder, plus ground black pepper to taste. I also added a tablespoon of dark brown sugar, but you may omit the sugar, or use another sweetener of your choice.
Finally, add a fistful of freshly chopped cilantro.
Bring to a boil and then simmer for 20 minutes, or until the lentils have softened. So damn good!
To stem hunger and make a successful go at a three day challenge like this, I gave myself permission to have a simple salad for lunch in addition to my three basic recipes. Mine consisted of fresh spinach, kale and mixed greens, with an avocado and homemade hummus.
I found this approach to a mid-winter cleanse was a good experience in controlled, well-cooked, mindful eating.
It's not always easy to keep my diet this clean, especially in the midst of a regular work week.
But with a big batch of soup already made, and homemade chai and applesauce ready to warm each morning, there's no reason I can't eat well and feel full and fulfilled on the goodness of my little life.
Love elephant and want to go steady?
Author: Sophie Ann Dufresne
Apprentice Editor: Ashley Cradduck / Editor: Catherine Monkman
Photo: Author's own