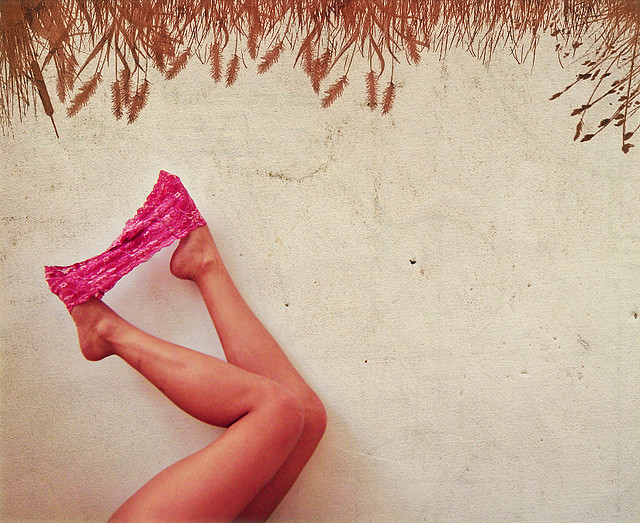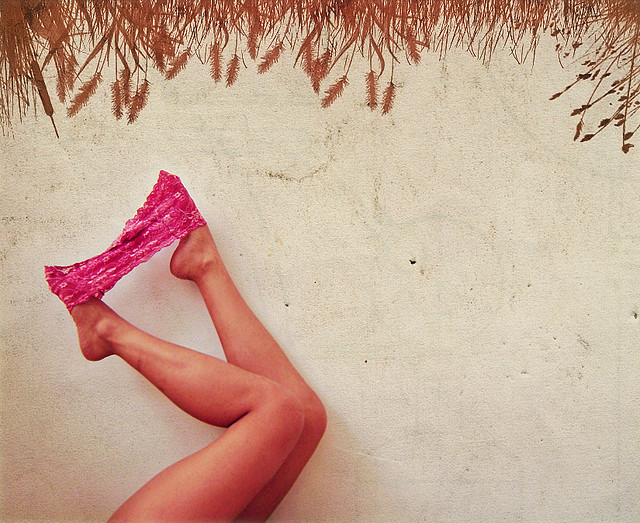 For those who love cannabis and love sex, the thought of combining the two is pretty titillating.
Note: elephantjournal.com received these review items, in return for a guarantee that we would review said offering. That said, we say what we want—good and bad, happy and sad.
Enter Foria, a marijuana-based oil used before sex.
Foria, made from coconut oil, hash oil (and love), is marketed as a stimulating oil for women, to be directly applied to the lady's business (if you know what I mean) as a pre-lubricant.
It's advertised to naturally enhance a woman's pleasure and heighten orgasms. That's not all—the oil is also edible, gluten free, sugar free and vegan.
Originating in California last year, Foria is new to the recreational marijuana market in Colorado. This is a novel way to enjoy sex and marijuana. Oh my Goddess, I had to get my hands on a few bottles.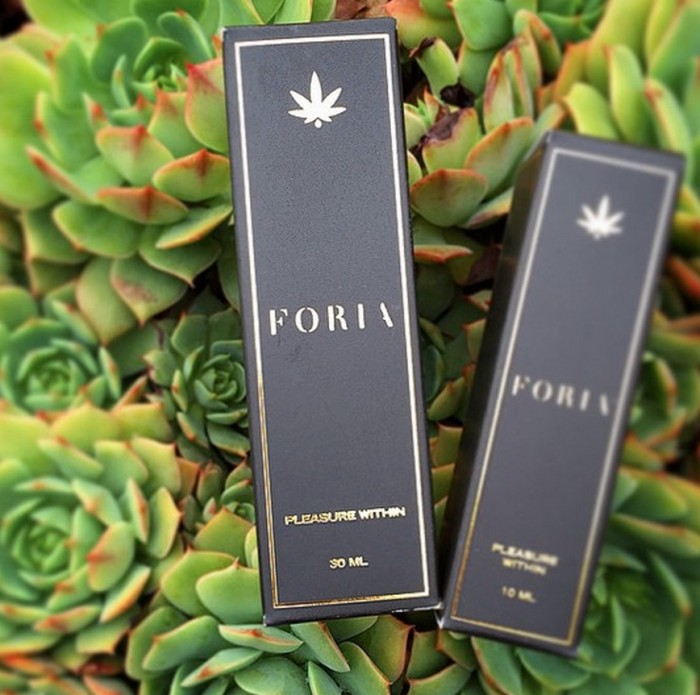 With all the excitement of a commercially available cannabis sex oil, is the excitement true or is it hype?
For the enticing product review, I gave three samples to three enthusiastic women to test solo and with their partners for 10 days. Then, the women shared their opinions, the scope of their experiences and the quality of the product as measured by answering an extensive review. (To assure confidentiality, their names have been changed to Goddess names, Venus, Athena and Hera!)
Venus:
Venus and her partner, both in their late 30s, have been together almost a year. Venus has no experience with topical cannabis and rarely uses sex lubes during sex and definitely is not a fan of warming lubes. She has sensitive skin and normally doesn't trust the ingredients in traditional sex lube.
However, she felt comfortable applying Foria to her sensitive tissues because of the simple ingredient list. There were "no strange words with x's and y's in them that I cannot pronounce." When asked what she thinks the about what Foria does for her, Venus said, "Frankly, I haven't the foggiest."
Venus and her partner liked the smell and taste of the product—a mild coconut and herb scent. "One afternoon I squirted two pumps into my mouth and two pumps into his (that's what she said). It was pretty tasty. I'd put it on everything, salad, pasta or penis."
Athena:
For the past two months, Athena, age 47, has been casual lovers with a 55 year old partner. Athena, a self-described cannabis connoisseur, is somewhat experienced with cannabis topicals, she uses them occasionally for pain relief.
Very knowledgeable about lubes, Athena always uses lube during sex, whether with a partner or solo. Not a fan of warming lubes, her preferred natural lube is coconut oil or grape seed oil. The Foria ingredients were familiar to Athena and she felt very comfortable testing the product.
Athena says Foria "enhances sensation and relaxes the vagina." Athena loved the smell, it even turned her on. Her partner, also a connoisseur, loved the smell and taste. "Two of my favorite things in combo!" she gushes.
Hera:
Hera, age 56, and her 55 year old partner have been together 15 years. Very familiar with cannabis topicals, Hera uses topicals for pain relief and relaxation every day. Hera has an extensive knowledge of lubes, likes warming lubes and occasionally uses lube during sex.
When asked about Foria, Hera says, "I don't know. I assume it's stimulating, not numbing." To Hera, the smell and taste were not obvious. "What smell? What taste?" she asked.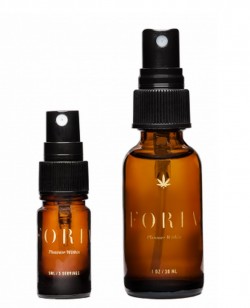 Touted as an aphrodisiac, Foria comes in a small 10 ml brown glass spray bottle. The suggested use is four to eight sprays. Each spray contains approximately 3mg THC, so the suggested dosage is 12-24mg.
Similar to the timing of the well-known male sexual performance drug, Viagra, Foria is applied topically 20 to 40 minutes before arousal as a pre lubricant.
Orally, Venus and her lover felt the effects in 20 minutes when she squirted two sprays each in their mouths.
Athena remarked the bottle was very easy to use. She found the spray challenging to aim and overcame the problem by spraying the oil onto her fingers. "I love the silky smooth texture" she discovered. Hera said the spray was "less messy than gel lubes. It was too fine and intense at close range. Sort of like a spray needle."
The oil is applied to the clitoris, inner and outer labia and inside the vagina. Next, "relax for 30-60 minutes to allow the medicine to fully marinate" says the accompanying product literature.
For Hera, the marinating time did not add to the enjoyment. "The 30-60 minute wait really interfered with spontaneity. With our busy schedule, that's important."
Venus shared the waiting time before sex was different for her too, but it heightened the anticipation. "One night I applied it, walked out into the living room and giving my best bedroom eyes, I looked at my lover and said, 'I'm marinating.' It was really quite hysterical and exciting. After that it was most difficult to wait but we did! That's when I took a bong rip and got super high. F*ck yeah."
Not to be a buzzkill, but since Foria is oil based, a big drawback is its incompatibility with latex condoms. Oils weaken latex, so if condoms are necessary, use non-latex ones. This incompatibility requires careful planning for safe use during sex.
The lubricating qualities of the oil might not be enough for some women. Hera shared, "I wouldn't call it a lube. Maybe more of a stimulant. It certainly wasn't enough to overcome the drying effects of an indica or menopause."
Another concern (total buzzkill now) is knowing the measures taken by the company to ensure the safety of the consumers.
Mathew Gerson, Director of Wellness at Foria says, "As to product safety, we consulted with numerous MDs to establish whether a THC (tetrahydrocannabinol) infused liquid coconut oil would be safe for vaginal application and absorption. We received 100% approval for this type of use given that both THC and MCT (medium-chain triglycerides) are safe for the mucosal lining of the human body. We have had over 10,000 users in California with only one known adverse response which was due to a pre-existent allergy to either THC or MCT oil that caused a rash."
For this review, all three goddesses felt comfortable using the product because of the simple ingredients.
Can a pussy get high?
Venus shared, "While marinating, I was all kinds of tingly. I wanted to see if I could get high through my vagina. I think I did, but it was pretty mild." Overall, "our bodies were looser and more relaxed. I recall having a screaming orgasm that time."
Athena said, "I think my pussy did feel high, if that's possible! She felt very soft, warm, tingly and relaxed. Same with my partner—he didn't feel high after oral. I definitely felt heightened sensations in both my clitoris and inside my vagina—very subtle but noticeable. I felt more engorged in both areas with slight tingling sensation. My partner said he thought my vagina felt tighter, caressed him more fully when he was inside me." Overall, sex was "more pleasurable for sure—more sensation and lubrication."
Hera didn't have the same over the top or nuanced sexual experience. "Overall, I don't feel this product really enhanced our experience. It seems like the inclusion of cannabis may be more of a gimmick than a real tool for sexual pleasure. We tried the product twice. Although we had great sex, I can't attribute it to that product. We usually have great sex, so I guess we were looking for something different. I was hoping to feel something different, but I really didn't. I wasn't that impressed the first time and wanted to try it a second time to be sure. I do think it made me more sensitive, but in a bad way, especially after sex."
Overall, Hera was not impressed by the product, but she did have very intense orgasms and had fun trying out the new product with her partner. Hera says she would continue to use it occasionally.
Venus' favorite part was having fun with the cannabis lube during sex.
Athena's favorite part of using the product was "tasting it on my partner's lips after he gave me oral."
These goddesses absolutely recommend Foria. Venus says, "Everyone who likes sex and cannabis should try it." Athena volunteers, "I will recommend it to everyone I know who enjoys sex and cannabis."
Getting freaky with Foria is not without its hazards.
Venus' lover took the excitement too far! She waxes nostalgically, "some days we have sex like tomorrow is a rumor. We'd probably Foria more on those days because, obviously, we'd have all day to lie in bed avoiding any semblance of responsible adulthood. Those days are the best days. We won't be having too many of those in the near future because my partner had emergency hernia surgery two nights ago. The cause? Having sex. And boom goes the dynamite."
Take heed, pace yourself and be careful!
Two goddess reviewers were very excited by Foria and one thinks it's mostly hype.
Are you ready to try your hand with Foria and see for yourself?
Relephant read:
Author: Susan Squibb
Editor: Ashleigh Hitchcock