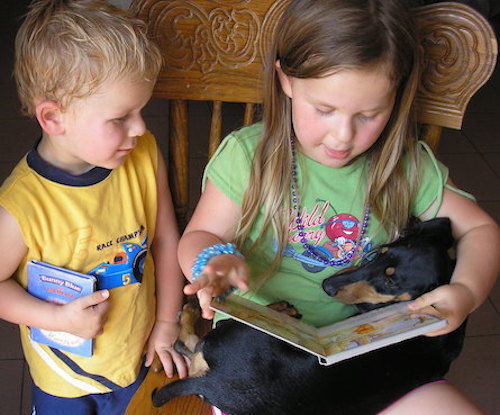 "One fish, two fish, red fish, blue fish."
Every time the calendar comes around to celebrate Dr. Seuss's birthday, this is the first book I can think of.
I started my life-long love of Dr. Seuss, not by reading, but by being read to. Sitting on the old carpeted floor in our living room, I would gaze in wonder as my mother read to me.
The colorful pages captured my tiny attention span as the words came out in song. I didn't know they rhymed at the time; they just sounded fun.
I also didn't know that my mother was stumbling through each sentence.
My mother has struggled with dyslexia her entire life.
She spent her days in elementary school, wondering why the words in the books danced on the pages. They confused her. Sometimes the letter "e" would magically turn into the number "3." My mother was spanked for disobeying the teachers and when she came home, the punishment was even worse.
She dealt with the name-calling and the punishments for not learning her letters and numbers properly. Through it all, my mother was determined that she would read. It took her longer than the other kids, but it didn't stop her.
As she grew older, she went to the library and found books that were in large print. She sat down at the table and read each word, dragging her finger across the page, slowly mouthing the sounds as the books came to life in front of her. There was a whole new world, free from criticism and she never looked back.
When she began to teach me to read, we started with Dr. Seuss. She taught me the very same way in which she taught herself; finger gently gliding along each word, one letter at a time.
Green Eggs and Ham. Horton Hears a Who. These were the stories of my childhood. I read them so often that I had them memorized.
Of all the books she chose for me, I know now that she was choosing life lessons. Try new things, don't be afraid of who you are and respect everyone for their differences. She didn't have an easy way with words but Dr. Seuss did and she used his lines to teach me to treat others like she wished that she was treated.
At 70 years old, my mother still buys the daily newspaper. She opens it up on the kitchen table and reads every word, not because she has any interest in the real estate market, but because she's practicing.
There wasn't a Dyslexia class in her time; no special care or understanding of the condition. She had to take matters into her own hands and so she did. Then, she passed her passion for reading onto me.
My mother isn't a speed reader or a person who engulfs epic-length novels. Instead, she's a mother who taught her child how to make magic when letters combine into words on pages.
When I was eight years old, I won my first trophy for reading the most pages in my school district. I continued to win that award through the 6th Grade. In 8th Grade, my mother saved up money and bought me a typewriter so I could put my own words together on pages. In High School, I won the area championship for Spelling and Vocabulary.
As an adult, I have never had an empty nightstand from lack of books to read.
It was because of my mother's struggle that I triumphed. She knew that introducing me to Dr. Seuss would open my world to places I could never imagine. Teaching me to read was the best gift she has ever given me.
 ~
Relephant read:
Author: Jennifer Cullum 
Editor: Ashleigh Hitchcock
Photo: courtesy of author