I had high hopes for Friday January 30th as a big work day, but unfortunately the day turned into a series of errands with a limited amount of concentrated work as you will see in Video Blog 7: The Friday That Got Sucked Away.
A few items from the video blog:
>>> I love giving away Bike Stylish stickers and spreading the love of biking, especially to other areas, so I was so excited when Jason DeCarlo, owner of Di Carlo Salon in Milwaukee slapped a sticker right on the back of his iPhone. If you want to share your love of biking through a sticker, please send me a self addressed stamped envelope to: Bike Stylish, 2336 Canyon Boulevard, Suite 100, Boulder, CO 80302.
>>> I featured the little snippet on my roommate Pace Goodman because I think it is awesome how he is finding ways to pursue his musical passion, by just shifting his work hours to 80 percent time. In many cases, myself obviously included, people crave freedom a lot more than money and are willing to earn less to be able to use their time to follow their passions. Pace wrote a great article on elephant journal about his experience One Lucky Musician's Travels Through the Boulder Music Scene.
I think over the coming years we will be seeing a rebellion against the 40+ hour work week in favor of less money and more freedom.
>>> What is your preferred data storage option for multiple terabytes? I'm having a huge media management issue.
>>> The Podcasts I mention that I listen to during my rare moments of driving.
1. Stanford Entrepreneurship Podcast
2. Accidental Creative Podcast
3. Startup Podcast
4. The Moth Podcast
>>> My boyfriend was given two free tickets for Icelandic Winter on the Rocks, a concert show at our local outdoor amphitheater Red Rocks. While it is really hard for me to get motivated to go out after a long week, especially thinking of all the work items waiting for me the following days, when you have free opportunities to relax, you should take them!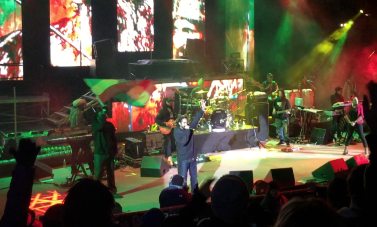 Author: Jeanne Eisenhaure
Editor: Catherine Monkman
Photos: Author's Own