Continuing with Freunde von Freunden's Yogi Lunch series, this time we enjoy a delicious ode to the widely underestimated dish: the salad.
It's often remarked in a disparaging tone that "no great story ever starts with a salad" since a salad is stereotypically associated with boring, bland greens that are far from an explosion of taste or decadent pleasure.
But, we tend to disagree and we've enlisted the help of Belén Vazquez Amaro as a case in point.
Upon seeing and tasting this roasted pear salad with a confluence of approachable and exotic ingredients, maybe you'll rethink the statement as a previous non-believer, or smugly say you had been convinced of the salad's power all along.
So, what comprises a good salad?
Surely, color, textures, high notes as well as understated flavors are all equally important. A good salad shouldn't be smeared in a profusion of dressings neither should it be completely naked with only water drops decorating its green protagonists.
A good salad should work towards enhancing the taste of its vegetables and greens while retaining a certain balance. A good salad has to be mixed well with gentle movements—we all hate a forkful of bare greens followed by another soaked in vinaigrette.
The range of materials that goes into a salad bowl demands for good distribution of textures and flavors. And let's not forget to never overdress! Think of your salad as a finely clad lady, not loud and vulgar. Finally, a good salad should also be flexible to either satisfy the appetite if nothing else follows or prepare the taste buds for further indulgence in subsequent dishes.
Under the union of a simple or complex vinaigrette, some characteristics will be more prominent at times and more discreet at others. The homogenous nature of the salad allows for each ingredient to shine both independently and in unison with the rest of the bowl's occupants.
A salad challenges the cook to cultivate flavor and repeatedly disprove the dish's monotonous reputation by combining different parts and toppings to accentuate the overall experience.
This Roasted Pear Salad is about colors and textures, a combination between sweet and sour, soft and crunchy—something inviting for the spectrum of senses. By simply roasting a pear, the result is so delectable that anything that follows is bound to further evolve the taste level.

Ingredients:
For the Pears:
8 small pears
1 orange
2 tbsp maple syrup
2 tbsp olive oil
Fresh rosemary
A pinch of ginger powder
A pinch of sea salt
For the Salad:
Fresh spinach / green kale
lemon cayenne
3-4 beetroots
2 oranges
Sprouts
For the Nuts:
1 cup cranberries
1 cup pecan nuts
1/2 cup sesame seeds
1/2 cup sunflower seeds
2 tbsp maple syrup
2 tbsp tamari sauce
1 tsp cinnamon powder
A pinch of sea salt
For the Dressing:
2 tsp Dijon mustard
2 tbsp olive oil
1 orange /juice
2 tbsp maple syrup
Sea salt
Black pepper
Method:
Peel and cut the pears into halves, and place them on an oven tray.
Squeeze the orange juice into a bowl and then, whisk together with the maple syrup, olive oil, sea salt and a pinch of ginger powder. Cut some fresh rosemary leaves and add them into the mix.
Brush the pears with the orange-rosemary juice.
Rinse and drain the greens. Peel and slice the oranges for the salad. Remove the skin from the beets and cut into small squares. Sprinkle them with olive oil and roast them in the oven for approximately 15-20 minutes.
For the nut mix, combine all the ingredients together and place in a saucepan. Roast the nuts, stirring constantly with a wooden spoon.
For the dressing, mix and whisk all the ingredients.
Finally, combine the prepared pears, vegetables, nuts and dressing in a nice bowl to finish off your salad.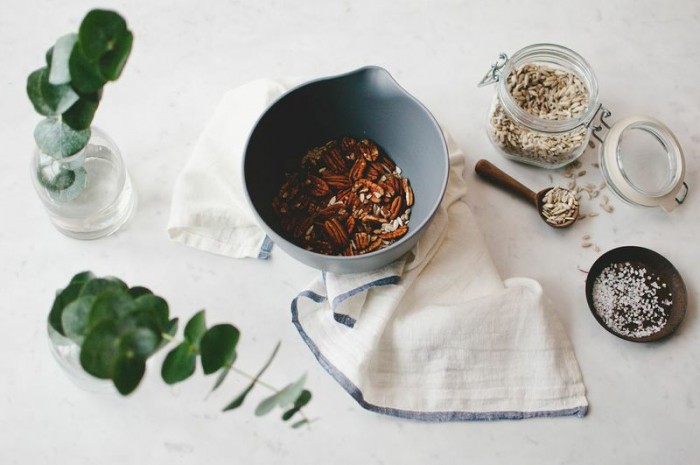 Find the complete story with more step-by-step photos on Freunde von Freunden.
Relephant Read:
Author: Effie Efthymiadi
Editor: Emma Ruffin
Photos: Marta Vargas