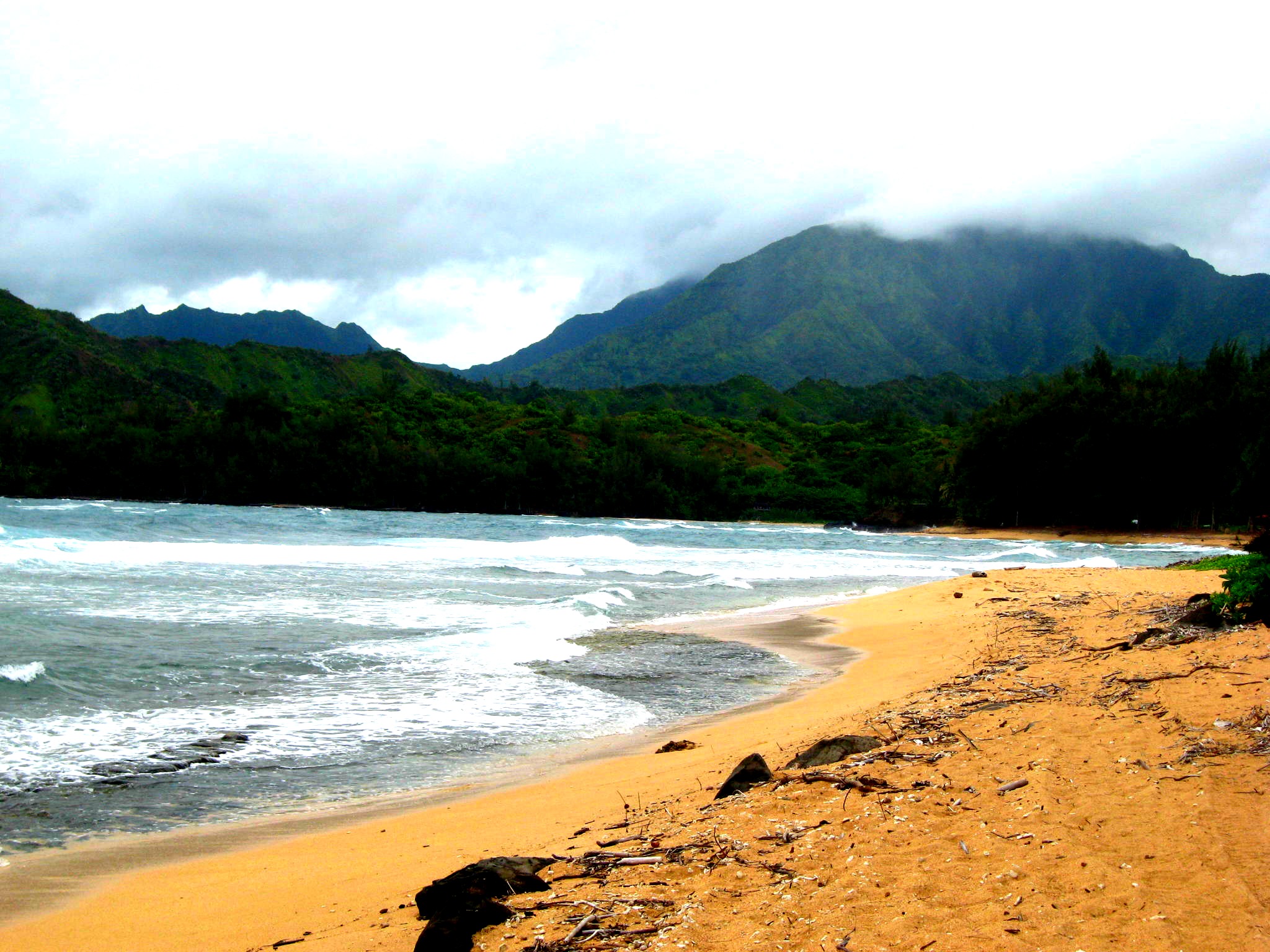 Meditation has become my safe harbor over the last year.
When my mind runs away with itself, I find my heart being drawn to the calm that only silence can provide.
Recently, a friend posted this quote from Mooji on his Facebook timeline. I read it and took in all that seemed right for me in the moment, and left behind what my soul did not resonate with.
After reading it, I felt a deep craving to go into meditation, and chose a favorite mantra to listen to while I found my center. The Gayatri mantra is regarded as having all spiritual powers contained within it, indeed, it begins with the word for the Scared Om.
The video I am sharing is one created by Deva Premal, and if you have never heard her music before, this will be a treat for the ear and the spirit.
While I was in Kauai a little while back, I took the photograph above, while sitting in close proximity to Bali H'ai, a mountain sacred to the Hawaiians. A meditation there has brought me face to face with a dream I have been harboring for years, and am now reaping. For this I am grateful.
If today is a day that you seek some solace, I am privileged to share a little of what has given me peace and wisdom to ponder.
Namaste.
The Quote:
I am going to tell you something now that you don't hear very often in the world,
and I use myself as an example for you.
If you want to go all the way, give up the sense that you have any rights in life.
Have no right at all. Have no rights for anything.
Then everything is a gift.
When you don't deserve anything, everything is a gift.
Just try.
Just for you. Okay?
This is not a political decision.
Give up this sense that you have rights, that life owes you something, and feel the space that remains. Maybe, initially, you will feel vulnerability like, 'Oh my God, I can't stand up for my rights. I will be abused.' But go beyond this feeling.
Sacrifice it for a greater truth.
You must begin to think with your God-mind.
God does not have rights.
God does not need any rights.
You have to be like God.
Give up this sense you have rights.
You wish to go all the way?
Give up pride also.
Give up future too.
If you give up future, you give up past also.
Just for you. You don't have to tell anybody.
And give up this dependency, 'Who will be here for me?'
And give up projections such as, 'Yes, in two years time
I will be in a solid relationship and I will own my own apartment.'
There is nothing so great about that.
It just keeps you being a sucker.
You don't want to be a sucker.
There is greater than this to come.
You miss the full adventure and power
that comes from the Holy spirit if you start to choose for yourself.
If you feel to choose for yourself, He will leave you to choose for yourself.
But as soon as you give up this sense of rights; if you say,
'You give me the sense of choice. You are my choice,'
then something else will happen.
In the world nobody tells you this.
There you have to be proud and say, 'Listen, I have rights!'
When I have rights, the world has done me a lot of wrongs.
Give up pride.
Pride in being a woman.
Pride in being beautiful.
Pride in being accomplished in something.
Pride that you are a certain race, religion or nation.
Give up all of these things.
They belong to the devil.
They don't belong to you.
And experience what remains.
A great space will open inside your Heart.
Huge humility.
Huge acceptance, love, wisdom and freedom
as you experience integration with the cosmic being.
And no force on earth can manipulate or bind you,
because you have made yourself empty of all that makes a 'person'.
Why think it is so great to be a person?
For a while we have to taste that state of personhood,
but there must come a time when you return to purity.
Come back to your purity, your original being!
You ask, 'How?'
Collapse at God's feet. This is no ordinary fall.
It is not falling down.
It is falling upwards into the embrace of the Living God.

~ Mooji
Author: Monika Carless

Editor: Travis May

Photo: Courtesy of the author, Featured Image: Flickr/Benjamin Balazs
Facebook is in talks with major corporate media about pulling their content into FB, leaving other sites to wither or pay up if we want to connect with you, our readers. Want to stay connected before the curtain drops? Get our curated, quality newsletters below!