I created this e-book of nude photos after a hurtful relationship breakup.
He said he loved me, and then one day just turned his back on me and walked away.
The grief, anger and hurt got me thinking and feeling, and when I was away on a l0 day retreat in July, 2010, the idea came to me of creating 12 nude and semi-nude photographs of myself called "Ripe."
Why the nudes?
Just because the man that I loved turned his back on me and walked away didn't mean he took away the magic, sexuality, sensuality, aliveness, spirituality and love that I brought to the relationship. He may not have appreciated it, but he certainly didn't take anything away from me because it was there all the time.
It took a great deal of courage to confront my body image as a woman, especially when for years and years, the media and our culture has consistently told us as women we should look like everything we are not. We are encouraged to be fake, to not show the genuine, authentic us, and we are encouraged not to tell the truth.
So what better way to be honest—not hide—then by creating 12 nudes and semi-nudes of myself?
I couldn't have hid in these photos even if I wanted to.
I encourage women and men to do this. It is so healing to confront what is right there. I have come to accept and love my body. I feel once the acceptance happened a deeper sense of love was able to appear.
I realized that for years I had been fighting off feeling beautiful inside and out.
After the photo sessions were completed I realized that for the first time in my life, I totally accepted me as the beautiful woman I am today. This was no bullshit. This was totally real and it shocked me that I had never loved myself in this way; that's how subtle and insidious it can be.
It was also important for me working with a photographer who I trusted and I found that in Herb Way. Herb has been photographing women in the nude for years, and his photos show great respect for women of all colors.
I wanted to work with a designer of the book, who I could trust, and that was in my friend and assistant, Amy Rosenberg. I knew Amy would show the love, respect and understanding that this type of project deserved.
You may like the photos, you may love them, you may say how could she, you may not even care.
But this book is more about me, and having the courage to become "Ripe" with age.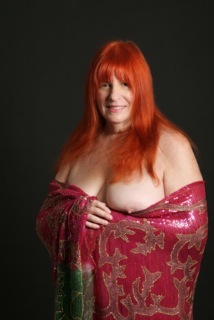 I love sparkly things, and I love beautiful colors, and I love beautiful fabrics touching my skin. When I viewed this photo I felt it captured the "aliveness" that comes through me, along with my hair color and the amazing colors in the scarf. It all seems to work. Loving the woman that I am.
I so love being alive. It's fun, awake and joyful. My body is big and beautiful in all of its glory. Did I ever think that I would do any of these poses for an ebook? No way, but nothing like change, and here I am posing and loving it and my body. I was listening to some great earthy music when this pose happened and was in the middle of dancing.
"There are those who give with joy, and that joy is their reward." ~ Kahlil Gibran
I love the feel of my skin and I love my large breasts. I so appreciate my sensuousness and sexuality. I have been told by many men how exciting, sexy and beautiful I am, but it wasn't until I truly realized it that made it all the more wonderful.
Man, my body isn't perfect, but it sure is wonderful. I feel like the earth mother in this one. Capable of loving and being loved, and touching people's lives in a profound way.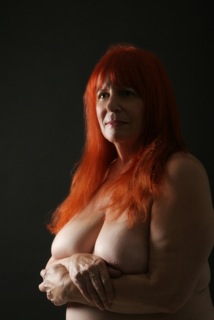 "Love makes your soul crawl out from its hiding place." ~ Zora Neale Hurston
I was having so much fun. A sense of aliveness. Little did I realize how much fun I would have doing these nude shots. I totally got out of my way and just allowed myself to be and it set me free to be in the moment.
"There is a joy in the actual taste of vanilla ice cream that does not come from knowing the chemical formula of vanilla. There is a joy, an inherent aliveness in the body that you can experience if you pay attention to your body. But if you live up in your head, in your words all the time, you don't notice it." ~ Charles Tart
There is a sense of grace and acceptance I experience in this photo. You may have a completely different experience when you view these photos, but it's important for me to share what I see and what I am experiencing when I view it now.
"I do not at all understand the mystery of grace – only that it meets us where we are but does not leave us where it found us." ~ Anne Lamott
Keeping it real. That's it for me. I strive for authenticity in my life and I feel this photo shows it all. As I said in the intro, "I couldn't have hid if I wanted to."There is an element of softness and sensuality and acceptance of who I am. This is it!
Again, I see my body as not being perfect, it's imperfections with my belly that I would love to be flat, but can't seem to get there, but still loving my body anyway. I feel blessed with all of these imperfections, because I have become ripe with age.
"Whatever I do is done out of sheer joy; I drop my fruits like a ripe tree. What the general reader or the critic makes of them is not my concern." ~ Henry Miller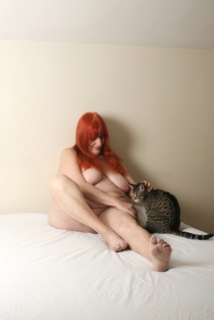 Mother Earth with beautiful kitty cat. This is the photographer's cat and she jumped up on the bed with me when he was taking photos of me. I love cats and she reminded me of my cat, "Betty" who I loved very much. The sensuality of touching her fur was beautiful. It just seem to work.
"To be sensual, I think, is to respect and rejoice in the force of life, of life itself, and to be present in all that one does, from the effort of loving to the making of bread." ~ James Arthur Baldwin
My bed is my favorite place to be. I feel safe, comfortable, relaxed. The photo looks like me after making love, with a slight tint of red coming through my face and my neck. That blush of passion after great lovemaking.
"They may forget what you said, but they will never forget how you made them feel." ~ Carl W. Buechner
I just loved this one. I felt the little girl and the woman were captured in this photo. The color of my hair and cheeks against the sheet and in complete peace and harmony.
"Happiness is not a matter of intensity but of balance and order and rhythm and harmony." ~ Thomas Merton
There was such comfort and relaxation and acceptance. I felt the authenticity coming through, saying this is me. This is it. My body may not be perfect but it's mine and I love it.
The coloring flipped me out in a good way.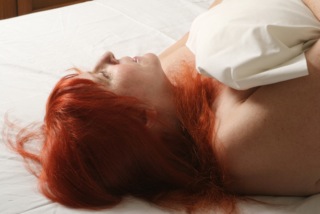 "What am I, really? The beautiful thing…is nobody can tell us what we are. Nobody can really tell us. Not in a way that's going to be satisfactory to us. Our true nature is self-authenticating. When we bump into our true nature, it authenticates itself. Something inside us knows. This…is what has been sought for, longed for, looked for. This is it. Usually, it's not what we expected …" ~ Adyashanti
Adapted from Sherri Rosen's e-book, Ripe: 12 Nudes and Semi-Nudes on Aging with Authenticity, Grace and Aliveness. Copyright 2010. Design by Amy Rosenberg and Sherri Rosen.
Relephant:
Author: Sherri Rosen
Editor: Renee Picard
Photos: Herb Way