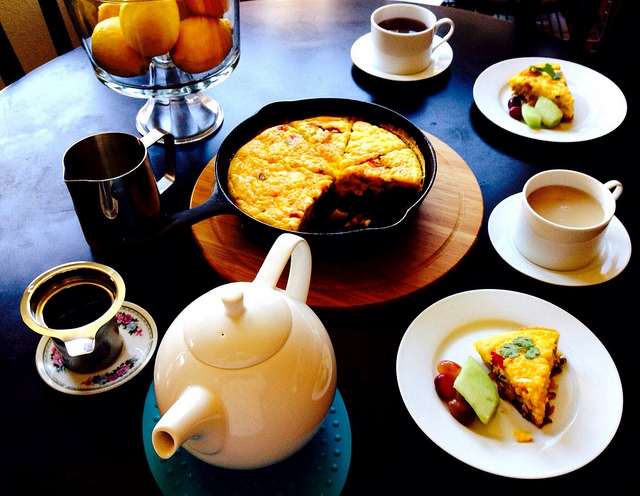 "Sometimes I've believed in as many as 6 impossible things before breakfast." ~ Lewis Carroll
I love this quote. But sometimes, for me, breakfast itself is the "impossible" thing. It's so easy to skip, sometimes hard to get right, and I know it can make or break my day.
Although I'm very interested in my health, I'm also a busy gal. Which is a catch-22, because a great breakfast makes the busy day more productive, but the time factor means I sometimes skip or have something less than ideal.
So I created this recipe which includes absolutely everything my body needs in the morning: protein, complex carbs, and good fats. And I can make it in advance to save loads of time and eliminate my excuses.
Plus, it's so easy and luxurious, I feel like I'm eating from a café every day!
Balanced Breakfast Fritatta
Ingredients 
12 eggs (organic or free range)
175gm organic goat's or sheep's fetta, cubed
Half large sweet potato, cubed and steamed
Two handfuls spinach or kale, chopped
Handful chopped mushrooms
2 spring onion / shallots, chopped rough
Sunflower / other seeds
1 tsp powdered vegetable stock
2 tbsp coconut oil
Method
Preset oven to 175 degrees Celsius / 350 Farenheit
Line a 20cmx20cm baking tray with baking paper
Crack all eggs into large bowl, add 2 tbsp water and mix gently
Mix in powdered stock
Add all other ingredients (add more eggs if not cohesive enough)
Pour into lined baking tray
Bake for 45 minutes – 1 hour, depending on oven and density of frittata
Cut into 6 pieces, eat some immediately (best!) and then allow the remainder to cool. Store in a (preferably) glass container in the fridge. This will feed two people for 3-4 days.
I reheat mine in a frypan or sandwich press while drinking my morning honey lemon water or getting ready so it doesn't slow me down. Can be eaten hot or cold.
It's a great meal to take with you when running late too. Enjoy!
Relephant read: 
Author: Crystal Davis
Editor: Emily Bartran
Photo: flippinyank/Flickr
Facebook is in talks with major corporate media about pulling their content into FB, leaving other sites to wither or pay up if we want to connect with you, our readers. Want to stay connected before the curtain drops? Get our curated, quality newsletters: