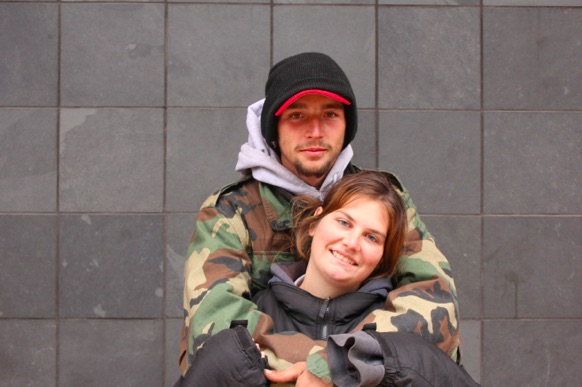 For Part One of this story, click here.
Prized possession is a project about materialism, homelessness and connection through the human story.
I approached homeless individuals in Denver, Colorado with one simple question:
"What is your most prized possession?"
They were then given the chance to share their story, the story of this prized possession and pose for a portrait with their answer.
Possessions come and go. The emotional attachment with them remains eternal. What do each of us treasure in our heart and soul? And why?
What is your most prized possession? The answers stem from an array of places such as emotional comfort, survival needs, to sentimental value and many more. Ponder these questions as you enjoy people opening up to share their stories and reasons for valuing what they do.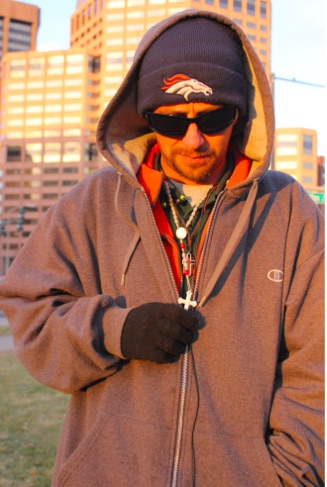 1. Martin 
Possession: His Cross
The circumstances of Martin's life are complex, he says. Transitioning between stability and despair during the past year, the Denver native found himself unable to pay rent and living in a shelter after being suspended from his job. Shortly after, he was living outside.
Martin found a place to sleep on the Platte river. There he says, "I met two elderly homeless guys who taught me the ropes. How to eat and drink." However, they also introduced him to more self-destructive behaviors. "Soon I was drinking with them every morning at 6 am. I hadn't drank in years, and now I was drunk by each afternoon," he recalls.
Still he saw the good in these men and stuck with them. One day however, they were without a bottle, didn't feel like hustling for money, and  made the decision to go to Jesus Saves, a homeless outreach program. "There we were, three homeless dudes praying at night together. I was starting to see life again and so were they."
He expressed gratitude for this turnaround, and has since found a room. Martin has continued to endure pain, with the passing of his mother, just a month before our meeting. While describing the pain of this experience, he acknowledges, "It was her time to go."
Most Prized Possession: A cross which was a gift to him from his mother at the hospital three days before she passed. "It is more meaningful than anything else I own."
2. Patrick 
Possession: Relationship with Jesus Christ
On the eve of his forty-seventh birthday, Patrick is beginning again. Recently released from jail after six years, he inhales deeply and says, "I feel like I've got a pair of wings… I have a bike and 60 pounds of gear and I've just been riding up and down the eastern Rocky Mountains. I don't know if I'll ever settle down. It'll be awhile."
Originally from rural Green River, Wyoming, his family began migrating to Colorado in the mid-1980s. He recalls having a "sort of a normal life going," until he got an arrest for a DUI. Without a car, he lost his job, and was soon hustling drugs on the streets. He was caught, and spent time behind bars on and off for 14 years. "Prison got that shit out of my life," he declares. Patrick now optimistically savors life's simplicities. "People take the trees and birds for granted. Appreciate the very simple things," he tells. "Leaves blowing in the wind. Just relax."
Most Prized Possession: "I can only give thanks to Jesus Christ. I'm out," Patrick shares in a near-whisper. "He gives me the strength and knowledge and puts people like you on my path when I travel. Genuinely good folks to talk to. The better you put off, the better it comes back around."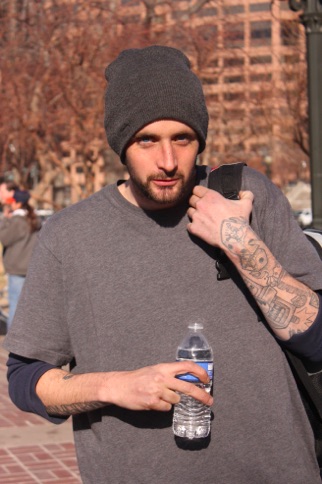 3. Drew 
"I've been a heroin addict for 13 years," Drew asserts. Now 30 years old, his life has resembled a rollercoaster since adolescence. As he rolls up a sleeve to display a tattoo of Chicago, his hometown, Drew opens up about his past. "I got into the rave scene in high school. I was down for whatever. Kids would have some (heroin) at parties. It was kind of the come down drug. I just started doing it." He wasn't the only one in his family get hooked. "My older brother and his older friends became junkies. After a year I'd wake up feeling the urge. Before I knew it I had the fucking needle in my arm."
Soon a full-blown addict, things quickly got worse. "At 17, I went to jail for four years for aggravated robbery." The experience changed him. "I learned how to be a man there. I couldn't even grow facial hair before that. I've always had a little brother complex. People took me under their wing there."
Drew's life has remained a cycle of new beginnings, heroin addiction, and prison stays. "I came to Colorado to snowboard, to Steamboat Springs. I was boarding everyday and it was good. Then I blew my knee out. I was taking pain meds and more pain meds. I kept pushing my surgery back to keep shooting up my meds. Before long I had my friend dropping me off in this park in Denver to score dope."
After another nine months in jail, Drew moved back to the mountains, before eventually returning to Denver, drugs and jail. The next time he was there for 18 months. Upon release, he moved back to the mountains and got clean in a program. It was another fresh start. "I had a year out, an apartment, had girlfriends, I was in school. Then I fucked up again."
At rock bottom, living on the streets, addiction in full-force, Drew admits it's sometimes impossible to stay positive. "I think about suicide everyday, but I can't do that to my family. But my family is just so fed up at this point. They've had it." You get the feeling that this is someone you grew up with. A regular kid, who's made some bad choices and gotten stuck time and time again.
Most Prized Possession: Heroin. "Its my most prized possession because imagine waking up with the worst flu of your life and the only thing to help you is a shot of dope." He continues to explain the nightmares of withdrawals. "You shit, you puke, you sneeze non-stop. I wouldn't wish it upon my worst enemy. I don't even get that high anymore, the drug just stops me from getting sick." Prisoner to this substance, wanting to get clean but scared of the transition, he concludes, "The only way I've been able to get off of heroin in the past is going to prison."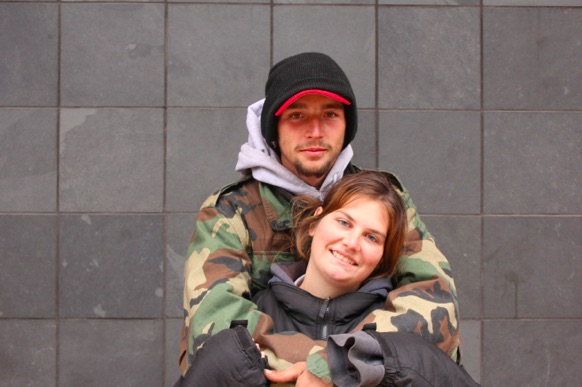 4. Kitty & Chuck
Possession: Each Other
Still fairly new to life outside, 21-year old Kathleen, aka Kitty, describes her homeless experience with a smile and only one word: "cold." Asked what she's learned from her experiences, she bluntly states, "Nothing. I learned to walk more. Other than that, no."  A year and a half ago she simply states, "My mom kicked me out because I couldn't find a job and wasn't going to school." Despite this, she is in good spirits.
Most Prized Possession: Her husband Chuck. "If I lost everything it wouldn't matter to me if I was with him. He's the thing that makes me sleep at night and happy in the morning. without him I wouldn't be anything."
Chuck's story of survival contrasts with his wife's. Homeless since he was 16, he had little to no support system as a child. "I was in the foster care system. They tried to put me on some medication and pretty much zombify me and I said 'screw you guys,' and ran away. Then I was 18 and under my own jurisdiction. I've been trying to make it since." Chuck met Kitty a year and a half ago when she first hit the streets.
Most Prized Possession: His wife, Kitty. "She's my most valuable because honestly I could lose everything and as long as I had her I would be happy."
5. Nathan
Nathan's eyes well with tears as he describes how his path to homelessness began with his "mama's" death a year and a half ago in their North Carolina home. Nathan was struggling, sleepy and sad on on the harshly cold day we met in Denver. A city worker politely informs him he is not allowed to lay down on the bench he was resting on, during our conversation. Picking himself up, he shares the unfortunate story of his most prized possession.
Most Prized Possession: A pair of pants. "The cops cut a hole in my pants yesterday looking for drugs," he says with rage. "They didn't find a thing. These are the only pants I have," Nathan laments. His small stature makes finding a well-fitting pair of pants difficult and winter is swiftly approaching. Amazingly though, as we are speaking, Jeff, a relief worker from the St. Francis foundation, comes and gives him a new pair of pants. This gift comes as a relieving, selfless, and hopeful sign for Nathan.
***
There are two main objectives to this project. The first is to examine the way in which we relate to "things," from people in our society who have the fewest material goods. The second, is to humanize the epidemic of homelessness in this country, by giving homeless individuals a chance to share their personal journeys. This population are largely categorized as a problem. By empowering some of them with a chance to share their stories, we are reminded, these are unique humans, like each of us. And we can learn from them.
Upon returning to the United States after living overseas for several years, I was struck by two very apparent things taking place here.
The first was the epidemic of homelessness in my native country. Masses of people living on the streets. Human beings, in our cities, without homes. There are an estimated 11,000 homeless individuals in Denver. Across the United States there are over 600,00 homeless individuals.
The second, is our addiction to consumerism/materialism. We want more. Our society operates in a way where we are able acquire new things, when we want. Walk into any store. Look at advertising. Often, the message is, you are less than, unless you have this product. We are surrounded by it, often unknowingly. Does this lessen the appreciation of the things we currently own? Messages that infiltrate us from the outside are dominated by acquiring more externally, than looking inside for happiness.
To see more, go to the Prized Possession Project on Facebook.
Relephant:
~
Author: Keith Allen

Editor: Travis May
Photo: Courtesy of Author

~
Facebook is in talks with major corporate media about pulling their content into FB, leaving other sites to wither or pay up if we want to connect with you, our readers. Want to stay connected before the curtain drops? Get our curated, quality newsletters below!