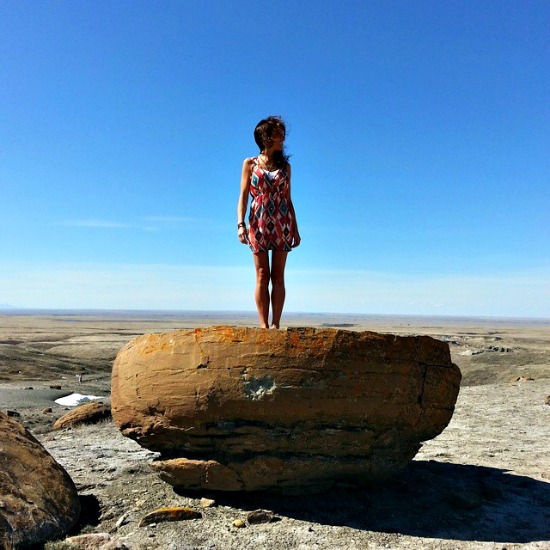 We don't need to wait for someone to sweep us off our feet, let alone take us on a date.
We don't need a partner to be cherished and adored.
We are strong—alone, bold, brave and independent.
But every so often, we need to extend some extra love our own way, like we are deserving of everything we desire on Earth.
Because we absolutely, irrevocably are.
Date your own goddamn beautiful self.
Anticipate your date days ahead, dreaming of how well you will be taken care of.
Perhaps, like me, you don't get much alone time, and a date with yourself means some carved out, carefully constructed time without interruption. Or, perhaps you live alone, and going on a date to you means heading into the cheerful noise and bountiful offerings of a city, a restaurant or a club.
Whatever our hearts desire—be there. Forget rules. In fact—f*ck rules. This date is a rule-free zone.
Pour yourself a divinely deep bath, light a candle and submerge in a sublimely naked ritual.
Your body is perfect. You are going to spend time with someone who knows that, who believes that. Even if you aren't quite in the place of loving all your parts, let yourself slip into the skin of someone who does tonight.
Let's pretend you are there. Practice makes perfect, in this case. Every inch of you deserves to be cherished. Soak.
Dance around your house with reckless abandon while you dress, listening to whatever your heart desires, be it Mozart or Katy Perry.
Not a dancer? Prefer opera? Do whatever feels right for you. This is about you, your tastes, your intricacies and secret joys. There are no wrong answers on this quiz.
Do you feel most beautiful leaving your hair wet and wild, wearing a pair of old cutoffs, bare feet and no bra? That's how your date wants you to look. Do you love the intricate process of applying makeup, smoothing on a bold lipstick, slipping into heels? Your date loves you like that, too.
Sweatpants and a ponytail? Perfect.
Pour yourself a glass of wine. Savor in the ritual of a pot of your favorite steeped tea. Honey-lemon water? A pint of Keith's? Whatever makes your beautiful self happy today and feels good for your body.
Is your ideal date a meal at a fancy restaurant? Are you the type who boldly enjoys eating alone? Enjoy the glances of strangers as you take your mysteriously lovely self out. Savor every explosive bite of the meal you choose to eat tonight.
Happier cooking, alone in those bare feet? Rock it.
Is dessert an ordered affair, a delicious coffee, a frozen yogurt bar as you stretch out on your bed? The marvelous thing is that whatever you love is exactly right.
You are divine, exactly how and who you are. Your imperfections make you special, not less than.
Don't wait for another human to cherish you as you should already recklessly love yourself.
Take yourself on a date—ideally, make every day with yourself a date—because this is how we should live.
I consciously make a choice to live as fully as I possibly can, from moment to moment, a warrior for myself, my spirit, my soul. 
I'm not always great at it. Sometimes I forget that the lines around my eyes are smile-memories and that my body is miracle of muscle and bone.
So then—I dip into a favorite book, I look at some pictures of the journeys I've been on, I call a loved one, I take myself out on a date—and I am reminded.
If someone comes along and sees you as you truly are, brave, wild, strong and imperfectly you, well, maybe you'll agree to go on a date with them, too.
They should know that they have a tough act to follow.
~
Relephant Read:
~
Author: Keeley Milne
Editor: Ashleigh Hitchcock
Photo: courtesy of the author