I was one of those kids who always loved music. Some of my favorite childhood memories are singing with my older sister in our living room.
We'd listen to The Sound of Music and Mary Poppins, and then we'd do our own version of those songs. It was just the two of us. No audience. No judgement. Just healthy fun and love for our own sounds of music.
When I was a little older, my sister bought her first LP—"The Fifth Dimension." I was in another world when I was listening to, or singing, "Stone Soul Picnic" or "The Age of Aquarius." My sister taught me a bit about how to harmonize. I'd go to sleep with some of those songs reverberating in my head.
It wasn't until I got to school—and participated in school choir—that I became self-conscious about my voice. I remember Joyce V. sang like a angel, and my somewhat pitchy, alto voice was quieted whenever I'd hear Joyce.
Now, I don't care (too much) about the sound of my voice. I care much more about how I feel during (and after) I chant. It's almost like one of the Wonders of the World to me. I recognize that I can finally turn off my head—and open my heart. Which is why kirtan feels good—as C.C. White sings.
Today, I have more than 600 kirtan (devotional chanting) songs on my playlists. I turn to them daily. And just like a live concert is infinitely better than playing a CD—kirtan with others is superbly better than just chanting along with your earphones.
I struck the lottery when I found my local kirtan community.
I can truly feel the magical energy of my local kirtan leader, Advaita Acharya, who often leads harinams (public chanting). He reminds me of the Pied Piper. He is charismatic and has a knack for engaging people who've never experienced kirtan before. He is equally captivating with his harmonium as he is with the mridonga (ceramic drum).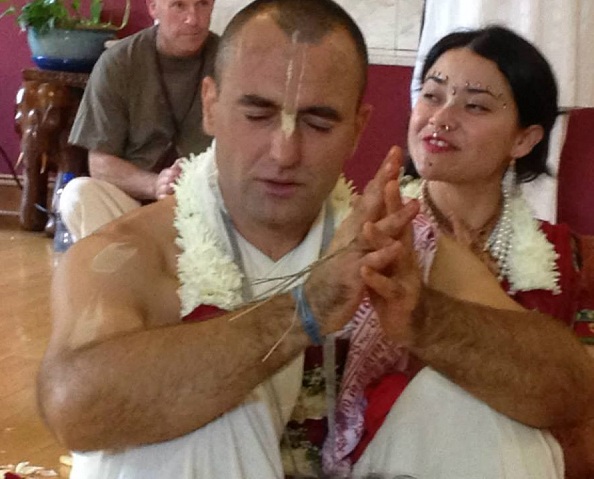 Advaita had no prior musical training before he devoted himself to Krishna. He states:
"Very few of us monks had musical training prior to the ashram chapter of their life. Ashram life does that—pushes you into an infinite space of possibilities. After all, the desire to please others is probably the most undeveloped thing in this advanced, yet in many ways, crippled world."
Back in 2006 and 2007, Advaita lived at the Krishna bhakti (devotional) center in New York City, along with Keshavacharya of Prema Hara. He acknowledges that the musical training of others may have rubbed off on him there. New York is also where he experienced his first ecstatic public kirtans.
We need to push ego out of the way. Advaita says, "Ego is an expert trickster."  We just need to shut that door and open our hearts.
Keshavacharya was on the Bhakti Fest main stage several times this month. He participated in one of the most beautiful renditions of the Maha Mantra that I've experienced. Repetition of four words lasted nearly 90-minutes, and nary a dull moment was struck.
"Some of us are very lucky to have wonderful, inspiring Bhakti teachers to understand the 'Heart of Kirtan,'" Keshavacharya says.
Two engineers in Canada understand about the heart. Betty and Bill (Shantimaya) chant their own verses that are based on the Rig Veda and Upanishad scriptures about peace and love.
"Music is intrinsic to the human experience, and plays a role in every single human culture that has ever existed. The idea that music is an elite skill that only a privileged few should engage in is contrary to our nature. Kirtan is jamming for the spirit. When participating in a kirtan, whether as a leader or a participant, ego melts away in an instant. The sense of connection and unity prevails."
Mike Cohen was a professional saxophonist in his teens and 20s. He is an example of someone who crossed over from the "performance" side of music, to the heart-driven bhakti (devotion) of kirtan.
"Although I was a professional musician, during that time—and growing up—I had experiences of being judged, compared and even shamed around my singing or musical ability," says Cohen.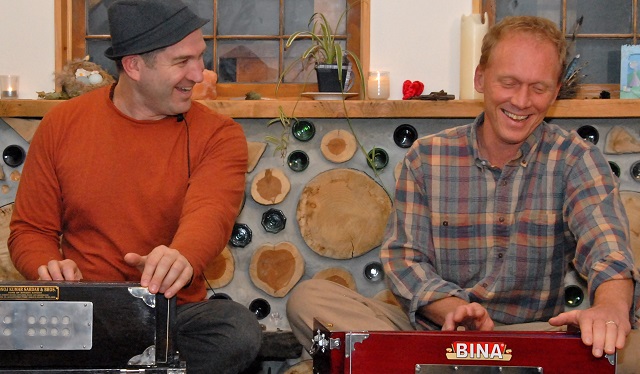 Now, he leads kirtan for large audiences across the country and has created a Kirtan Leadership Institute. He coaches his students to let go, access love and build community. Several of his students are stepping into recording projects, and three joined Cohen on stage at Bhakti Fest Midwest.
"Kirtan taught me to relax the notions of performance and the role of performer," Cohen shares. "In kirtan there is no audience—everyone participates. Everyone is in the band. Everyone shares their voice, and contributes to what is co-created."
Perhaps that's part of what I love about kirtan. The co-creation that comes from my heart and connects to those around me. The energy that bounces from the people surrounding me—into my soul and back.
Kirtan feels good when I'm by myself—but even better when I'm with my sangha (community).
.
Relephant:
.
Author: Deborah Charnes
Editor: Yoli Ramazzina
Photos: Flickr/Vladimir Pustovit; courtesy of author, used with permission.