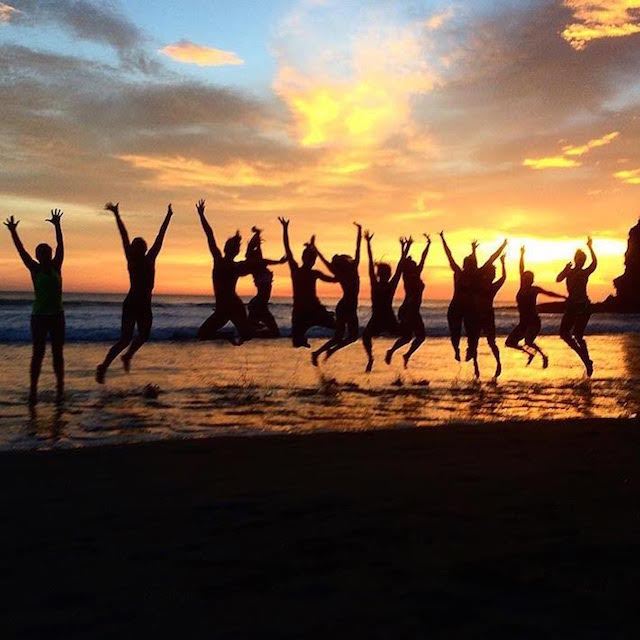 My hammock is swaying gently in the ocean breeze.
I can see the water from the shala and smell the salt from here. The wind is like a gentle touch, soft and barely there, but so luxurious in the Nicaraguan heat.
I've been here for three weeks for my yoga teacher training. I'm staying in a small bungalow with two other girls, not counting the bugs and crabs that are constantly visiting. You get used to them. The toads, too become so normal and simply part of the life here.
We truly have shed parts of ourselves by coming here. Maybe we sweated it off during all those mornings in Mysore or those Vinyasa flow classes. Something has definitely shifted. We may be homesick at this point, missing our families and our dogs…and having a bathroom we don't have to go outside to find, but we also found something here.
I found my tribe.
And I think I'll be missing them in three weeks more than I'm missing my bed at home now.
I can't wish this last week away. I can't spend it making a game plan to get a job once I'm back in the states. I can't let it fly by. I know I can't squeeze onto it. I can't keep time from moving forward. All I can do is hug my sisters and pray that our bond will be stronger than Instagram likes and Facebook.
Many people think that we are born alone and we die alone, so we spend our whole lives trying to make as many connections as we can. It's beautiful and it's so precious when you find those people who see beyond the external and see right to your inner truth and light.
It's rare, but it happens. It happens when you let it and it happens when you need it.
I needed these women more than I realized when I signed up for this program. I thought I was coming here to learn to teach and to deepen my own yoga practice and while I did do that, something more happened.
My whole life has changed.
I found my tribe and I returned home. Not to Pennsylvania, but to my truth. I found the home within myself.
A tribe is more than a family. It's almost like all of our souls sing a song together when we're together. Our lights get brighter and our hearts get bigger. Our laughter is loud and our smiles are contagious.
Once we have our tribe, the world becomes clearer. Suddenly we see what's important and what isn't. We return to love, no matter how far they are from us because the love we have is so pure that it can travel miles and still be strong.
But for now I'm going to spend all the time I can with them. And when I must leave, I know now that we'll each be taking parts of each other with us, to remind ourselves that we are never alone—our souls sing songs to find its sisters and eventually our tribes will be revealed to us again.
~
Relephant: 
~
Author: Stacy Porter

Editor: Travis May

Photo: Used with Permission by Lindsay Zulick