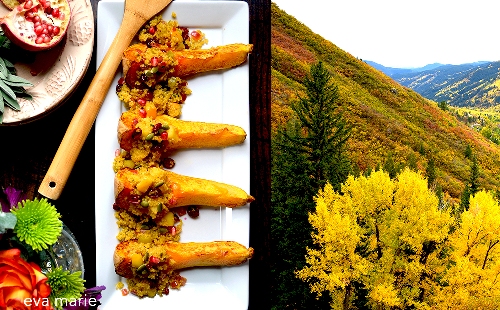 There is a tree at the bottom of the hill that, year after year, decides it wants to be the first one out of the autumnal gate.
It is a stately maple that began changing its colors before the barbecues had a chance to cool. It blazed a red display that was quite impressive against the rest of its compadres, who were taking a more leisurely approach to the changing season.
It's a tree that looks forward to shedding its cloak of foliage for the nakedness of winter—when it can bare all in a show of confidence—only to renew itself once again in the spring.
I love the rich colors that come with fall. The vibrant magenta, ochre and green hues of nature translate easily to the dinner table with this vegan and gluten-free dish. The tart sweetness of the apples and cranberries is the perfect contrast to the mellow flavor of the butternut squash, and the curry lends a dash of the exotic.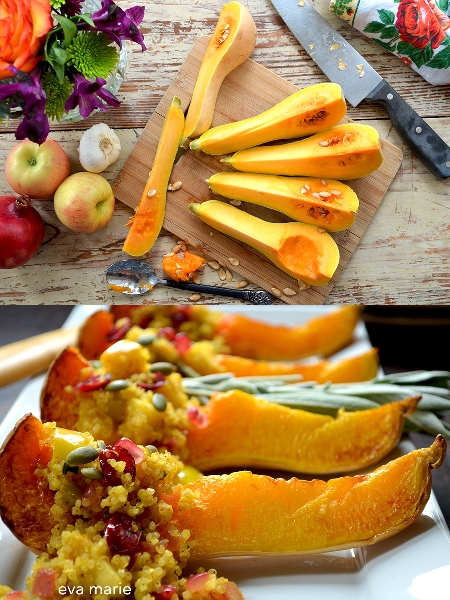 Roasted Butternut Squash with Curried Jewel Quinoa
Ingredients:
1 small butternut squash (2 pounds)
2 cups cooked quinoa
1 cup sweet apple (I used 1 small Gala apple), cored and diced, peel left on
½ cup red onion, chopped coarsely
½ cup celery, diced small
⅓ cup dried cranberries, raisins, or pomegranate seeds
2 tablespoons olive oil
1 tablespoon peach or apricot jam, or mango chutney
1 teaspoon lemon juice
1 teaspoon fresh sage, minced
¾ teaspoon curry powder
¼ cup pepitas (pumpkin seeds)
Instructions:
Preheat oven to 400 degrees.
Line a sheet pan with foil and brush with 1 tablespoon of olive oil. Cut the butternut squash lengthwise into 6 wedges, remove seeds and brush the exposed flesh with olive oil. Season with a little salt and pepper.
Place the squash on the sheet pan so that it is resting on one of the cut sides. Put the pan in the center position in the oven and roast for 15 minutes. Flip the squash so it is laying on the opposite fleshy side and continue to roast for another 10 to 15 minutes, until it is tender and browned.
While the squash is baking, core and dice the apple (leaving peel on). Toss the apple in the teaspoon of lemon juice.
Place 1 tablespoon olive oil into a pan over medium heat, add the onion, apple and celery and sauté until the onion is translucent. Turn off the heat, add the curry powder, sage and jam, and stir until the jam has melted and the mixture is combined.
In a large bowl, toss the quinoa with the onion, apple and celery mixture. Add in the cranberries, raisins or pomegranate seeds and combine thoroughly. Season generously with salt and pepper to taste.
Place the squash on a plate or platter and place a scoop of the quinoa mixture over it. Garnish with pepitas and pomegranate seeds.
Serve, and enjoy!
~
Relephant Read:
~
Author: Eva Marie
Editor: Toby Israel
Photos: Author's Own
~