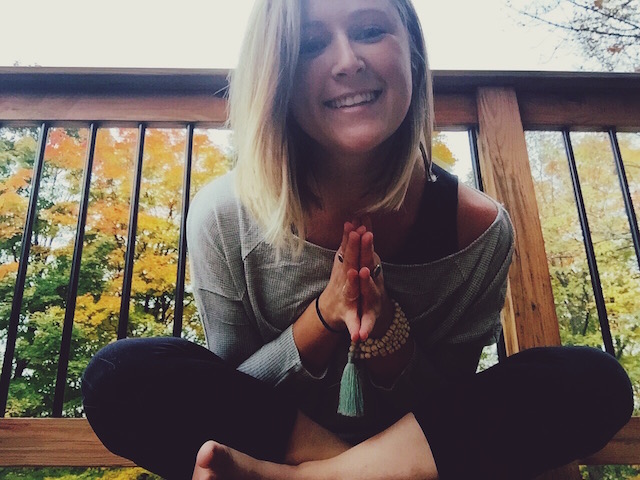 Note: elephantjournal.com received these review items for free, in return for a guarantee that we would review said offering. That said, we say what we want—good and bad, happy and sad.
My search for the perfect yoga clothes has officially ended thanks to you, Haven Collective.
I've mentioned in previous reviews that my body and I have some basic needs that need to be met before entering into a committed relationship with new yoga clothes:
Comfort: Can I do a full hour of yoga in these, consume an entire bag of popcorn while watching Law & Order, and subsequently fall asleep on the couch without wanting to take these off?
Versatility: Can I wear these clothes to, during and from yoga class? Can I then wear them to a casual dinner? Can I then wake up the next day and wear them with a pair of boots and a jacket and look like a functioning member of society? (Basically, I'd like to wear these clothes in pretty much any situation ever.)
Eco-factor: Are these clothes as harmless as possible to the environment?
Haven Collective went above and beyond all of these basic needs. Here's the breakdown:
Comfort: 
I'm almost not exaggerating when I say that I live in leggings, so my standards here are pretty high. That said, Haven's Black Contour Crop Leggings are my new go-to pair. They come just above my bellybutton and have an amazing waistband that stays in place and is all sorts of flattering. They are soft and stretchy and cotton-y, and not even a little bit see-through.
Excuse me while I go order three more pairs.
Tank tops are the hardest piece of yoga clothing for me to feel comfortable in. They have to be tight enough not to shift around, but not so tight that I try to avoid looking in the mirror all class. The Black Bamboo Bartlett Tank is some sort of magical hybrid of both of those qualities. It's also made out of what might be the softest fabric ever (more on the eco-goodness of that to come).
Versatility: 
I think I may have actually gotten butterflies the first time I saw Haven Collective's clothes.
They are the epitome of the essential basics of a wardrobe: simple, classic, designed to flatter, and only made in my favorite colors: black, navy, white, grey, and pale blue.
The tanks are probably most appropriate for a yoga class, but any combination of their layering tops and leggings make for a fabulous and completely appropriate everyday outfit. (Their design director previously worked for DKNY and Theory—greatness was bound to ensue.)
They have so many great styles to choose from, there's no way you won't find something you love. Oh, and did I mention that they have sizes 0-22? Kind of unheard of in the yoga industry, and more than kind of amazing.
Eco-factor: 
The bamboo used in Haven's tops is the only fabric used that's organic. It's unbelievably soft, doesn't require any chemical treatment, and can be grown with little to no pesticides. What more could we ask for?
The rest of the fabric—supplex, euro jersey or rayon—is not organic. However, it comes from Tricots Liesse in Canada and Eurojersey in Italy, both of which are sustainably factories dedicated to eco practices. While the fabrics aren't the dreamiest in terms of eco-responsibility, the offsets that the production companies use to make them is a step in the right direction.
Once the fabrics make their way into Haven's hands, the clothes are designed in New York and manufactured in California. Yay for American-made!
When it comes down to it, I can't say enough about how much I love Haven Collective. From comfort to style to their dedication to quality, they are everything I didn't know I was looking for.
Now, there's only one thing left to ask…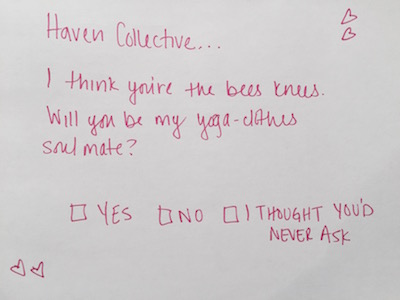 Author: Emily Bartran
Photo: Author's Own