This place reached out and took hold of my soul like nothing I have felt before.
I used to think that to experience the world I had to travel to exotic, far flung locations—small, removed European towns, scattered islands, or the cities of Asia.
That was when I thought that "the world" meant humanity, so I was only concerned with the triumphs of mankind in history.
Don't get me wrong, I appreciated nature, but I wanted to see the man-made marvels.
I travelled far and wide, marveling over The Great Wall of China, Machu Picchu, Nazca Lines, The Forbidden City, Westminster Abbey, Neuschwanstein Castle, Venice, the ruins of Rome, Pisa, The Eiffel Tower, Gaudi in Barcelona, Edinburgh Castle, Riveaulx Abbey, York Minster, Canterbury Cathedral, Köln Cathedral, Düsseldorf, Parliament, Big Ben, Seville, Spain, Cordoba, the Louvre, and every little town in between these great monuments to man. I could go on and on, but this is not about these places.
This is about our life force—nature.
It wasn't until recently that I realized the greater monuments we have right in front of us, created by our true life source—God. Nature. The universe. Whatever you want to call it. It's there.
So, I choose to share with you, dear readers, my deeply intimate experience with our planet in the hopes that we can inspire each other to find our own temples within our souls, and get out into nature to heal. This is the first in a series of articles paying tribute to nature.
As I got in touch with my spirit—my soul, the Earth took on a new life for me. As I began to see greater powers working in my life, I began to see the beauty in the world around us on a whole new level. Not the man made beauty but the God beauty.
Nature has become a temple to me. As my practice of yoga and meditation deepens, and I honor myself, I have come to revere our beautiful Earth.
There's power in these great, old places of our planet. There is beautiful, sad energy to be felt in these places when we are open to it. There is a healing quality to the energy here in Arches National Park.
We arrived about an hour before sunset, so the long, late afternoon rays of the late summer sun were stretching out to kiss the beautiful red and orange rocks that form the dramatic sculptures of this place.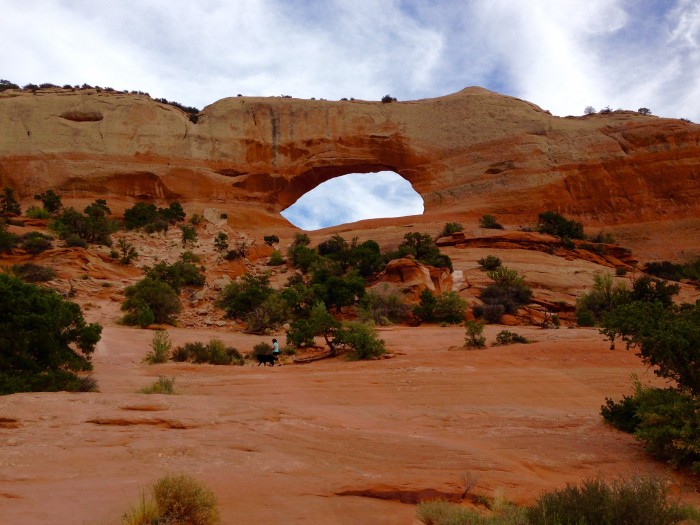 The rocks arise majestically out of the desert in all shapes and sizes, monuments to years of watching over this portion of the Navajo Desert. They loom over the town of Moab, Utah, a quaint town full of amazing people.
Standing on the edge of a viewing point looking out over the many colors threading thorough the sandstone cliffs, I was overcome with emotion. The sun was setting, and this place was speaking to me. It was as though God herself was there with me, just behind me, letting me know everything is always okay. I could feel the pain of the world—not so much the pain of people like I am accustomed to feeling, but the pain and sadness of the Earth herself.
It was similar to the emotions I feel deep within myself sometimes—I am joyful and blessed, but deep down within me there is a lingering sadness, as though I have lived 1,000 lives and seen too much, yet I still find hope. I felt all of that beautiful, loving energy here in this place.
I was completely and utterly in that moment, fully present to the experience happening around and within me. I truly felt oneness with the Earth. I was presented with a whole new perspective.
This place embraced and kissed my soul and I felt the fire of the sun itself embracing me, cleansing and healing me.
I believe nature holds this power for us, if we open ourselves up to it. We are linked to our planet energetically, we just need to clear ourselves of noise to feel it. When we practice yoga and meditation we practice being human. We practice quieting ourselves. We touch our true natures, which is love. Infinite love and bliss.
That is the healing power of nature.
Once upon a time the people of the Earth understood and realized this connection. They were labelled pagans and heretics and wiped out. The energy of this ancient wisdom is there, in places like Arches, and we can tap into it if we choose.
Nature will heal us, if we let her.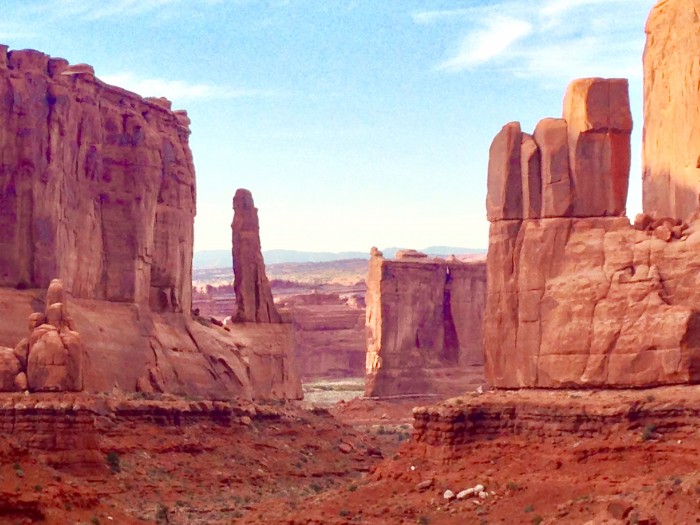 Relephant: 
Author: Lindsay Carricarte
Editor: Catherine Monkman
Photos: Author's Own