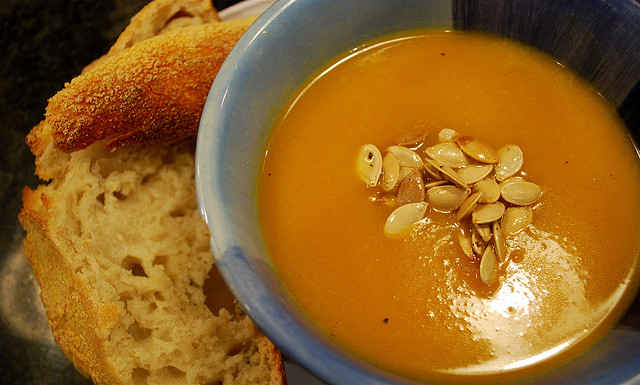 Butternut squash is one of my favorite vegetables to eat in the fall, with its super rich and slightly sweet flavor.
It is so easy to turn it into an amazing soup, with all of the smells and flavors of fall. This thick and rich soup is completely vegan, and it is a quick soup to make. The whole kitchen gets perfumed with the aromas of all of the spices.
It can be made ahead and kept in the refrigerator. Simply reheat in a pot or in the microwave.
Ingredients:
1 medium butternut squash
1 tsp. olive oil
3-4 cups vegetable stock
1 tsp. cinnamon
½ tsp. paprika
¼ tsp. ginger
⅛ tsp. nutmeg
Pinch of allspice
Pinch of cloves
½ tsp. dried thyme
Salt and Pepper to taste
Instructions:
1. Peel butternut squash, remove seeds, and cut into approximately 2-inch cubes.
2. Sauté the squash in oil, in a medium soup pot, until lightly browned, 5-10 minutes.
3. Add vegetable stock and cover.
4. Bring to a boil and cook 10-15 minutes, or until squash is very tender and soft.
5. Add the cinnamon, paprika, ginger, nutmeg, allspice, cloves, dried thyme, salt, and pepper.
6. Use an immersion blender, or a regular blender, to purée the soup until smooth and velvety. Add more stock if soup is too thick. (Note: Soup can be blended to any texture and chunkiness desired, but I prefer it very smooth.)
7. Can be made in advance and refrigerated. Just reheat when ready to serve.
8. Garnish with additional paprika or sliced apple, for even more sweetness.
Makes approximately 3-4 cups of soup, and serves 4-6 people.
Relephant: 
Author: Kevin Baker
Editor: Catherine Monkman
Photo: Valerie Hinojosa/Flickr