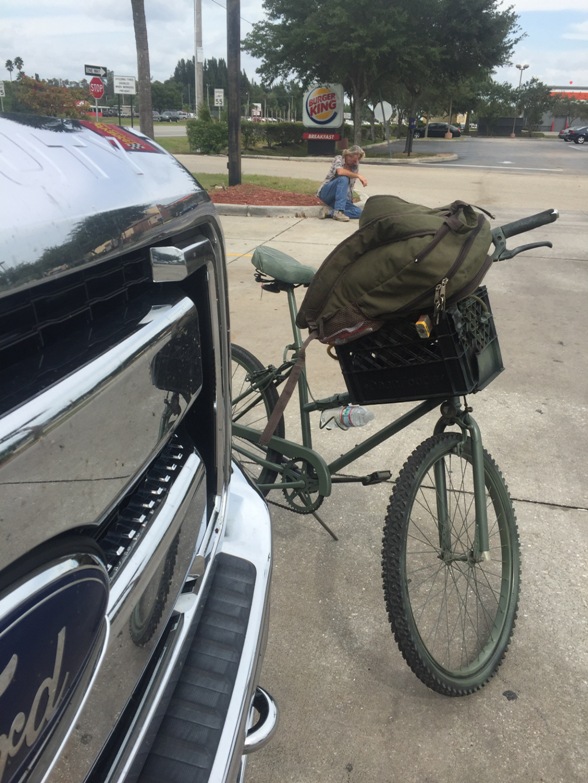 ~
~
This morning my battery went bad in my truck, so after meeting with clients I went to the auto parts store to get a new one. While I was switching the battery out, a homeless-looking guy rolled up to me.
I was thinking he was going to ask me for money… blah blah blah.
Instead he asked for directions to Walmart and explained that he rode his bike all the way from Suncoast Estates (about eight miles away), but that the Walmart he went to only sold food and he needed a part for his bike. I explained to him that the Walmart he wanted was in a totally different direction.
He asked me for directions, and I gave them to him. He was confused, as he had just moved from Ohio. I mapped it for him on my phone and showed him that it was about five miles away; he asked me if I could give him a ride.
Annoyed about my whole battery situation at that moment, I explained to him that I didn't know him and would not be able to give him a ride.
He said that he understood that he looked really rough, but he was a normal guy and completely harmless. He just really needed to get to Walmart to exchange the bike tube he had so he could change the one on his bike that was leaking. He just got temporary work and didn't want to be late to his first day tomorrow because of a flat bike tire.
I agreed hastily and told him I would take him as long as he sat in the bed of my truck with his bike. Again, I was allowing my current annoying situation with my battery to affect my judgement. He said he would have no problem sitting in the back and would wait patently for me to finish with my battery. I of course took a picture of him waiting and sent it to my family for them to know if I came up missing this was why.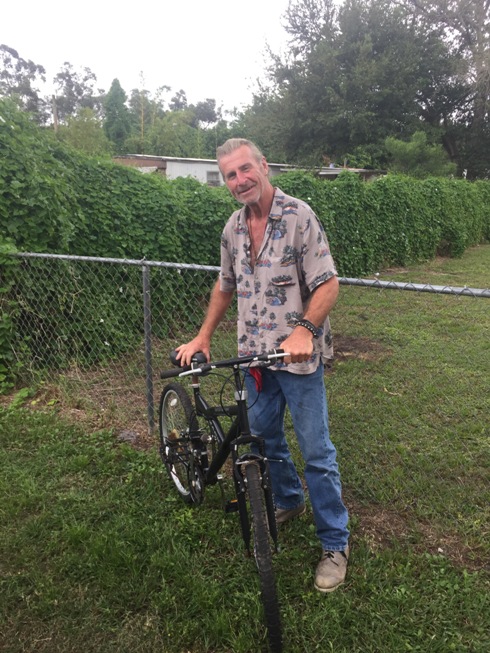 Once I finished with the battery I helped him load his bike in the back of the truck. He started to climb in the bed of the truck and I thought to myself, this is a normal guy who is just in a tough spot; he is trying and deserves the decency of accompanying me in my truck.
I asked him his name; he said "Joe." I told him to come sit in the truck with me.
"Are you sure?" he said.
"Look Joe," I said, "I have guns, lots of them. There are guns in my door panel, my center console and even under my steering wheel… if you try anything I will shoot you dead, cool?" He laughed and said that would not be necessary.
I drove Joe to Walmart and on the way learned he was a normal guy who has just had some tough times.
He is 61 years old and had been a railroad conductor for 23 years of his life; he was also a wood worker and a painter. He recently divorced and his cat died; he wore the cat's collar on his wrist to remember her. He was working at a labor agency and explained to me the challenges with the city bus routes and how the buses only have two spaces to hold bikes on the front of them. He loves to play pool in his spare time and has four girlfriends! (I can't even find one girlfriend. F*ck you, Joe.) He also told me he has a tent set up where he stays, and he has four milk crates where he keeps all of his things organized.
We got to Walmart, and he thanked me. I asked him if he wanted me to wait and I would drive him back to Suncoast. He thanked me and said sure. While I was waiting I remembered that my brother had an old bike that was in a lot better shape than his. I made a call to him, and without hesitation he of course agreed to give Joe the bike.
Today was a good day. Joe got a new bike, and I got reminded that it was just a bad battery—not a bad life.
~
Relephant Read:
~
Author: Jeremy Sposato
Editor: Toby Israel
Photos: Author's Own
~