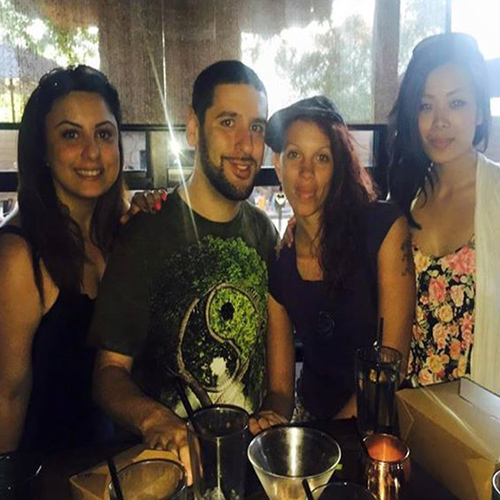 Do you remember that ex you had when you were a teenager? How often do you think about them? I'm assuming not every day.
That's because you've moved on.
And even though we all have evidence that moving on is possible, we still get stuck when it's our most recent ex-partner. Perhaps it feels a little closer to home. To emotionally survive, we often make up stories in our heads and focus on why the relationship didn't work.
We justify it, and we make the other person the enemy.
I can understand why this is more comfortable to do, as it gives us a logical reason to cling on to. But when we focus on what tore us apart, rather than what initially brought us together, we rob ourselves of the opportunity to not only heal and tap into compassion, but also to build a friendship after the emotional waters have calmed down.
While most people do nothing but complain about their exes, have negative memories of their relationships and often don't talk to them anymore, I feel fortunate to not have had that experience with any of my recent exes. As a matter of fact, I don't even feel comfortable calling any of them an "ex," as it has a negative connotation—really, they were the loves of my life.
They met me exactly where I was ready to be met at that point in my life. Perhaps "former partner" is more accurate.
To me, the success of a relationship isn't based on how long it lasted, but rather how deeply you loved when you were in it and how much love and growth you still experienced after it. It is not based on the chemicals that you thought were love when you first got into the relationship, but rather the actual love that was still there when you got out of it.
Ask yourself these questions:
Did you forgive them, and did you forgive yourself?
Did you still find a way to love them as a person even after all the pain?
How are you a different person after being with this person?
Do you wish nothing but the best for your former partners, or do you still have bitterness that it didn't work out?
True unconditional love is wanting them to be happy, even if it's not with you.
The truth is, you've never had a failed relationship in your life. They were all successful. Why? Because they made you grow, taught you a unique lesson about love and self-worth and led you to where you are in your life today.
Oftentimes, we confuse love with life compatibility, intimacy and relationship status. They are not mutually exclusive; just because a relationship dynamic has shifted doesn't mean that the love is not there. And just because you're not sharing this life together in a romantic way anymore, doesn't mean that they are no longer a part of who you are.
The only reason that we're able to love as deeply as we do now is because of our shortcomings in the past—because of the heartache we experienced. Each person that we fall in love with is directly part of the butterfly effect of each person we fell in love with in the past, and how that relationship ended, all guiding us to our next teacher.
In my situations, when we broke up, I never had the, "You'll never find someone better than me" attitude. Instead, I told them that I hoped they would find something even more expansive than what we had. As we are all constantly shifting, I acknowledge the fact that who they were when we dated is not who they are today.
It doesn't take away from what we had; it actually gives more value to it.
So if you are struggling with this, remind yourself that this is a human being whom you once loved. What benefit is it to either of you to not want to see them happy today?
They deserve that. And you deserve that.
Forgiving your ex-partner is just the first step. Once you get past that, you can reach this place of gratitude for what you had, for your relationship ending is the only reason that you've met, or will meet, the next person that you're destined to be with. And when you do, don't enter the comparison game. One partner isn't "better" than the other. Whoever you were once with was perfect for you at that time. You both met each other exactly where you were at during that time in your life. This is somebody new. You are somebody new.
Not only that, but all your relationships are also connected to each other, representing the evolution of your heart's growth.  Our lives are interconnected. The ceiling of each relationship is the basement of the next one—a foundation block to build off of.
All of our past relationships have taught us what we want and don't want. What we truly value and what we can let go of. I am now only able to love as deeply as I do because of all that heartache. I can give in and become afraid to be vulnerable again, or I can choose to break through and trust that love is the stronger force in the universe.
The end of a relationship can remind us that things are temporary, and can re-adjust our perspectives to be grateful for the things we have while we have them. Of course, it's natural and healthy, to go through the five steps of the grieving process. But always remember, love is an infinite source, and no one person has a monopoly on it in your life.
You have found it in the past and you will find it again. You can even find it right now, if you choose.
Here's an Affirmation of Closure that you can say to yourself to allow yourself to release, forgive and accept:
To my former partners,
I want to thank you all from the bottom of my heart. I will never forget what we had, and will always honor the lessons you taught me. Thank you all for being part of my path. Thank you for being a presence in my life, during some of my darker times.
We grow from both pain and love, and you allowed me to experience both. You were clearly my soulmates, and you have given me a gift. You have taught me how to love myself more, and to not settle for any less than I deserve.
I will never forget how much our relationship helped me grow. Not from a place of attachment to the past, but from a place of honoring the beautiful times we had together. Thank you for everything that you have taught me, and for giving me the opportunity to practice true unconditional love.
I truly want to see you happy, even if it's not with me anymore. And I truly want to see myself happy, even if it's not with you anymore. Love is not about time and space. It is about presence.
Thank you for honoring who I was, and for accepting who I now am. Thank you for your forgiveness, and your apologies. Thank you for honoring what you felt at that time, and for trusting your own path. For the rest of this life, I will always care about you, love you and wish you all the happiness and love that this life has to offer.
I carry all the past experiences I've had deep within my heart, as one accumulated energy of pure love. You have all expanded my heart, and it is only because of the growing pains of that expansion that I am now able to love fearlessly and deeply.
I now release any attachments to the past. With these new eyes, I see you as you are today.
I love you. And I love myself more because of you. Thank you.
~
Relephant Read:
~
Author: Sevan Apollo Poetry
Editor: Toby Israel
Photo: tacit requiem/Flickr // Author's Own
~