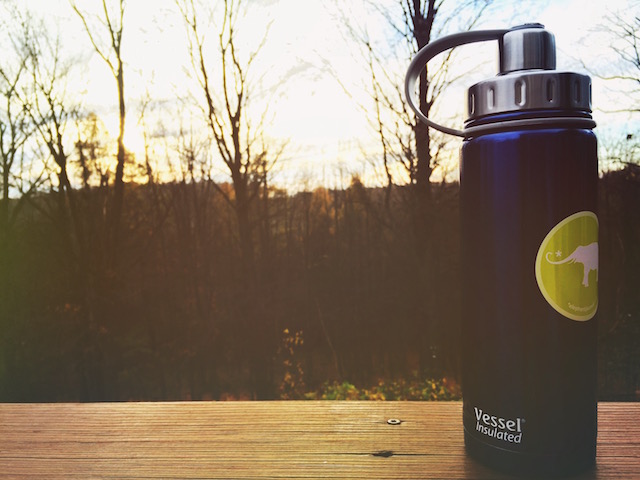 Note: elephantjournal.com received these review items for free, in return for a guarantee that we would review said offering. That said, we say what we want—good and bad, happy and sad.
Confession: I am a complete and total sucker for reusable beverage containers.
This is a pretty good problem to have, considering most non-reusable cups are destroying the world.
So, when I came across Eco Vessel I was excited for a few reasons: they looked sleek and came in awesome colors, and there was a mug! The only thing I love more than normal reusable beverage containers is a reusable beverage container in the shape of an actual mug.
So, I gave the mug and the insulated water bottle a try, and here's what I found:
The Pros: 
The mug keeps my hands warm and cozy, and you can take the top off when you get where you're gettin' and enjoy it just the same. I also may or may not have tested this out at a campfire with, um, not coffee… and it kept that nice and cool all evening too.
But, back to the coffee: I am not the kind of human who chugs her coffee. I like to sip, and then forget it's there for 30 minutes, and then remember, and sip a few more times, and forget again. This mug kept my coffee warm throughout all my bouts of forgetting, which eliminated the need to microwave my coffee, which I think helps save the world a little bit.
The water bottle is triple insulated, which is exactly three times more insulated than any of my other water bottles, and I may never go back. Whether you want chilled water or hot tea, you have to try to make the temperature budge.
Speaking of tea—the water bottle has a strainer! You can pop it in and out, but it really doesn't get in the way even if you're not using it. Plus, who doesn't want freshly infused cucumber water accompanying them on a hike up the mountain?
And, finally, the water bottle has two ways to drink—a screw off top to drink out of the full mouth of the water bottle (the option that always results in me making a giant mess), and a tiny screw off top above that for easier sippage.
The Cons: 
There aren't many, but they pack a big punch—the top on the mug and the little connector-top on the water bottle are plastic, and the entire product line is made in China.
In our world, that pretty much negates the "eco" that the name implies. However, they are reusable, they are BPA free, and they are stainless steel—so they can pretty much be reused until the end of time. That helps soften the blow, a bit.
If you're looking for a new water bottle or coffee transporter or liquid-of-any-sort lugger, Eco Vessel is a better option than most, and avoiding to-go cups is the ultimate goal—thanks for helping us fight the good fight, Eco Vessel team!
Cheers!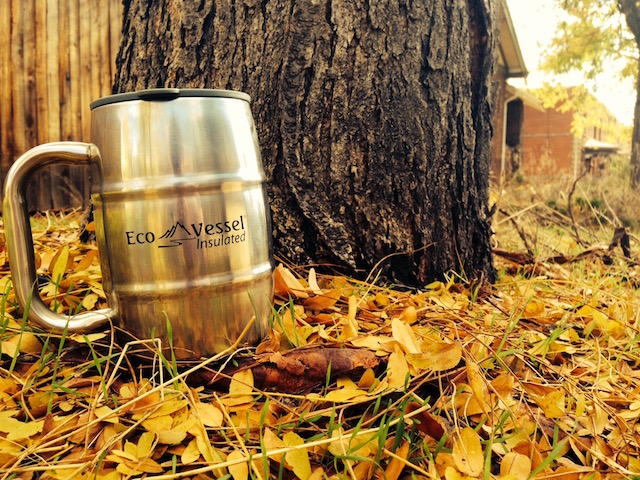 Author: Emily Bartran
Photos: Author's Own; Caroline Beaton