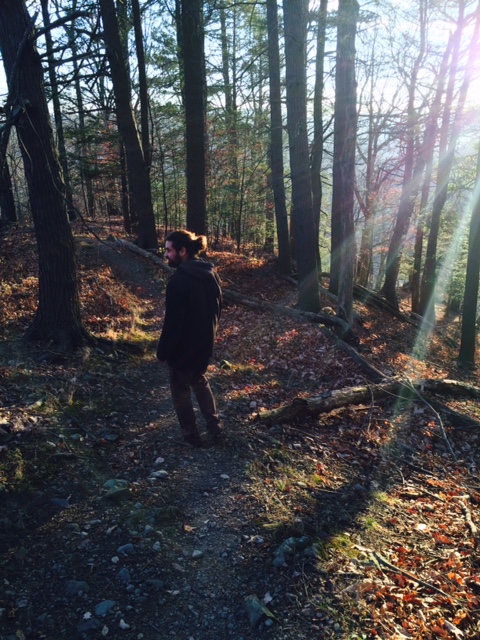 Warning: Naughty language ahead!
I am grateful for naked, sun-kissed cheeks and spicy sips of dry red wine.
I am grateful for mossy forest floors and stranger's smiles and the way kindness can soften a crushing moment.
I am grateful for this breath.
Yep, this one right here—this breath.
This slow, delicious inhale. This warm, wonderful exhale.
No—not just grateful,
More than grateful.
Gratitude is sun-soaked, a yummy feeling,
It does not fill me up.
It cannot express the depth of what I feel.
More than appreciating the obvious good in our lives—
Can we see secret blessings in the least expected places?
Can we find juicy gems of joy in darkness?
Can we unearth soft petals of beauty in panic and pain and fear?
Because it's not enough to only be grateful for the pretty moments—
Let us be astounded by the beauty of every fucking moment.
Because every moment is a gift,
A goddamn gift.
Sometimes despair takes our breath away and bitter heartbreaks knock us down,
And grief runs wild, obliterating our hearts to make room for sparkling new growth.
Yes—it hurts,
But let us bow our heads humbly in subtle appreciation,
Because every moment is a teacher,
A generous teacher.
Let's go deeper than only saying thank you for the pretty, shiny, rainbow-dipped comfortable moments—
There is much to be thankful for in every moment.
Can we sob and say thank you at the same time, catching our tears, like liquid diamonds?
Can we tremble and say thank you when we're confused and anxious and struggling?
Can we scream and say thank you when the ugly, beautiful truth slaps us in the face?
Because these pains we've deemed so pesky can become bold-faced reminders
To live.
To offer our whole hearts to life.
To embrace the crisp, lion's breath of each new day—sunny or rainy, beautiful or devastating,
Yes, to embrace it all—
To open our arms wide and grab the fiery tails of the sunrise, to smell streaks of soulful lavender in the sunset
To bite into inky darkness, treasuring the raw, throbbing gem of having a beating heart.
Starting here, right here, right now—with this breath,
This delicious inhale. This warm, slow exhale.
Let's choose to find the blessing in every moment, unwrapping it with eager hands and a wildly eager heart,
And let's make that choice over and over and over again—-
Until our final breath escapes from the edges of our cracked, dry lips.
Don't—don't let a moment pass through your fingertips without savoring its sacredness.
Live,
Fall apart,
Hurt,
Grow,
Cry,
Spill your heart into the streets
Fuck up,
Let truth slap you awake,
Cleanse your weary soul with the misty blessing of your regrets.
Find love in the rapid rising and falling of your chest.
Be more than grateful,
Say thank you with every beat of your heart,
With every step of your feet,
With every tear and every ache and every messy mistake,
Be more than grateful,
Cultivate unbreakable appreciation for
The astounding beauty of
Being.
Alive.
Relephant Read: 
Author: Sarah Harvey
Editor: Emily Bartran 
Photo: Author's Own