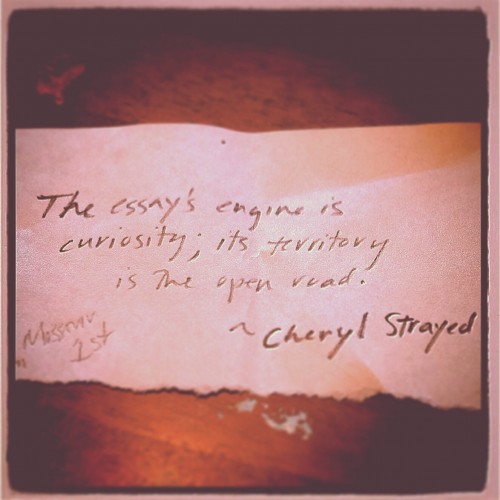 It's that wonderful time of the year when it's not only cold, but we get slammed by those damn colds.
We're run down.
We're tired of Netflixxing How I Met Your Mother or House of Cards. The hot toddy has worn off, the boredom of being sick has settled in, and we're ready to be 100%, but we're not. Books still put us right to sleep, and the dishes are piling up in the sink.
The worst part is that our brains are still foggy, and unfocused, so the thought of being creative sounds tantalizing, but that action between our brain and the pen or paintbrush has come to a halting stop.
What to do?
How do we reignite the coals of our creativity amidst all these not-so-good feelings?
Make a cup of ginger, honey, lemon tea, and read these quotes:
1."Tend the sacred fire of your heart." ~ Shiva Rea.

A few days ago, I was sick, and searching YouTube for some inspirational yoga music, but found Shiva Rea's video of Wanderlust from 2012. I got off the couch, and started moving in a wave to wake up my lungs. Her words echoed the soul of the breath, which is often held tight when we are sick or afraid. Remember to breathe even if our noses are stuffed, and we're coughing.

2. "All the pain that comes with being human can crush our optimism if we don't work actively to create our own hope." ~ Zhena Muzyka.

3. "Behind writing, behind words is no words." ~ Natalie Goldberg.

Goldberg's words are from her book, The True Secret of Writing: Connecting Life with Language, in which she shares her experience of Zen and writing. It's filled with a lot of wonderful writing and meditation practices.

4. "The naked truth of spiritual transformation is that if we don't change our lives ourselves, nothing will change them for us." ~ Lama Surya Das.

5. "Trying to force creativity is never good." ~ Sarah McLachlan.

6. "Non sui cosa ti farei?" ~ from Hide This Italian Book for Lovers. The translation is "Guess what I'm going to do to you?" The Italian language makes everything sound better especially when we're feeling sotto il tempo.

7."Try to write without stopping, but that doesn't mean rushing—and in fact you may find it helpful to pause now and then to try to feel inside for what you are getting at." ~ Peter Elbow.

Elbow's book, Writing with Power, is a wonderful resource guide for cracking open the words. Remember that these sick moments are a pause and revel in seeing the world from a slower pace.

8. "One must still have chaos in oneself to be able to give birth to a dancing star."  ~ Friedrich Nietzsche.

9. "The essay's engine is curiosity; its territory is the open road." ~ Cheryl Strayed.

She wrote this line in the introduction to a book of essays. I scribbled it down, and posted it over my writing desk as a reminder that my curiosity is a gift, always!

10. "I have no special talents. I am only passionately curious." ~ Albert Einstein.

11. "Handwriting, by contrast, resists the eye, reveals its meaning slowly, and is as intimate as skin." ~ Ruth Ozeki.

These words are from Ozeki's A Tale for the Time Being. It's a timely novel written with elegance and clarity about the human condition of loving, and trying to be a person in our world. Go read it!

12. "It takes a heap of loafing to write a book." ~ Gertrude Stein.

13. "The thing is, we get to be who we are.
        And that dream?
       The one that feels impossible & that your heart knows inside & out?
       We get to have that, too." ~ Bryonie Wise.

These are words from Wise's book, Heart Roar—A Book of Tiny Prayers. Go get a copy. Her writing is always inspiring, lilting, and reminds us of the beauty in our hearts.

14. "If I create from the heart, nearly everything works; if from the head, almost nothing." ~ Marc Chagall.

15. "You don't love someone because they're perfect, you love them in spite of the fact that they're not." ~ Jodi Picoult.

16. "Poetry is not the thing said but a way of saying it." ~ A.E. Housman.

17. "When the whole world is silent, even one voice becomes powerful." ~ Malala Yousafzai.

18. "A man's work is nothing but this slow trek to rediscover, through the detours of art, those two or three great and simple images in whose presence his heart first opened." ~ Albert Camus.

19. "The real artist is the one who has learned to recognize and to render what Joyce has called the 'radiance' of all things, as an epiphany or showing forth their truth." ~ Joseph Campbell.

What's the radiance of being sick? Is there any? If so, what is yours?

20. "There are painters who transform the sun to a yellow spot, but there are others who with the help of their art and their intelligence, transform a yellow spot into sun." ~ Pablo Picasso.
21. And then there's the humor…

"Once I realized that my mind has started to wander I stop and try to do what I'm supposed to do when that happens—focus on the third eye. Guess what? That makes me think about how great it would be to have a third eye. Would I want it on my forehead or on the back of my head? Maybe on the top of my head? No, 'cause of rain. What if my lips were eyes? Then I'd get a lot more crumbs in my eyes, but I'd be able to get a really good look at what I'm eating. Just as I'm designing a pair of sunglasses in my head for my lip-eyes, the teacher hits the gong and I jump. I almost yell, "Oh my God!" but because I'm smart I yell, "Ohmmmmm!" I'm the only one chanting, but the class just thinks I'm really into meditation. The ohm actually calms me down so I leave feeling great. I'm peaceful, relaxed, and in a great mood. And now you see why it's so great to meditate." ~ Ellen DeGeneres.

This lengthy quote is from Ellen's book, Seriously…I'm Kidding. My older son made me buy it for him a few years ago. Seriously, I'm not kidding! It helped all of us as we were going through the roller coaster ride of finding out that he has Asperger's. The book is dog-eared, and it still sits on the coffee table as a reminder of how far we've come.
Hopefully, these quotes will be of some help in sparking those coals of creativity, and even as merda as it is to be sick: you'll find some radiance in the pause of these moments.
~
Relephant read:
~
Author: Jessie Wright
Editor: Khara-Jade Warren
Image: Author's Own.