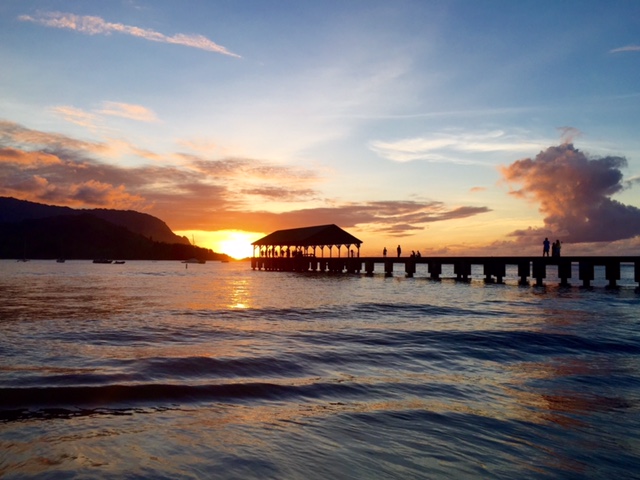 Someone once told me that we all have a longitude and latitude in this lifetime.
It's one point of intersection on the planet where we are in perfect alignment and are truly "at home."
For me, that place is Hanalei, Kauai. Ever since my second trip to the island in 2013, I knew. But as much as I knew, I wasn't ready to make the move from San Francisco because well, it's San Francisco.
I spent ten years in San Francisco. I became intimately familiar with three neighborhoods, many jobs, two careers, a beautiful rent-controlled apartment, the very best friends, my family, two great loves, one engagement and one disengagement. During that time, I knew happiness, sadness, tech bros, skyscrapers, traffic, congestion, construction and noise. It became part of my "normal" to spend $15 on cocktails and $9 on toast points. I was consumed by stress and worry over not having enough money.
After growing up in the Bay Area and attending college in the city, San Francisco became my home by default. And I loved it. As anyone who lives in San Francisco will tell you, it's the greatest city in the world. The prospect of leaving the place where I had spent my entire adult life was too far away for me to even imagine possible.
And so, I stayed in San Francisco and went about my life as I knew it, taking trips back to Kauai as often as I could. I was content with the little arrangement I had made with myself and even landed what I thought was my "dream Job" working for the social media company of the moment (of all time?). I had a six figure income, free health care, free meals, free dry cleaning—free everything. There was even a $20K stipend to freeze my eggs should I choose to do so; quite the prospect for a 32-year-old single woman. I worked with smart, creative, innovative, kind-hearted people who genuinely cared about my well-being on a campus that resembled Disneyland.
But I was miserable. Completely, utterly and totally miserable.
What made it worse was that I could not figure out why. I had everything I thought I wanted (plus more), but each day I grew more and more depressed and slowly began to sink into a very dark hole. My life started to resemble a meme. I would wake up each morning and spend two (sometimes three) hours being shuttled in a luxury limo bus the 37 miles from San Francisco to Silicon Valley. I would then sit at my desk for the eight to ten hour day before being chauffeured back the two (sometimes three) hours home with my fingers furiously typing on my laptop all the live-long day. Exercise and cooking were replaced with Uber rides and meal deliveries. I managed to keep up a daily yoga practice and even completed a 200-hour yoga teacher training over six months on the weekends.
But by the end of the training, I felt very little connection to yoga and even less of a connection to myself. My body broke down, my adrenals were shot, I stopped menstruating, and my energy level became nonexistent. My doctor advised anti-depressants, which I refused. I knew my problem had nothing to do with brain chemistry and everything to do with my inability to acknowledge that I was living a life that while good on paper, was severely out of alignment with my soul's true calling.
In an attempt to get myself back on track, I took a trip to Hanalei in April 2015. On my last night, a woman approached me on the beach during sunset. Before I could say hello, she looked at me and said, "You have Kauai in your eyes." We kept in touch and I returned to the island six months later and stayed in her vacation rental. We went for sunset walks together and I explained my situation to her. She allowed me to ramble for a bit before cutting me off and saying, "What's stopping you?" I was stunned.
Without thinking, I let my intuition answer.
"Nothing."
There was absolutely nothing stopping me. As soon as I made the declaration out loud, something clicked inside of me; suddenly the world was in color again. Almost instantly, I began meeting people and making connections that set my move in motion. I returned to San Francisco, quit my job, sublet my apartment, moved all of my belongings into storage and bought a one way ticket to Kauai. Thirty days later, I arrived in Hanalei with two suitcases, a backpack and no plan other than to be here fully.
I've spent the past three months living on the island of Kauai and I haven't looked back once. I work at a yoga studio for trade during the day and scoop ice cream at the local creamery in the evenings. I bounced between a few houses—sometimes camping on the beach—before I moved into a modest beachside studio in Hanalei.
401(k) matching and paid time off have been replaced with overflowing avocado trees in my front yard and friends who bring me bananas and mangos (which grow abundantly around the island). Instead of waiting in lines to indulge in overpriced cocktails at the hot new bar of the moment, I drink beers at the beach with my neighbors and watch the sun melt into the ocean as the moon rises above us.
Life is different now.
I live simply and slowly with intention and more awareness of the present moment; rather than moving fast and focusing on an unpredictable future or unchangeable past. Island life is not without its challenges and it is certainly not for everyone, but no matter what our path, we all have the ability, and the right, to honor our soul's true calling—our dharma.
Kauai called out to me and I answered the call. It was not without fear, but by simply saying "yes," the world opened up and swallowed up any trepidation that was keeping me bound and shackled from reaching out and living a life beyond my wildest dreams.
It was always there for the taking, sometimes we just need a push from the universe to move us from breakdown to breakthrough and back on the path of least resistance.
~
Relephant:
~
Author: Kristin Venema
Editor: Caitlin Oriel
Image: Author's own