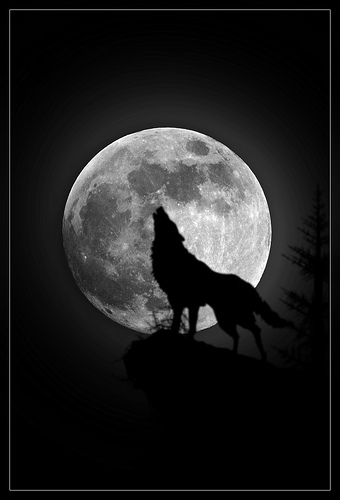 *Eleditor's note: Astrology isn't a religion. We're not sure it's a science, either. It's magic, maybe. But, as with feng shui, say, things affect things. So as long as we don't go blaming our problems on the stars, as long as we assume responsibility for our own actions…well, hell, a little auspicious coincidence and applicable wisdom can't hurt. And so, with that grain of salt…enjoy!
The first Full Moon of the year is always known as the Wolf Moon.
This year's Wolf Moon will take place on January 23rd or early morning on the 24th depending on your time zone. It'll be something to look forward to since it'll give off some much needed positive vibes.
Many of us may feel like we've literally been thrown to the wolves during the month of January. The planetary energy has been rocky and the start to 2016 has been anything but smooth. We can thank Mercury retrograde coupled with some other intense planetary combinations for that.
But as the saying goes, throw me to the wolves and I'll come back leading the pack.
When things are down and out, they can't remain like that forever. This Full Moon is going to be the point where we can turn things around. Some clarity may come to the table and a light bulb of awareness could get switched on.
The Full Moon always has a way of heightening awareness as well creating closure.
Interestingly enough, January's Full Moon will fall in the sign of Leo and nobody likes to lead the pack more than this sign. Leo's the sign that likes to laugh, let loose and let go of the seriousness. With the Full Moon highlighting this sign so prominently, a lighter feel may come over us.
Before I share more of the astrological details, I want to share more about the mysterious animal representing this Full Moon.
The Wolf is an intelligent, beautiful and powerful animal with many mysteries living behind its piercing eyes. It is known for being a spiritual symbol that can denote intuition and awareness of our inner-self.
Despite the wolf's inner beauty and symbolism, he's also been known to deliver feelings of fear. He's the villain of fairy tales and a character that's typically up to no good. His stare can be threatening and when caught up in it all we want to do is run. Feelings of control are lost and mustering up the courage to break through such unsettling energy can be daunting.
But the fact of the matter is, the wolf is anything but villainous and the feelings that come over us may be stemming from something else entirely. Once we get to know the true nature of the wolf, our perception will likely begin to change. Breakthroughs can happened if we're open to seeing things a little differently.
The truth is, a wolf will rarely, if ever, reveal himself. His fear of outsiders is much greater than those who fear him. He trusts his strong instincts to lead him through the rocky terrain.
Many of the traits of the wolf have shown themselves throughout this high energy month. Fear, hardship, loss of control and perhaps misrepresentations have all come into play. We've been pushed into having to trust our instincts because there's been no other way.
Feelings have been hurt and parts of us have been wounded through the process. Perhaps we've been misrepresented just as the wolf has been. It's also possible that we've seen the wolf come out in some that we never thought were capable. (A wolf in sheep's clothing so to speak.)
With the sign of Leo coming in to dominate the scene the upside of things will now come into play. Those that have been thrown might feel a come back. Leo is the sign who lets loose, has fun and struts its stuff. Being seen and heard are high on his priority list.
For as much as we've wanted to take cover, this is the point where we can come out from behind the scenes.
It's going to be a welcome energy that'll give a much needed break to some of the other planetary intensity that's been in play. A social dynamic may also come about given that the Moon will be opposing Aquarius—the sign of the group.
Interestingly the wolf is a highly social animal and part of us may feel like getting out there and leading our pack in some way. The Aquarius energy also represents the unique part of us and that may need to reveal itself around this Full Moon. If we've been feeling repressed, the Aquarius side is going to want to be set free given its rebellious nature.
With Mercury getting ready to station direct just a day after this Full Moon (January 25th), a lot of the things we've been reassessing and redoing will finally come together. Mental activity has been particularly intense and a lot of the ideas and thoughts that may have started to form can now be put into action.
Full Moons create closure and bring things to another level.
All the annoyances that may have found us can now be set aside. It's time to use what we've learned over the last several weeks and move forward.
I'm not saying it's going to be entirely easy. There are still some driving combinations that will last throughout the end of January, but progress will finally be seen once again.
It's still important to be aware of our actions as well as new ways of looking at things. Despite Mercury's move forward, he's still closely intertwined with both Pluto and Uranus. The three of these planets together are pushing us to be open to a new way of doing things and get off the cycle that's perhaps trapped us in the past.
Whether we realize it or not, we're in the midst of breaking down barriers that have held us back. The freeing spirit of the wolf is calling. We may have been thrown off course a bit but we can pick back up and come back stronger than ever.
Always remember that we can actually end up being the strongest during the moments we feel our weakest.
Let January's Wolf Moon be a reminder that when we are thrown to the wolves it's only a matter of time before we come back leading the pack.
~
Relephant:
Author: Crystal B.
Editor: Ashleigh Hitchcock
Photo: flickr/Ghetu Daniel